When looking to draw up a great restaurant floor plan, the most important things to keep in mind are a positive customer experience and a great ambience.
Your restaurant floor plan should make clever use of available space and comply with all legal and regulatory requirements.
ANZ Food Standard Code
According to the Australia New Zealand Food Standard Code, the layout of the restaurant should be planned in such a way as to minimise the possibility of food contamination.
You must have a proper separation between food preparation areas, storage areas and cleaning facilities.
The construction materials are also covered in the Food Standard Code. You must use specific materials, depending on the permanency of the restaurant. All equipment to be used must be easily accessible to all staff during construction and once the restaurant is in operation.
The code also advocates for adequate space for all your needs, which include food preparation areas, storage spaces, waste disposal zones and changing rooms. The code basically advocates for little to no food contamination when planning for a restaurant.
The Food Standard Code also requires a restaurant plan to cater for lighting, ventilation, water supply, water storage, disposal facilities and any equipment requirements.
Common Restaurant Plan Elements
There are common areas in any restaurant that you can include in your plan, each with its own regulations and rules. Paying attention to detail early on in the planning stage can help avoid any bottlenecks or unsightly areas you don't want customers to see.
Restaurant Kitchen Floor Plan
There is a variety of common restaurant kitchen floor plans you can choose from. These plans must include a preparation area, cooking area, serving station, food storage area and washing facilities. Each of these elements is designed to promote a working environment that ensures excellent food safety and the safety of staff and customers.
Zone Style: This is where the common areas in the kitchen are clustered in their own space with equipment being placed along the walls. The great thing about this kitchen style is that there is a large space at the centre for supervision by the chef which also enables effective communication.
Island Style: The island style means that the cooking area is set up in the middle of the kitchen with the cleaning and preparation areas being set around it. This is one of the preferred styles for large kitchens, but you can renovate your kitchen to fit in this type of layout. This also has a lot of floor space between the other areas and the cooking island, which allows for easy movement between areas and ease of communication.
Assembly Line Style: If you have a limited menu but serve a high number of customers, then this is an ideal kitchen style to consider. This is also the preferred plan for schools, fast food restaurants and even correctional facilities. The style starts with the preparation and cooking areas and goes all the way down to the service area. This means the team is able to send food items down to the next area easily and efficiently.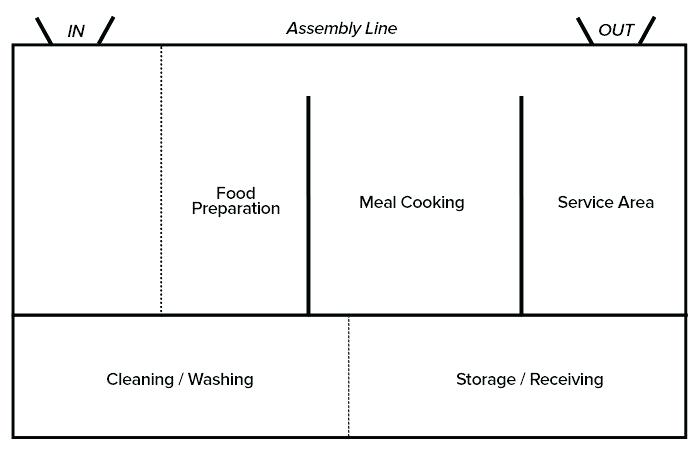 Restaurant Dining Area
This is another crucial element of your restaurant plan. Here, you will plan for dining furniture, a bar area and decorations, among other items. You must keep in mind when planning your dining area that you must reserve about 6 metres for fine dining, about 4.5 metres for a regular dining area, and between 3.3 and 4.2 metres of space between tables for fast food restaurants.
According to Seating Expert, an ideal dining area plan should leave at least 0.4 metres from the edge of the dining table to the back of the seat. They also suggest that a diagonal seating arrangement can save on space. You must keep in mind the size of the furniture you want to purchase.
Customers are usually turned off by small tables and little spaces between walking aisles. Therefore, when planning for your dining area, you must consider not only the available space but also the furniture you will buy.
The Entrance and Waiting Zone
An effective restaurant plan must have a provision for an attractive entrance area and guest waiting zone. For the entrance, you can have a billboard every few hundred meters to direct customers to your restaurant. In addition, the sign towards the entrance must be visible and attractive to customers. Small details like the exterior design should be put into consideration.
Many restaurants sometimes overlook a space reserved for waiting guests. To avoid confusion at the entrance, have an area set aside for them. It can have a coat check area, a storage space for customers with large packages and ample seating if your restaurant space allows for this.
Restaurant Restrooms
The Code highlights that the restroom facilities must be adequate and accessible for both customers and staff. They must also be well-lit and ventilated as well as have suitable handwashing and drying facilities.
These regulations recognise the fact that some restaurants may use mobile toilets or nearby facilities such as fast-food restaurants or pop up restaurants. Licenses and permits must be obtained separately for such cases.
What Other Elements Can You Consider When Creating a Restaurant Plan?
Bar Area: This is not mandatory when planning for your restaurant, but it is common for larger restaurants. The bar area must be designed to fit the bar and ample sitting areas for customers. A trick that some restaurants will use is that the bar area can also double up as the waiting zone as guests wait to be seated. It's important to obtain a valid liquor licence in order to plan for a bar area.
Payment Station: Depending on your restaurant size, you can have a point of sales (POS) system in a central hidden spot or have multiple ones around the restaurants for waiters and waitresses to easily access. Alternatively, payment tablets allow customers to order and pay for their meals without waiting.
Back Rooms and Storage Spaces: In a restaurant, you must plan for staff quarters as well as storage spaces. Depending on the restaurant size, you can have multiple rooms or one large staff zone in the back. Make sure it is out of sight from dining customers.
When it comes to storage areas, you must have cold storage for perishable items, dry foods storage and an equipment closet. These will all be determined by the size of your restaurant as well as the local food safety rules and regulations.
Outdoor: This can include an outdoor seating area, the parking zones and the back of the restaurant. The dining rules of spacing tables still apply. When it comes to parking, ensure you have adequate space either underground to save on space or somewhere accessible. At the back of the restaurant, make sure it is secure, clean and can even have space for delivery vans.
Overall Safety: When running a restaurant, safety is of utmost importance, not only for the staff but also for the customers. The first thing to have is adequate, well-stocked first aid kits in the restaurants in case of any emergencies. You can put up first aid safety posters around the restaurant, especially in the staff access areas.
Image: Freepik by @rawpixel.com