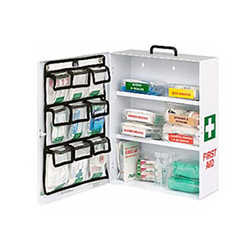 Give your employees the life-saving information on how to deal with workplace emergency scenarios. Their quick response can mean the difference between life and death. Check out this range of useful first aid guide posters suitable for workplaces.
While waiting for expert medical help, your employees should be able to administer First Aid. For that to happen, they need to have proper First Aid Kits and supplies available, as well as to know how to use them.
In emergency situations, first aid information can be crucial and helpful. It is not uncommon for even the most rational persons to get confused in the moments of emergencies. That is why first aid posters are just as essential as first aid supplies and AEDs.
These handy and informative first aid posters give you a step-by-step guide on what to do and what NOT to do when someone at work needs medical attention.
It's best to have these posters posted in strategic locations at your workplace to help prevent further medical risks.
---
---
Note: These posters are free, downloadable and print-ready. Download and print them now!

Call