If you consider yourself to be leading a modern type of business, it's also important to have an eco-friendly business.
Going green is not just about recycling anymore; it's about promoting business methods that are proven to be efficient in terms of preservation of the environment.
Making your business eco-friendly is not something you can do overnight, but still, it's an effort well invested. Keep reading to learn how to "Go Green" at work.
The eco-friendly business model is not perfect of course, but it still does its purpose of adopting sustainable methods that will help you save both energy and money.
They are good not only for your business but the environment as well, and by introducing a couple of changes to your way of work, you can do your part in its preservation.
The Greenroom offers the kind of ideas that can help you turn your business green, so we've come up with a list of 6 things that are guaranteed to help your business, your reputation and your environment.
Why is Going Green Important?
Checking out the statistics should tell you enough. Research has shown that more and more people are aware of climate change and are becoming interested in the preservation of the environment. Thus, any business that promotes a healthier work environment is more appreciated by the public.
In developed countries, research shows that people are generally anywhere from extremely concerned to moderately concerned when it comes to climate change. Only about 5% of people tend to put themselves in the "not concerned" category.
People are also of the opinion that businesses should be doing more to make their businesses eco-friendly. A large majority of the population agrees that it is unacceptable for a business to focus more on their profit than on the pollution and harm they might be causing the environment, and some even think that businesses that do cause pollution should be punished for it and severely charged if they choose to continue in the same way.
Some may think that small and medium-sized businesses can't do much, but ignoring the needs and desires of their customers can only lead to commercial disaster, which can harm their reputations and chances of success. Also, every little thing matters, so even the small things done by small businesses can help when it comes to overall accomplishments.
How to Turn Your Business Eco-Friendly in 6 Simple Steps
So how do you go green? Does it have to imply introducing life-changing rules and strict regulations that will make working at the office just more difficult? Not really. The steps are simple and while they do require effort, the results will make everything worth the effort. Here are six steps.
1. Make Some Cutbacks
Not exactly the first thing that would come to mind, but saving money on resources is one of the best places to start.
This implies using less paper, printing less, turning off lights after leaving the rooms (if nobody else is inside, of course) and not turning them on during the sunny days when there's enough natural light.
This step depends greatly on the decisions that workers make every day, so it's important that everybody knows how much they can contribute. For example, they may ask themselves:
Do I need to turn the lights on, or is there enough natural light?
Do I really need this document printed? If I do, can I use both pages?
Is this paper recycled?
Does my workplace provide recycling bins for plastic, paper, glass, etc.? If not, why not?
Are there places designated for waste?
Can I pack my lunch instead of buying one and increasing waste?
Am I the last one leaving this room, and if yes, why not turn the lights off?
2. Use Energy-Saving Appliances
Replacing your old appliances with the new, energy-saving ones is one of the best ways to upgrade your office. This is a much bigger change than simply turning the computer off or using energy-efficient light bulbs. Your workplace appliances usually waste a lot of energy, more than they need for sure, which only makes them produce a greater carbon footprint.
As already said, the best way to deal with this problem is to upgrade your appliances to newer, more energy-efficient models. The difference in energy consumption can range between 50% and 90%, so think about upgrading from laser printers to the ink-jet ones, and from old computers to modern laptops (which are also more convenient since they can be used on the go).
Also, think about replacing your hand-dryers in the restrooms with paper towels. While there, consider reducing the waste of water by installing automatic-stopping taps, and think about installing dual-flush toilets, which use about 25% of the water the older single-flush toilets do. Urinals can also save water, as much as 30% per flush.
One survey asked 2,000 retail and manufacturing professionals how they managed to save on energy costs – around 31% said that they saved money by switching to energy-efficient appliances, while 22% said that automatic lighting and automated energy control systems have really helped them reduce their energy bills.
When looking for energy-efficient appliances for your workplace, check out New Zealand's own Energy Rating Label for information on the best options. It would also be worthwhile reading the advice EECA is offering.
3. Control The Temperature
Heating and cooling systems can also contribute to the waste of energy if not used properly. But you can reduce the amount of energy they consume by regulating the use or by installing energy-efficient ventilation, heating, and air-conditioning systems. Around 40% of a business's energy consumptions is due to these systems, but if you use them correctly, you could save up to 50%. If you're interested in learning more, check out this article about saving energy in the office. For starters, there are a couple of small things you could do.
Instead of using AC, open the windows and let some fresh air inside. You can also install a couple of
fans that require less energy than ACs.
Prevent the heat from escaping during the cold days by using weather strips on the base of your doors.
To keep your HVAC equipment working properly, make sure it's regularly serviced and cleaned.
Install a heating system timer so you don't have to think about it (and so you don't forget about it), you can just set it to go off after work and come on an hour before.
4. Promote Green Commuting
Another great way to lower your carbon footprint is by encouraging your employees to use greener methods of transport. Considering that every aspect of your business contributes to your carbon footprint, motivating your workers to travel using more eco-friendly modes of transport could lower the carbon footprint of your business.
Inspiring your employees to opt for greener transport options can influence both the society and the nation. People's awareness about the benefits of using public transport, carpooling and generally choosing eco-friendly ways of travelling to work is still at a fairly low level.
For example, Australians are among the least frequent users of local public transport, and the least likely go to work on foot or ride a bike to work. In fact, only 9% of Australians ride a bicycle to work at least once per week.
When it comes to eco-friendly commuting choices, some of the most popular ones are:
Carpooling – sharing a car when travelling to work, which automatically reduces the number of cars on the road (and thus, the fuel consumptions and pollution by the greenhouse gases).
Public transport – these types of vehicles have to be on the road anyway, so might as well opt for them when commuting.
Walking – healthy, calming and perfect for employees living close to their work.
Cycling – if you live between 5km and 15km away from work, this might just be the perfect option for you.
Studies on Financial Incentives To Ride To Work that has shown that more than 80% of workers aged between 25 and 54 support the idea of cycling to work rather than driving – with adequate financial incentives. This might imply a tax deduction for the bicycles purchased by employees or direct/indirect subsidies paid to workers.
There are many ways in which you can inspire your employees to choose greener and healthier commuting methods. They don't necessarily have to include financial compensation, but it is one of the options you could check with your local authority.
5. Try to Be More Proactive
Most people have certain habits that they can't change that easily regardless of what you tell them. Showing them clear benefits of the changes you want to apply and getting them involved from the very start might be a great way to introduce a sustainable Go Green programme.
Involve Your Staff – organise a team of people who will be in charge of your business's eco-friendly programme and in-house recycling. Reducing energy consumption and recycling can be more easily initiated by working together.
Your job is to make all the necessary resources easily available, and you should have no problems adopting the best principles and practices. Also, try to make it more fun – encourage your employees to think of different events and activities that could help promote a greener lifestyle.
Educate Your Staff on the Benefits – your employees are more likely to get on board with your ideas if they know why those ideas are good for them and the environment. You can promote the benefits of going green by, for example, putting up posters or offering a monthly Go Green newsletter where your workers can find all the information they might need.
6. Use Eco-Friendly Cleaning Products
This step, even though often overlooked, is essential when it comes to building a greener workplace. Just like homes, every workplace needs to be cleaned, which includes using all kinds of chemical cleaning products.
Considering the amount of work that implies, choosing eco-friendly detergents is surely going to influence the green aspect of your workplace. Of course, you can outsource this process if your workplace is a bit larger, but make sure your cleaning company is aware of your eco-friendly goals.
If they are unwilling to change, you might want to consider other options, but most already offer environmentally-friendly cleaning services. Environmental Choice New Zealand (ECNZ) casts an eye over the status of a wide variety of products, including cleaning products. Look for their Environmental Choice New Zealand licensed product. Also, check out what the national environmental research and education body, New Zealand Association for Environmental Education, is saying for more on eco-labelling and what you should be looking out for.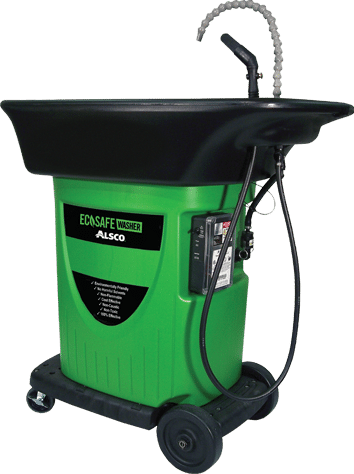 Alsco's own Fresh & Clean range offers cleaner restroom hygiene options, while for workshops and garages, Alsco's EcoSafe Washer provides effective eco-friendly machine parts washing.
Most modern businesses already have everything they need for going green, so adopting a programme such as Go Green should hardly be a problem. And besides, you can find plenty of suggestions and ideas about making your business more eco-friendly.
We have included a lot of links here already, but if you're interested, you could also check these out:
Happy Going Green!
Photo courtesy of Freepik Images by katemangostar