A world without paper would be a world of hardship. We've all become dependant on it, regardless of its use: printing, copying, note-taking, even scribbling reminders every day.
What's worse, we all take it for granted – a never-ending source of the material.
A typical office has a large amount of paperwork going on at any moment in time. Turning to recycled paper has become almost obligatory for any self-respecting 'Green' Office.
The almighty law of need-and-demand has sadly, but truly put the balance of forest annihilation into our hands. It makes the use of recycled paper more desirable than ever.
Numbers Speak More Than Words: Problems
Statistics from 2008 show that there's been a drastic rise in the demand for non-recycled paper. We are talking straight from the trees. The popularity of the so-called "virgin pulp" lit a fuse. In 1999, the use was just over 12 million cubic metres. By 2008 it went up by one third, to around 19 million.
Next on the list is the increased, but steady consumption of all sorts of paper products, for writing, packaging and other purposes.
In 1999, 2.5 million tonnes of paper and paper products were consumed. Only a decade later, the figure rose to a total of 3.25 million tonnes.
A Glimpse Of Possible Solutions
There are countless ways to minimise the impacts of our paper consumption.
According to one of Australia's best-known environmental groups, The Wilderness Society, buying 100% recycled post-consumer waste paper will minimise the effect of paper consumption.
Another good idea is to set up a recycling point in your office. A good starting point is to recycle writing and printing paper. There is no shortage of options when these materials are in question! The only real issue here is which brands are the best and where is the supply point.
Thanks to 'The Wilderness Society', the chart below has the most relevant information regarding the suppliers and the branded paper. We included all the comparison cross-references, so all you need to do is to locate and identify local suppliers.
Brand

Sizes

White

Coloured

PCF*

100% Recycled

Post-Consumer

Printing

Suppliers

Evolve

A4, A3

✓

✓

✓

Hi-Vol

ecocern, SCRAP, CPI, Going Solar

Vision

A4, A3

✓

✓

✓

✓

Gen

OfficeMax, Special Equipment

Fuji Xerox Recycled +

A4, A3

✓

✓

✓

✓

Gen

Fuji Xerox

OfficeMax**

A5, A4, A3,

✓

✓

Gen

OfficeMax

ecocern

A4, A3, A1

✓

✓

Gen

ecocern
* PCF – Process Chlorine Free-Bleaching
**OfficeMax is accredited by Greenpeace (Germany), Blue-Angel, Nordic Swan.
The figures have shown that Australians are reasonably efficient at recycling households and office waste. Estimates provided on annual basis are the best proof – 1.6 million tonnes of waste paper is collected and used for making recycled paper products and less than 10% of the paper products rubbish end up in Australian landfills.
In 2005 just a meagre 11% of waste office paper was recycled, but it proved that every little effort helps. If you keep 100% recycled post-consumer copy paper in office cabinets, the world's forests are less affected.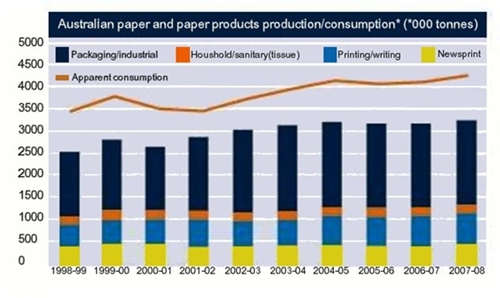 Leading Recycled Paper Brands & Suppliers
Vision – Pure White
100% recycled post-consumer waste. PCF (process chlorine-free bleaching). White A4 and A3: for black and white double or single-sided photocopiers and printers. Vision Magic Colours – available in 10 tints. Made in Germany.
Suppliers:
OfficeMax Australia (03 9518 5600)
Special Equipment (02 9609 2300 [NSW]; 07 3348 2266 [QLD])
Evolve
100% recycled post-consumer waste. PCF (process chlorine-free bleaching). Photocopy: white & coloured A4, A3. For high volume printing and copying contact Evolve Office, and for use in colour, copiers contact Evolve Business. Made in France.
Suppliers:
ecocern (02 9337 2737)
SCRAP (Australia wide) 02 9825 1062
CPI (03 9239 3600)
Going Solar (03 9348 1000)
OfficeMax
100% Recycled Copy Paper and 100% recycled post-consumer waste. Photocopy white, A4, A3, A5. Accredited by: Greenpeace (Germany), Blue-Angel, Nordic Swan.
Suppliers:
OfficeMax 1300 MYDESK (1300 693 375)
Fuji Xerox Recycled Pure+
100% recycled post-consumer waste. Photocopy white, A4, A3. Other colours are also available. PCF.
Suppliers:
Ecocern
100% post-consumer recycled paper scrap. Available in A1, A3 and A4. Envelopes and paper bags also. Made in Australia.
Supplier:
Sources:
Continuous Towel from Alsco
If you want to dry your hands faster while keeping them cleaner and with less of a chance of bacterial cross-contamination, Alsco Continuous Towels are your best choice.
At Alsco we understand that nothing is more important than the comfort and absorbency of cloth towelling. Instead of using paper alternatives, a majority of people prefer to dry their hands using cloth towels, as international research has demonstrated. Grab yours now! Call Alsco.
Photo: Stux