Ecosafe Washer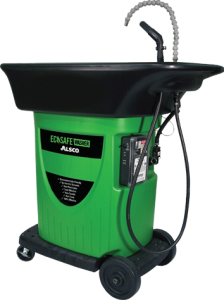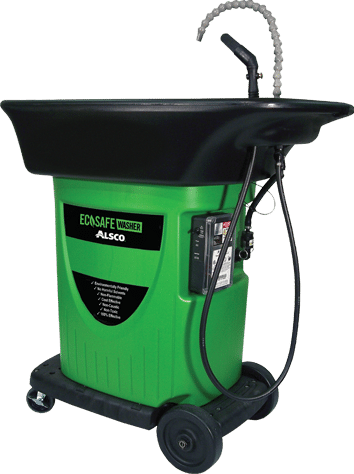 The environmentally-friendly, people-friendly, 100% aqueous answer to high-performance parts washing for New Zealand workplaces.
The Ecosafe washer cleans greasy, dirty parts within seconds – all using a safe, water-based solution that keeps your workplace and your people safe and healthy.
Your workshop, garage or industrial space probably sees a ton of solvents, oils, greases and other chemicals from machinery and parts. Inevitably, these spread throughout work areas, negatively affecting the environment, the safety of your workplace and, most significantly, your staff's health.
The Ecosafe Washer is your safe, environmentally-friendly solution to parts cleaning. Using a powerful, 100% aqueous solution, the Ecosafe blasts oils, greases and dirt from your workplaces mechanical parts, including motor engines, brakes, and more. Electrically-powered, it'll leave your most important parts sparkling clean – at no cost to your workplace or your staffs' health.
NEW: Free Demo & Week-Long Trial
Alsco are pretty certain you'll like the Ecosafe Washer parts cleaner. That's why we'll bring one of our units right to your workplace and show you how straightforward cleaning parts is with the Ecosafe.
We'll even leave the washer for you to use for up to one week – for free. Aren't happy with it by the end? Don't worry – you're under no obligations to pay anything. We'll simply pick it up and be on our way. Zero risk or effort needed on your part.
That's how confident we are that you'll love the Ecosafe Washer parts cleaner. Contact Alsco today to set up your free demo and week-long trial!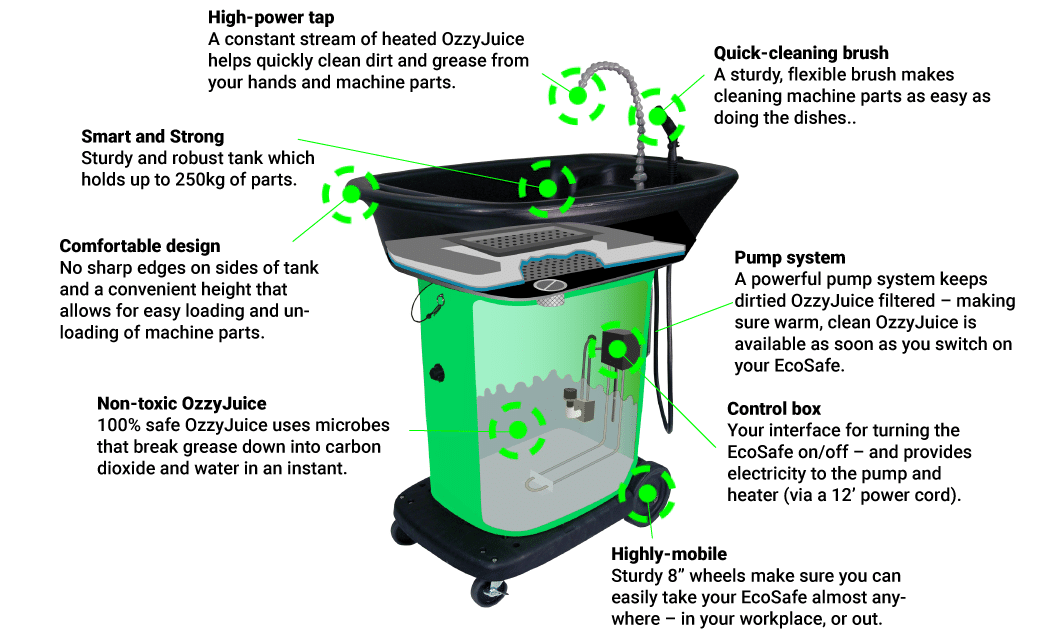 Our Ecosafe Washers parts cleaner are…
Safe – Using the 100% water-based Ozzyjuice, our parts washers avoid the negative effects of solvents and chemicals, producing no fumes, toxins or any other nasties – keeping your staff as safe and healthy as possible
Powerful – Just as effective as solvent-based cleaners, the Ecosafe parts washer uses heated water to blast even the most powerful grime, grunge and dirt from your parts and equipment
Green – A sophisticated process of bio-remediation breaks nasty greases and oils into water and carbon dioxide (the stuff you breathe out!) – ensuring the environment is kept as safe and clean as your parts and your workplace
Affordable – Where most Ecosafe Washers can run up to $3000, Alsco will rent yours from a few dollars a day, cleaning, fixing and replacing your washers along the way – at no added cost!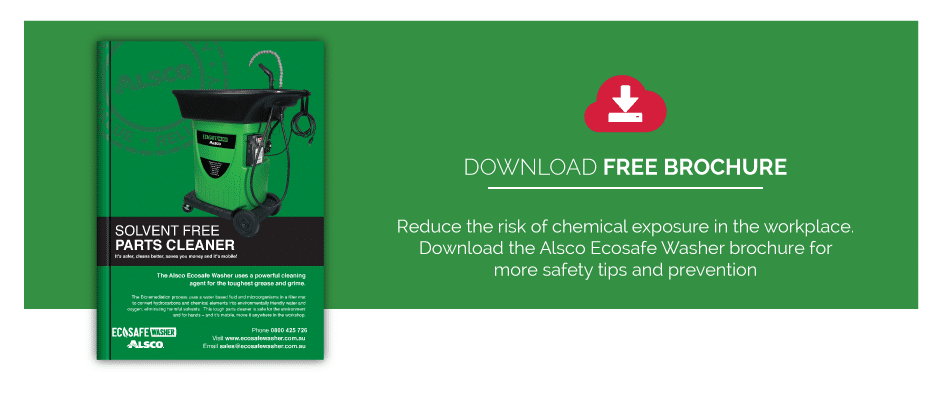 The Pro's Favourite Parts Washer
"In the high pressure world of V8 Supercars, we need products that can compete at the highest level. The Alsco Ecosafe parts washer offers the Brad Jones Racing team the highest performance clean without the health risks associated with solvent based washers." – Jason Bright, Driver Team BOC Car 8
There's a reason dozens of New Zealand workshops, garages and mechanics are choosing our Ecosafe Washers. As safety and environmental awareness become more and more important, performance requirements stay the same. The Ecosafe perfectly balances cleaning effectiveness with safety. Small and portable, it's an excellent, agile answer to parts cleaning in your workplace – no matter how small or confined.
[b3_row class="washer-usp-icons usp-border"]
[b3_column lg="2″ md="2″ sm="2″ xs="3″ ]



[/b3_column]
[b3_column lg="10″ md="10″ sm="10″ xs="9″ ]
Keeps your workplace safe
Workshops and garages in New Zealand can be dangerous places to work. You don't need the added stress of chemical/solvent hazards in your workplace that may cause serious skin and respiratory health issues among your employees. The Ecosafe – using a water-based solution – is non-toxic, non-flammable, and keeps your employees safe, your workplace clean, and the environment green.
[/b3_column]
[/b3_row]
[b3_row class="washer-usp-icons usp-border"]
[b3_column lg="2″ md="2″ sm="2″ xs="3″ ]



[/b3_column]
[b3_column lg="10″ md="10″ sm="10″ xs="9″ ]
Cleans parts effortlessly
A sophisticated process of bio-remediation breaks down oils and greases into two, 100% safe by-products – water and carbon dioxide. The heated, water-based solution of the Ecosafe can be used to clean dirt, grease, oils, and other common chemicals found in your workplace – and can even be used by staff to clean their hands after hours at work.
[/b3_column]
[/b3_row]
[b3_row class="washer-usp-icons"]
[b3_column lg="2″ md="2″ sm="2″ xs="3″ ]



[/b3_column]
[b3_column lg="10″ md="10″ sm="10″ xs="9″ ]
Affordable and risk-free
How appealing is dropping $1000-3000 on a piece of cleaning machinery? For most New Zealand businesses, not very. The reality is that's what most parts washers cost. With Alsco, we charge you an affordable, annual fee that works out at a few dollars each day. Along with this, we don't just supply your Ecosafe Washer. We check and maintain each unit regularly. Need a replacement? Don't worry – Alsco will happily help at no added cost to you.
[/b3_column]
[/b3_row]
[b3_row]
[b3_column lg="12″ md="12″ sm="12″ xs="12″ ]
Interested? Claim Your Free Demo!
Alsco will happily demonstrate the Ecosafe Washer right in your workplace. Simply get in touch with our local New Zealand team, and we'll arrange a date suitable for your schedule. We're almost certain you'll be convinced. On the off chance that you're not interested, however, you're not obligated to pay or purchase anything. The demo is 100% free – no strings attached.
Use the contact form to the right to learn more or to claim your free demo today!
[/b3_column]
[/b3_row]
[b3_row]
[b3_column lg="12″ md="12″ sm="12″ xs="12″ ]
---
[/b3_column]
[/b3_row]
[b3_row class="content-testimonial"]
[b3_column lg="12″ md="12″ sm="12″ xs="12″ ]
Happy Customers!
[/b3_column]
[b3_column lg="3″ md="3″ sm="12″ xs="12″ ]


[/b3_column]
[b3_column lg="9″ md="9″ sm="12″ xs="12″ ]
"You services our branch with an awesome attitude…"

On behalf of Education Action we would just like to say a huge thank you to your employee Margaret who completes this service to the very best of her ability.
We very much appreciate the work she does and if it was not for her, we would have never had known what was wrong with our urinals. It was on her recommendation that we get them looked at.
By doing this she could help us fix the problem before it got much worse and for that we want to say thank you.
We appreciate all that Margaret and Fresh and Clean do and we look forward to working with your team in the future.
Thanks a Million.
[/b3_column]
[/b3_row]