Short Sleeve Polycotton Food Overall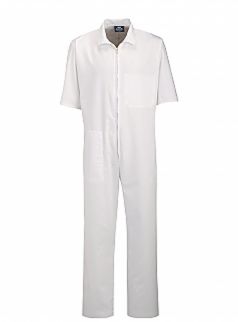 It is just right to provide a high-quality workwear to your staff, that's why Alsco New Zealand offers you the polycotton made Short Sleeve Food Overall.
This polycotton food overall guarantees comfort, stain resistance, and durability. Its lightweight fabric is also resistant to corrosive chemicals, making it perfect for a pharmaceutical workplace.
230 GSM
65/35% Polycotton
Internal pockets
Brass zips
Inset sleeves
Health and Safety Features…
Polyester/cotton blends that combine the comfort of cotton with the stain resistance and durability of polyester, enabling a lighter weight fabric to offer resistance to corrosive chemicals such as acids.
Internal pockets, cuffed sleeves, and no external buttons to minimise contamination.
A static dispersant coat that is lint free and specifically designed for a cleanroom environment.
Colour-coded workwear to avoid cross-contamination in the laboratory or plant.
Alsco is all about providing a comfortable workwear and also durable and long-lasting at the same time. Hence we also offer you the Alsco Food Processing Dustcoat which is also made of high-quality polycotton blend fabric that helps protect your staff from any source of contamination.
Why Alsco's Managed Service is Best for your Business…
A convenient experience for you is at the top of our minds – always. Alsco's rental service is hyper-fast and accurate.
No large, up front capital costs.
We can tweak our services to fit your business with ease
Easy order increase for busy time periods
World-class inventory management system for easy ordering
Control your costs to match your needs and budget
To get started, simply telephone our friendly customer service representatives on 0800 4 ALSCO or complete the online enquiry form.
---

"positive, professional and importantly cost competitive"

Over these years they have accommodated our needs with quality products and service delivery across a number of requirements from mat laundering, cleaning products, sanitary and sanitation to air fresheners, pest control and medical supplies to name a few. Alsco has impressed me with their constant strive towards customer satisfaction by keeping me in touch with new product lines and new services.
Their sales representative reflects the high standard and value they place in appreciating their customers. Both representative and sales support contacts me on a regular basis, which I welcome.
I confidently recommend the service that Alsco Fresh and Clean offer as my experience with them has been positive, professional and importantly cost competitive."