Check Polycotton Trouser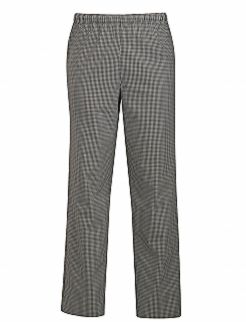 Polycotton trouser is a part of catering uniform that works well for any business. It matches the style of many jackets and jerkins from Alsco's range of products.
This is made with high-quality fabric that provides comfort and elasticated waist with a drawstring through it that allows flexibility in sizing.
The black, white and check polycotton makes them light and pleasant against the skin and prevents them from wrinkling and losing shape easily.
Sizes: XS to 6XL
190 gsm (checked)
65/35% Polycotton
Two pockets in side seam
Why Alsco's Managed Service is Best for your Business…
A convenient experience for you is at the top of our minds – always. Alsco New Zealand rental service is hyper-fast and accurate.
No large, up front capital costs.
We can tweak our services to fit your business with ease
Easy order increase for busy time periods
World-class inventory management system for easy ordering
Control your costs to match your needs and budget
To get started, simply telephone our friendly customer service representatives on 0800 4 ALSCO or complete the online enquiry form.