Civil Defence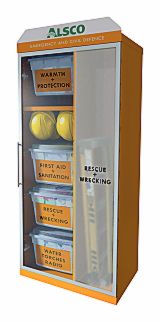 Storms. Fires. Earthquakes. They can have devastating effects not just on your business's profitability – but to the very lives of your employees. New Zealand is particularly at risk. That's why when the worst strikes your workplace, it pays off to be prepared.
With Alsco, your business has access to organised, modular emergency equipment for the very first time. Carefully labelled gear – stored in a durable cabinet – means your staff will be able to immediately decide what they need according to the situation. Whether an earthquake or a flood, give your staff the tools they need (literally) to survive any disaster.
What Makes Alsco's Rented Emergency Response Systems So Special?
Maintained and restocked with durable, quality emergency tools and equipment – for free*
Intuiitive – the correct kit is easy to choose and grab in case of emergency.
Affordable – we charge you a single, all-inclusive annual fee – that's it!
Once you pay a single annual fee, our professionals will install your Emergency Response System(s) in key, strategic locations. Not only that, every 3 months our team check, maintain and restock your emergency response systems – for free*. Let Alsco do what we do best – keep your employees prepared no matter the situation.
The Best Kit For The Worst Situation
It's easy to see emergency response equipment as optional. But on the rare chance that emergency strikes, being prepared with the right kit could be the best decision your business makes. That's why Alsco provide you with rented emergency response systems that are carefully supplied to ensure your employees are as prepared as possible in emergency situations characteristic for New Zealand workplaces. Alsco's Emergency Response Systems are…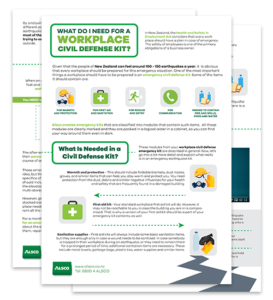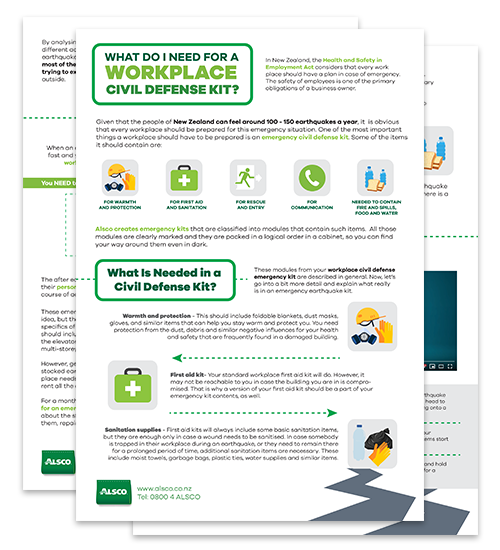 1. Logically organised and labelled so your employees can respond as quickly and effectively as possible
2. Inclusive of a wide range of emergency response equipment for different situations – including first aid, communication, rescue and survival modules
3. Stored in sturdy, shock-proof cabinets to ensure gear is safe and secure at all times
4. Modules can be customised and changed to fit your business's exact needs and potential environmental risks
Alsco's Managed Rental Service isn't just limited to Emergency Response Systems! We offer a range of first aid services to suit your business's unique needs. Have a look at…
First Aid Kits
Vehicle & Portable Kits
Eyewash Stations
Portable Defibrillators
One Fee: Limitless Maintenance & Restocking Included
Ready to pay one single fee – and let Alsco take care of your business's Emergency Response System needs year-round?
Fill in the enquiry form on this page, to get the best price. Our friendly, informed sales staff are waiting to help.
First time purchases include an extra $100 portable first aid kit – for FREE*.
---
[b3_row] [b3_column lg="4" md="4" sm="12" xs="12" ]


[/b3_column] [b3_column lg="8" md="8" sm="12" xs="12" ]
"...took care of all our requirements, in one hit, fantastic!"

The continual support they offer on a weekly basis is fantastic, I know they are only a phone call or email away should we need anything further. I found having a company that took care of all our requirements, in one hit, is fantastic! I needed overalls for our staff, first aid supplies, eye wash stations, bathroom and kitchen supplies as well as mats and signage. All of which was done for me, and continues to be monitored.
I wouldn't hesitate in recommending Alsco to any company that wants a professional service day after day."
[/b3_column] [/b3_row]