Managed First Aid Kits
The first aid kits in your workplace are one of the most important elements in the health and safety of your customers and employees.
Alsco's managed first aid kit service offers your business safety and New Zealand legislation compliance – year-round. Every three months, we fill your kits with carefully selected , hospital-grade material. Regardless of the type of your business, Alsco's managed first aid kit rental service can be perfectly adjusted to your business – at no extra cost.
Why is Alsco's Rented First Aid Kit Service Better?
Our First Aid Kits are:
Regularly restocked with hospital-grade first aid supplies – for free.
Matched with your business needs – we will provide you with Kits that you need, stocked with the supplies you'd most likely need.
Affordable – we charge you a single, all-inclusive annual fee – that's it!
We charge you a single annual fee for all the First Aid efforts we put into your order. Our team installs the First Aid Kits where they should be. That's not all. We come and check it, restock it, match its contents with New Zealand legal requirements. In other words – you can forget about them and leave it to us. Alsco's managed first aid rental service takes care of everything.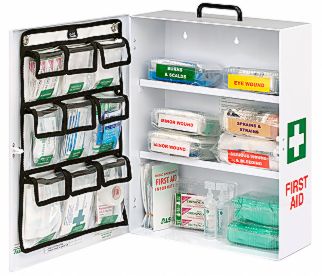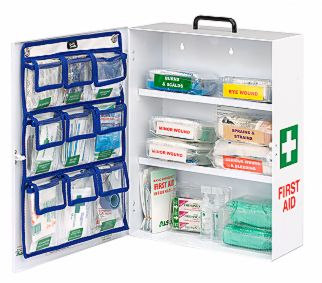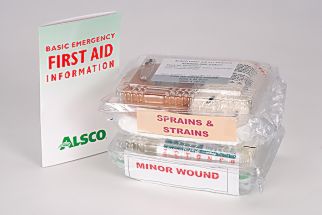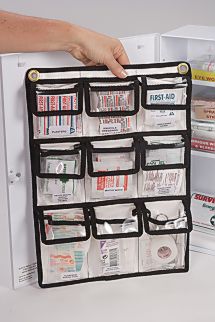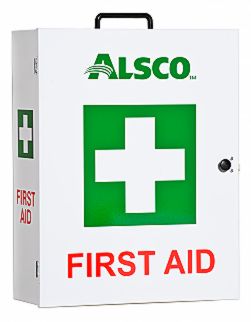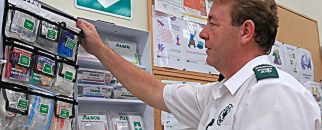 The Best Kit For The Worst Situation
At Alsco, our first aid kits are a direct reflection of us as a company. That's why we've carefully selected only the highest-quality, long-lasting first aid supplies as part of our service. Because when an accident occurs in your workplace, you want treatment to be as fast and effective as possible. That's why our kits are…
Carefully supplied to meed the needs of different industries – whether you're in hospitality, a white collar office or a blue collar workspace
Logically organised with colour-coded modules so injuries are treated with the right kit in the right order – as quickly as possible
Fitted with a removable door liner replaced and restocked every 3 months, keeping your workplace safe and legally-compliant 24/7/365
Stored in sturdy, compact, highly-visible cabinets that can be installed anywhere in your workplace
Alsco's Managed Rental Service isn't just limited to First Aid Kits! We offer a range of first aid services to suit your business's unique needs. Have a look at…
Vehicle & Portable Kits
Portable Defibrillators
Eyewash Stations
Emergency Response Systems
One Fee: Limitless Maintenance & Restocking Included
Ready to pay one single fee – and let Alsco take care of your business's First Aid Kit needs year-round?
Fill in the enquiry form on this page, to get the best price. Our friendly, informed sales staff are waiting to help.
First time purchases include an extra $100 portable first aid kit – for FREE*.
---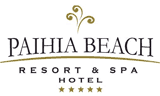 "…they are always willing to go the extra mile to help us out when we get stuck."

After initial enquiries with Alsco back in April 2015 the transition over to their service for our Hotel, restaurant and day spa linen, was swift and hassle-free. One of the best things about Alsco is that we are always dealing with the same people, right from the word go. Our account manager is always available to us should we need him, and any small issues we have had have been dealt with immediately and professionally. The service we've received from the Alsco Northland team is fantastic. I would happily recommend Alsco to other companies."