Running an Airbnb is the gift that keeps on giving. From earning extra money to making friends from all over the world and joining a global movement of hosts.
The sharing economy has encouraged everyone to imagine new ways of making a living while connecting with people from all over the globe.
Becoming a super host on Airbnb is a coveted title.
Your home will be booked all year round and you get to make good money while helping your guests have an excellent visit.
Airbnb super hosts Gabriela Domicelj and Derek Young from New South Whales have authored the Home Stay Guide that shares the secrets and joys of super hosts. After running their Airbnb for seven years, Gabriela and Derek have a wealth of knowledge to share.
Their biggest emphasis is the importance of the hygiene factor. This is the bare minimum expectation that the guest will find a clean home. Therefore, it is crucial to create processes and transition lists to help manage the cleaning.
Importance of Choosing Good Towels for Your Guests
Fresh towels provide a cosy feeling to your home and improve the hygiene factor. You should pay attention to how you choose towels because of the following reasons:
Amazing Towels Add an Element of Surprise to Your Airbnb
The devil is in the details. Guests will notice when you pay attention to their needs. Learn about your guest and the reason for their visit in order to customize their experience.
Adding a little unexpected surprise will make your guests smile and increase your chances of getting that lucrative 5-star rating.
Guests like to freshen up when they arrive at their Airbnb. Therefore, the quality of towels you provide will be critical in forming their first impression. Cosy towels create a feeling of being at home, so choose good quality and comfortable towels.
Consider Your Airbnb Maintenance Routine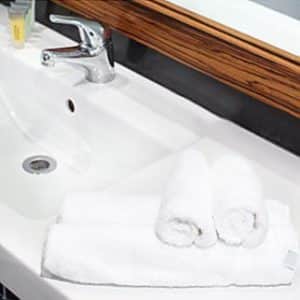 Regularly replace your linen with clean, crisp, and luxurious white linens.
Do you have a defined cleaning process for your Airbnb? For a seamless transition between each guest, it is important to have a process in place for your Airbnb. You need it whether you choose to do the cleaning personally or by hiring cleaners.
When deciding whether to outsource the cleaning service, consider how much time and effort you will preserve in between your guests. Instead of stocking up and caring for linen, you can choose to outsource your linen service.
Alsco New Zealand delivers clean and hygienic linen to your doorstep regularly.
We also provide emergency linen requests at no extra cost.
Factor in the Cost of Wear and Tear
Since most hosts start an Airbnb as a source of income, you need to treat it like a business. Therefore, you should always have running and utility costs in mind. Is your linen good quality and long-lasting?
The beauty of Alsco's Fresh & Clean service is that for a great price, you can order crisp, clean linen that ranges from bath mats, plush towels, robes, sheets and industry-specific linen.
When designing your home to become an Airbnb, consider the quality of items in your home. Cheap is expensive in the long-term.
Is your furniture sturdy and of good quality?
Is your washroom well-maintained and built to last?
Does your kitchen have great quality towels and cookware?
Is the linen cosy and long-lasting?
Factors to Consider When Choosing Your Airbnb Towels1. How They Feel to the Touch
A towel's feel is influenced by two things:
a. Fabric Quality
There are two common types of fabrics. Pure cotton towels and blended towels. Blended towels are lighter and are commonly used for contemporary functions. Pure cotton towels have a soft and luxurious feel. Blended towels are usually cotton mixed with microfiber materials to create a different look and feel.
Another key factor for quality is the style of the towel edges. Choose the double turned edge over the woven edge for two distinct advantages. The double turned edge is attractive and durable since it is less likely to fray.
b. The Type of Cotton
While pure cotton towels are preferable for business use, different varieties of cotton have their own merits and demerits. Everyday towels are made with standard cotton.
However, for business use, the common types of cotton are Egyptian cotton, Turkish cotton and Supima Cotton. Egyptian and Supima Cotton are soft and luxurious to the touch. They are also durable and great for business. Turkish cotton towels are popular in hotels and spas and have a thick, luxurious feel. They take longer to dry but also get softer and fluffier with every wash.
2. The Weight of the Towel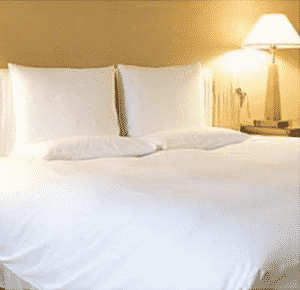 Impress your customers with good ambiance and impeccably luxurious linens
Two main reasons affect the weight of a towel:
a. Density
Towel density is measured by grams per square meter (GSM), also called the pile. The pile ranges from 200-900 and a good quality towel has a high density. On the other hand, 200-400 gram towels are light and great for the gym or kitchen due to their quick drying quality. Next, 400-600 gram towels are great for the beach and everyday showering due to their medium weight quality. Finally, 600-900 gram towels are extra luxurious and absorbent but take longer to dry.
It's important to strike the correct balance for your Airbnb. If you run a luxury establishment, go for a higher density towel. If you run a laid back home, you should use lower density towels. You can find good quality Egyptian cotton towels with a pile of 250.
The platinum accommodation service from Alsco Fresh & Clean was created to help luxury establishments get premium linen without the hustle.
b. Absorbency
Absorbency is simply the ability of a towel to dry you off fast. A towel with good absorbency is soft and thick. Like those commonly used in hotels. Egyptian cotton is a common choice for its long and thick threads.
Another factor that affects absorbency is the technology used to make the towel. Towels made with zero-twist technology are extraordinarily soft and fluffy while also lightweight, fast-drying, easily packable and durable.
3. The Towel Size
Towels sizes are as vast as their uses. Here are the common variations:
a. BathroomSize
Every good shower deserves a cosy towel. The standard bath towel used after a shower or a bath is 27 by 52 inches. You will find these in most homes, and they are handy to have around for family and guests.
A larger option is called a bath sheet since it offers more coverage and allows one to fully cover themselves after a bath. The size of a bath sheet is 35 by 60 inches. These are common in hotels and spas to offer the option of lounging in a comfortable towel.
The Alsco Fresh & Clean service delivers linen to your doorstep according to your specifications anywhere in New Zealand.
[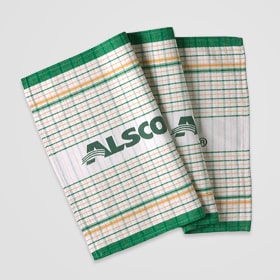 b. Kitchen & Utility Towel
For kitchen and utility use, you also need the smaller towels. Hand towels are 16 by 30 inches while washcloths are 13 by 13 inches. These towels are also important to stock up since the kitchen and washroom are high usage areas. Consider a service like Alsco's Fresh & Clean for cleaning, replacing and restocking your linen. Get it out of your mind for good and let us take care of it for you.
4. The Towel Colour and Style
A towel can elevate the ambience and finish of a bathroom or house. Therefore, it is important to consider the colour and style of the towel as you stock your washroom racks.
The colour can be influenced by the seasons or house theme. Bright, happy colours for spring and summer and cooler colours for fall and winter. You can also use fun colours and patterns as accents to add warmth to a washroom. Stacked towels can serve both aesthetic and functional purposes. The classic choice is fluffy white towels. You can never go wrong with this timeless option.
Running an Airbnb is demanding and you could use all the help you can get.
Let us take a load off your back. Alsco's Fresh & Clean rental service will regularly clean, replace and supply fresh, crisp linen to your doorstep. For both your accommodation linen and kitchen linen needs. There's even a platinum service for premium properties.
Whatever your style, we've got you covered.
Photo: lifeforstoc