Polycotton Work Trouser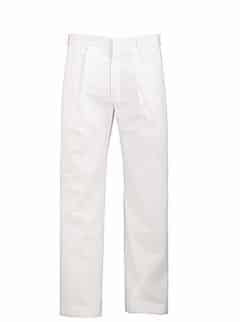 The way your staff presents themselves reflects your business. That's why it is essential to provide them a high-quality made garments and Alsco New Zealand has got you covered.
The Work Trouser is made with high-quality poly cotton fabric which is famously known for its durability and a long-lasting type of fabric.
This garment also provides comfort, it does not easily tear and wrinkle-resistant which keep your staff uniforms look neat and professional.
230 gsm
65/35% Polycotton
2 side, 1 hip & 1 fob pocket
Single pleat
Brass zip with belt loops
Wrinkle resistant fabric
Health and Safety Features…
Polyester/cotton blends that combine the comfort of cotton with the stain resistance and durability of polyester, enabling a lighter weight fabric to offer resistance to corrosive chemicals such as acids.
Internal pockets, cuffed sleeves, and no external buttons to minimise contamination.
A static dispersant coat that is lint free and specifically designed for a cleanroom environment.
Colour-coded workwear to avoid cross-contamination in the laboratory or plant.
Alsco offers a wide range of durable, tough and comfortable workwear. Check out our Food Industry Trouser and Occupational Trouser, both garments are made of high-quality materials and will fit your workplace requirements.
Why Alsco's Managed Service is Best for your Business…
A convenient experience for you is at the top of our minds – always. Alsco's rental service is hyper-fast and accurate.
No large, up front capital costs.
We can tweak our services to fit your business with ease
Easy order increase for busy time periods
World-class inventory management system for easy ordering
Control your costs to match your needs and budget
To get started, simply telephone our friendly customer service representatives on 0800 4 ALSCO or complete the online enquiry form.
---

"You services our branch with an awesome attitude…"

On behalf of Education Action we would just like to say a huge thank you to your employee Margaret who completes this service to the very best of her ability.
We very much appreciate the work she does and if it was not for her, we would have never had known what was wrong with our urinals. It was on her recommendation that we get them looked at.
By doing this she could help us fix the problem before it got much worse and for that we want to say thank you.
We appreciate all that Margaret and Fresh and Clean do and we look forward to working with your team in the future.
Thanks a Million.