Long Sleeve Polycotton Dairy Shirt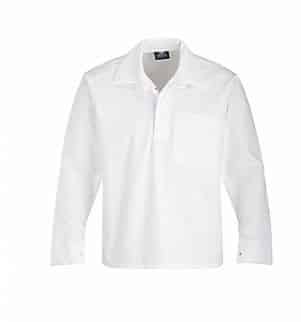 The Alsco Long Sleeve Polycotton Dairy Shirt is won't allow any of the chemicals to easily come in contact with your employees. This shirt ensures improved workplace hygiene and prevents the cross-contamination in the workplace.
This is a must have uniform especially since it is made with a high-quality material known for its durability, toughness and a long lasting type of garment, perfect for conditions in New Zealand workplaces.
170 gsm
65/35% Polycotton
Concealed 4 dome fastening
One internal breast pocket, inset sleeves
Self fabric cuffs
Health and Safety Features…
Polyester/cotton blends that combine the comfort of cotton with the stain resistance and durability of polyester, enabling a lighter weight fabric to offer resistance to corrosive chemicals such as acids.
Internal pockets, cuffed sleeves, and no external buttons to minimise contamination.
A static dispersant coat that is lint free and specifically designed for a cleanroom environment.
Colour-coded workwear to avoid cross-contamination in the laboratory or plant.
Are you looking for a trouser to match your Dairy Shirt? Look no more, Alsco got your covered. We offer you the Alsco Polycotton Work Trouser. It is lightweight and also resistant to acid and other corrosive chemicals.
Why Alsco's Managed Service is Best for your Business…
A convenient experience for you is at the top of our minds – always. Alsco's rental service is hyper-fast and accurate.
No large, up front capital costs.
We can tweak our services to fit your business with ease
Easy order increase for busy time periods
World-class inventory management system for easy ordering
Control your costs to match your needs and budget
To get started, simply telephone our friendly customer service representatives on 0800 4 ALSCO or complete the online enquiry form.
---

"100% excellent customer service"

The Fresh & Clean team are an amazing bunch of people from our client manager to the service team. Everyone is always friendly, helpful and always provide 100% excellent customer service. Everything is delivered on time and last minute changes or additions are never a problem. Thanks guys for keeping it simple."