Two Tone Cotton Overall with Tape
The Alsco Two Tone Cotton Overall with Tape is designed to be used during day time and night time work. It is made with 100% cotton fabric that allow air circulation, which makes it breathable and ideal for outdoor based workplaces.
This garment also has a reflective tape which makes it more visible, especially during night shifts. We know how important it is to keep your staff safety and have an accident free workplace.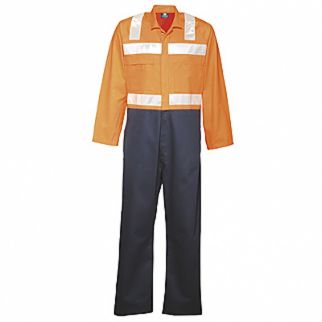 Sizes: 82R-122R, 82S-122S
311gsm
100% cotton drill
Raglan sleeves
Dome front and cuff fastening
9920 50mm reflective tape for safety purposes
Two chest pockets – right side with domed flap and left side with pen pocket
Two side angled pockets
One hip pocket
One ruler pocket
Available in the shade of…
Alsco offers variety of industrial uniforms, hence, we also have the Two Tone Polycotton Overall with Tape. This garment is also made of high-quality polyester fabric that is known for durability, sweat-resistant and is it is also breathable.

Why Alsco's Managed Service is Best for your Business…
A convenient experience for you is at the top of our minds – always. Alsco's rental service is hyper-fast and accurate.
No large, up front capital costs.
We can tweak our services to fit your business with ease
Easy order increase for busy time periods
World-class inventory management system for easy ordering
Control your costs to match your needs and budget
To get started, simply telephone our friendly New Zealand customer service representatives on 0800 4 ALSCO or complete the online enquiry form.
---

"…they are always willing to offer and look for better solutions."

Alsco have been Dow's preferred business partner for our New Plymouth site for a number of years.
Throughout my 9 years tenure, I've found them to be reliable, honest, innovative & responsive to deal with. This is from their delivery people to our account manager. Nothing seems to be of too much hassle to them.
Also when they lock in a contract price they honour it – something that doesn't happen a lot now days.
I have no hesitation in recommending Alsco to any business, looking for the above attributes."