Restaurant & Hospitality
Next to the food you serve, the image and ambiance your establishment presents is critically important to your success. The linens on your tables and the crisp, clean appearance of your staff should express and reinforce the quality of your products and services. Luckily for you, Alsco has 125 years of mastery when it comes to your establishment's linens.
Our range includes:
Table cloths
Customisable Overlays
Serviettes
Tea towels and HAACP wipes
Uniforms
Alsco's expertise in restaurant linen runs deep – in fact, 125 years deep. Designed and manufactured in house, we're extremely picky about our linen so you don't have to be. No matter if you need tea towels or table linens, Alsco can help. In fact, we'll take your dirty linen and replace it with fresh, crisp white replacements – like clockwork. Focus on what you do best and leave us to do the same – providing you with an impeccably high-quality linen rental service for New Zealand businesses.
Why choose Alsco's Restaurant/Hospitality Linens?
Keep your staff looking and feeling happy and professional with a range of long-lasting, comfortable uniforms, cloths and tea towels
Impress your customers and keep your restaurant's ambience and image impeccably high with elegant, crisp white linens 24/7
All linens are expertly-sourced, 100% cotton, and come in a variety of shapes, colours and sizes to match your needs and budget
Our managed rental service means your soiled linens will be replaced by clean, crisp white linens regularly
Having an immaculate, professional staff and environment a long way towards building your business's reputation and productivity. Alsco's linen rental service is an easy, economical way to revitalise your business and save time to focus on what you do best. No matter your unique needs, we'll clean and replace your linens regularly – at one, fixed annual rate. You can put all thoughts of managing your linens out of your mind completely – Alsco will take care of it.
Want To Indulge Your Customers In 5-Star Luxury? Choose Platinum.
At Alsco, we understand that your customers might demand the crème-de-la-crème of quality and luxury. That's why we created our Platinum Linen Range. Where the pinnacles of luxury meet an impeccably meticulous service. Choose Platinum – and leave your customers feeling utterly pampered in the process.
Alsco's Platinum Restaurant/Hospitality Linens Service…
Uses luxurious, high thread-count linens and towels to match the calibre of your establishment and pamper your customers
A wide range of products, sizes and colours to match your exact needs and never leave your guests wanting
Our managed rental service means your soiled/threadbare linens towels will be regularly replaced by clean, crisp ones
Find out more about Alsco Platinum here.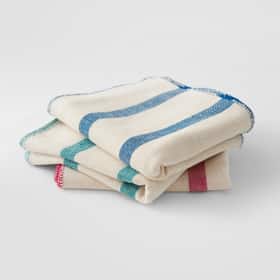 Cotton Striped Food Wipe
Features
100% cotton striped wipes (vat dyed stripes)
Overlocked rounded edges
Approx weight: 38grams/pc
Sizes
Colours
Red, blue or green stripes
---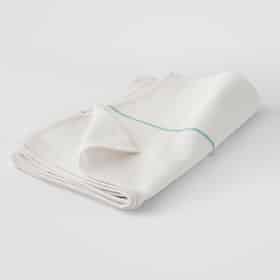 Cotton Utility Wiper
Features
100% cotton wiper
1cm hem on four sides
Approx weight: 80grams/pc
Sizes
Colours
Green vertical stripe on a bleached white background
---
More styles and colours are available! Please ask a friendly sales rep for our full product range.
---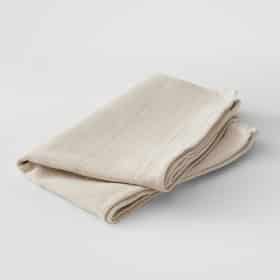 Cotton Herringbone Wiper
Features
100% cotton wiper
2 sides hemmed (top and bottom) and side edges selvedge
Approx weight: 107grams/pc
Sizes
Colours
2 green stripes on a unbleached white background
---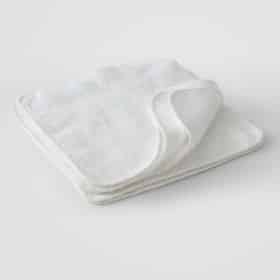 Cotton Flannelette Wiper
Features
100% cotton flannelette
Double brushed wiper
Overlocked edges
12.5cm width reinforced opening (to assist in handling)
Approx weight: 145grams/pc
Sizes
Colours
---
More styles and colours are available! Please ask a friendly sales rep for our full product range.
---
Why choose Alsco's Food & Glass Wipes?
Reusable – Rather than polluting the environment and inconveniencing your business with disposable wipes, these wipes are reusable and manufactured for practicality, first and foremost. Made from tough, high-quality cotton, they'll last far longer than regular bulk-purchase disposable wipes. We'll even replace any damaged towels – at no extra charge.
Highly-absorbent – Designed for practicality, these wipes will absorb liquids, remove dirt, and leave your surfaces and glass wear sparkling clean.
It's completely effortless – As part of our affordable managed rental service, Alsco will clean, replace and deliver your tea towels on a weekly basis – straight to your doorstep. You don't ever have to worry about staying on top of your restaurant's laundry ever again.
One Annual Fee – Limitless Servicing
With our managed rental service, pay one fee – and let us take care of all your food & glass wipe needs, including cleaning, restocking, and delivery.
Call Alsco at '0800 425726' or use the contact form to the right to learn more about our Managed Food & Glass Wipe Rental Service. You can also benefit from our FREE trial – no strings attached!
---

"positive, professional and importantly cost competitive"

Over these years they have accommodated our needs with quality products and service delivery across a number of requirements from mat laundering, cleaning products, sanitary and sanitation to air fresheners, pest control and medical supplies to name a few. Alsco has impressed me with their constant strive towards customer satisfaction by keeping me in touch with new product lines and new services.
Their sales representative reflects the high standard and value they place in appreciating their customers. Both representative and sales support contacts me on a regular basis, which I welcome.
I confidently recommend the service that Alsco Fresh and Clean offer as my experience with them has been positive, professional and importantly cost competitive."