Anti-Fatigue & Wet Area Mats
Anti-fatigue. Non-slip. These mats are the ideal answer to an accident-free workplace and your healthy, comfortable employees – no matter how long they're on their feet.
Have a busy kitchen with a ton of foot traffic? Work in a garage where solvent spills are an everyday hazard? Alsco's anti-fatigue mats are the high-quality answer to your problems.
In fact, thousands of companies across New Zealand are making their workplaces safer and their employees more productive with the help of our anti-fatigue mats.
[b3_row class="aligncenter mbottom30″]
[b3_column lg="4″ md="4″ sm="12″ xs="12″ ]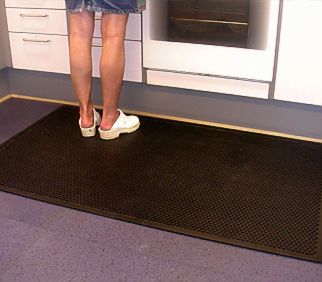 [/b3_column]
[b3_column lg="4″ md="4″ sm="12″ xs="12″ ]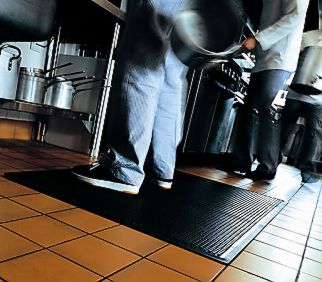 [/b3_column]
[b3_column lg="4″ md="4″ sm="12″ xs="12″ ]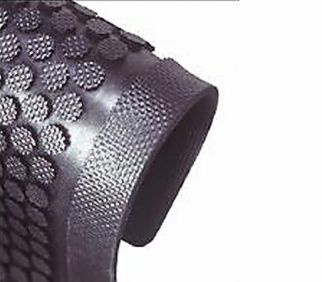 [/b3_column]
[/b3_row]
[b3_row class="aligncenter mbottom30″]
[b3_column lg="4″ md="4″ sm="12″ xs="12″ ]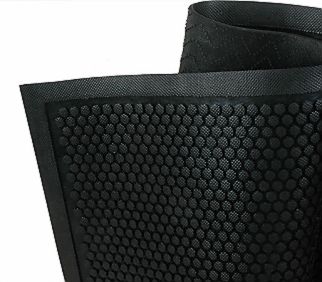 [/b3_column]
[b3_column lg="4″ md="4″ sm="12″ xs="12″ ]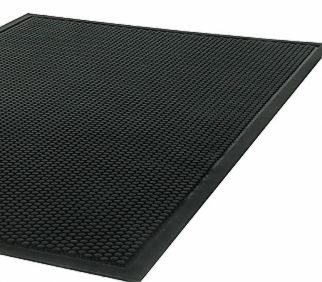 [/b3_column]
[b3_column lg="4″ md="4″ sm="12″ xs="12″ ]
[/b3_column]
[/b3_row]
Our Anti-Fatigue Mats are…
Safe – Textured nitrile rubber is non-slip, reducing the chance of workplace accidents and employee strains
Comfortable – A firm but cushioned surface improves employee comfort, minimises fatigue, and helps avoid direct contact with hard, cold floors
Resistant – High-quality construction means these mats can endure everything from industrial laundering through to oils, solvents and water in the workplace
Keeping Your Employees Healthy, Happy and Productive
Accidents like slipping and tripping and the likes of muscle fatigue are greater risks to employees than fire. Water spillage is also a hazard to kitchen staff, while oil and grease often threaten the safety of workshop employees.
Alsco's Anti-Fatigue mats help avoid these risks. Less days off due to injury. Less discomfort from hard, cold surfaces. Our anti-fatigue mats help you keep your staff safe and productive at work.
Alsco's Anti-Fatigue mats make a great non-slip working surface for a range of workplaces.
These include:
Industrial workstations, machine shops and assembly lines
Food Service Outlets, Bars, Cafes
Behind the counter at Retail Outlets, Petrol Stations
Offices – where employees are standing all day, or where staff stand at their desk.
From service counters to assembly lines, your staff stand up for your business every day. Support them to the best of your ability with Alsco's anti fatigue mat.
The unique cushion ergonomics of these mats provides greater underfoot comfort, keeping employees motivated and full of energy. Patented nitrile rubber also resists hazardous water, oil, solvents and more.
Sizes Available
| | |
| --- | --- |
| Small | 85cm x 115cm |
| Medium | 85cm x 150cm |
| Large | 115cm x 180cm |
100% Convenient & Customised To Your Business
Every workplace is different. That's why Alsco deliver a floorcare solution tailored to you. Our experts can help you decide where to install our anti-fatigue mats, and whether you should complement them with other types of mats in your workplace.
Whatever your needs, Alsco can help you make the right decisions to help make your workplace as safe and efficient as possible.
Our mats are of the highest quality available in the industry. But because this is a Managed Rental Service, it's affordable for even the smallest of businesses. From the equivalent of $1 a day, Alsco will supply, clean, and replace the mats in your workplace.
We take the hassle, risk and cost of floorcare out of the equation.
Still uncertain? Try Alsco's FREE 2-week trial! It's the zero-risk, zero-obligation way to experience the true quality of Alsco's anti-fatigue mats. Contact us using the form to the right to learn more!
---
[b3_row] [b3_column lg="4" md="4" sm="12" xs="12" ]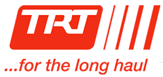 [/b3_column] [b3_column lg="8" md="8" sm="12" xs="12" ]
"…exceptionally good supplier of laundry, flooring, ablution supplies"

The rapport and comradery between Alsco and TRT staff involved in service delivery was of a superior level. TRT has since handed over all ablution supply orders to Alsco. TRT has upgrade flooring in all departments and supports the initiative of Health and Safety messages on mats. The business relationship has also seen a three year agreement signed and an upgrade of lockers and cabinets in each of our 4 locations.
I think the most important aspect of the relationship TRT has with Alsco is the very short response time with any communication or issue and this truly does confirm the professional culture within their organisation."
[/b3_column] [/b3_row]