Rental vs Purchase
Buying a First Aid kit requires you to constantly re-stock it, source quality First Aid supplies and stay up to date with frequently changing WHS legislation. Similarly, buying a defibrillator requires regular servicing and replacement of batteries and pads.
Sometimes isn't good enough. In 2011 the overall rate of ACC injury claims was 97 claims for every 1,000 full-time equivalents (FTEs) – this doesn't take into account non ACC injuries! With Alsco's Managed Rental Program for First Aid Supplies – including Automated External Defibrillators(AEDs), Eyewash Stations and Civil Defence – you can be sure that you'll have the first aid supplies you need, specific to injuries, on hand, every time.
Alsco's rental program takes that entire headache away, giving you piece of mind. Alsco's rental program even takes away the financial burden of capital outlay and depreciation, replacing it with a tax deductible service.
[b3_row class="aligncenter mbottom30″]
[b3_column lg="4″ md="4″ sm="12″ xs="12″ ]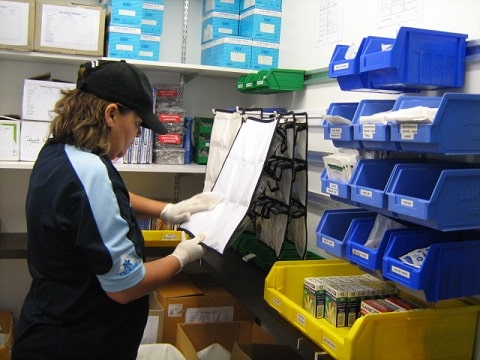 [/b3_column]
[b3_column lg="4″ md="4″ sm="12″ xs="12″ ]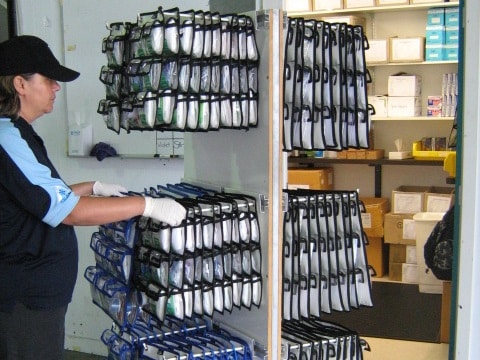 [/b3_column]
[b3_column lg="4″ md="4″ sm="12″ xs="12″ ]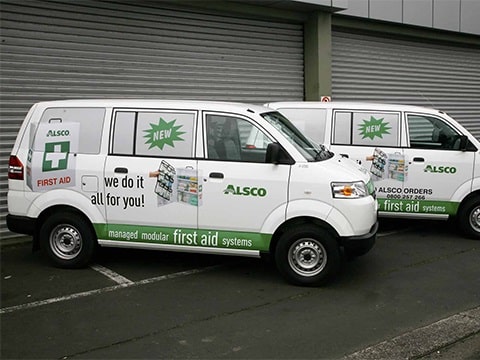 [/b3_column]
[/b3_row]
[b3_row class="aligncenter mbottom30″]
[b3_column lg="4″ md="4″ sm="12″ xs="12″ ]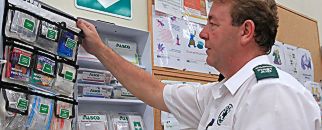 [/b3_column]
[b3_column lg="4″ md="4″ sm="12″ xs="12″ ]
[/b3_column]
[b3_column lg="4″ md="4″ sm="12″ xs="12″ ]
[/b3_column]
[/b3_row]
7 reasons to use Alsco's Managed Service
Re-stocked regularly
WHS Compliant
Full range of kits
Hospital grade supplies
Up-to-date Service Logs
One small, simple, flat fee
Injury Specific supplies
An Alsco Managed Service has many MORE advantages:
Agreed maintenance schedule by our friendly, professional New Zealand team with a proven service record. Use our experience and expertise as a reference point to support you.
High quality "hospital grade" first aid supplies that are never out of date
Peace of mind knowing that all your first aid kits are auditable to WHS guidelines, using both log books and our state of the art electronic tracking system
Sturdy, highly visible, wall-mounted cabinets for immediate identification and ease of access – for first aid kits, AEDs and Eyewash Stations
Easy budgeting and cash flow management with a flat fee, inclusive of all services and consumables
What makes Alsco's First Aid kits better than the rest?
Each item in Alsco's first aid kits are colour coded for specific injuries, ensuring you select the correct first aid kit for your required situation.
A removable door liner is replaced with each service.
Well labelled, transparent packaging allows you to find the right supplies when you're in a hurry.
A service card in each cabinet is used to log service dates.
Each kit has a logical, standard layout that makes it simple and easy to use.
Re-stocked Regularly
Alsco understands that purchasing and installing a First Aid Kit is easy. What is increasingly difficult to manage is keeping a First Aid kit "appropriately stocked". In order to be appropriately stocked two key elements must be fulfilled.
(1) A sufficient level of specific supplies must be stored in ratio to the amount of employees on site and in balance with the hazard probability of the workplace.
(2) Supplies must be of a high enough quality to be approved by the Therapeutic Goods Administration.
Alsco guarantees these key elements are met through a quarterly on-site maintenance service. A professional First Aid Service Representative will visit each of your First Aid kits and routinely refresh your entire supply of quick access consumables and re-stock any used or expired injury specific modules. This ensures that there is an appropriate level of serviceable supplies in every serviced First Aid kit.
For unanticipated high-levels of usage Alsco also offers a next-day postage, or site visit service for client re-stocking upon requests, a service offered at no extra charge.
Alsco also achieves a level of "appropriate stocking" by maintaining frequent communication channels with its supplier and the Therapeutic Goods Administration. This consultation keeps Alsco at the forefront of First Aid supply quality.
Likewise, Alsco's managed service ensures that your Automated External Defibrillator is 100% ready, 100% of the time. With a regular servicing schedule, your AED's software is kept up-to-date, and both the pads and batteries are replaced as required.
OSH Guidelines – Alsco First Aid Kits meet the guidelines.
Maintaining a workplace First Aid kit has become as much about satisfying OSH recommendations as it has about providing medical assistance in the case of an emergency.
The majority of businesses have no avenue through which to be updated about changes in OSH guidelines regarding First Aid requirements. However, Alsco deals with a range of different sized businesses, from all different industries, all across New Zealand. It is this experience that allows Alsco to stay at the forefront of OSH changes and puts Alsco in a position to keep current and equip all its serviced First Aid kits with up-to-date supplies.
Full Range of First Aid Kits.
Keeping First Aid Kits up to date can prove a difficult task. This chore is made increasingly difficult if different materials and equipment are supplied by different sources. Alsco offers a full range of First Aid solutions to help consolidate your supply chain.
We are one supplier who can provide a managed service for eyewash stations, automated external defibrillators, vehicle first aid kits, portable first aid kits and wall mounted first aid kits to suit different sized businesses and different industries.
We have an exhaustive range of First Aid supply solutions and can even customise our kit contents and managed service schedule in order to satisfy your requirements.
Up-to-date Service Logs.
A part of OSH requirements is the documentation of emergency plans and safety measures. Alsco's consistent on-site visits and log book maintenance compile a sufficient amount of data to satisfy most New Zealand WHS requirements.
Alsco improves its service data collection with a state of the art service management program, which can generate electronic service logs for several sites across the country. Alsco specialises in Managed Services and managing the data involved.
One small, simple, flat fee.
Rental programs give our customers numerous financial advantages. From the very first day of service there are significant savings as our kits and equipment are installed with no installation fees, no deposit and no capital outlay. The small all-inclusive annual fee remains constant throughout the entire service agreement.
Having a small, simple flat fee also improves cash flow management. Unexpected capital expenditure can suddenly burden business cash flow and affect profitability but a constant fee can be measured and accounted for.
Lastly, rental service fees are a tax deductible business expenditure. This can prove to be a big tax benefit, especially when compared to the perplexity of capital depreciation.
Injury Specific Supplies.
Alsco pioneered the concept of assembling supplies according to specific injury response. Frequently when First Aid is required there is a level of panic and rush in the situation. This is not conducive to locating suitable First Aid supplies to respond to the emergency, even for a trained workplace First Aid officer.
Therefore Alsco has taken the initiative to group relevant supplies in a diverse range of clearly marked modules:
In the case of a hot water burn, a Burns Module can be easily located and the sealed module opened to reveal only the appropriate supplies to treat a burn.
In case of an eye injury, the eyewash station is easily located and accessible.
This system has changed the way First Aid kits are supplied in the industry and Alsco is always evolving its modules to give its clients the best opportunity for First Aid success.
---
[b3_row] [b3_column lg="4" md="4" sm="12" xs="12" ]


[/b3_column] [b3_column lg="8" md="8" sm="12" xs="12" ]
"...took care of all our requirements, in one hit, fantastic!"

The continual support they offer on a weekly basis is fantastic, I know they are only a phone call or email away should we need anything further. I found having a company that took care of all our requirements, in one hit, is fantastic! I needed overalls for our staff, first aid supplies, eye wash stations, bathroom and kitchen supplies as well as mats and signage. All of which was done for me, and continues to be monitored.
I wouldn't hesitate in recommending Alsco to any company that wants a professional service day after day."
[/b3_column] [/b3_row]