Proper waste disposal is an important habit for every everyone. It's something we can consider not only for our own benefit, but for society and the environment too.
No matter how small or big your rubbish, remember to think about the consequences before you flush.
Let's work together to help remind and educate people everywhere about proper waste disposal using 'think before you flush' poster and infographic for free! These are perfect for washrooms, toilets, workplaces, schools and public areas.
Think Before You Flush Poster
View A4 large version
Download PDF [85 KB]
Download GIF [240 KB]
Download PNG [142 KB]
View Letter large version
Download PDF [85 KB]
Download GIF [230 KB]
Download PNG [142 KB]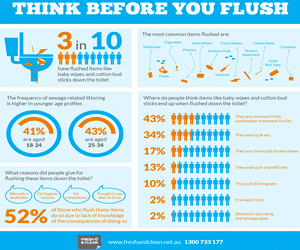 Think Before You Flush Infographic
View large version
Download PDF [196 KB]
Download PNG [103 KB]