Protect and keep your eyes safe. Place these eye safety posters in strategic locations in your workplace.
Remind colleagues to remain safe rather than be sorry. Ensure that these posters are clearly visible so that they serve as a continuous reminder.
---
---
Note: These posters are free, downloadable and print-ready. Download and print them now!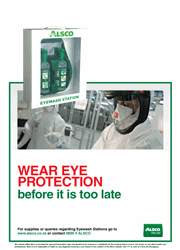 A4 Wear Eye Protection
Many people may neglect wearing proper eye protection. Prevent eye injuries. Wear eye protection before it's too late. Use this poster to encourage your workers to wear eye protection and avoid eye injuries.
View large version (please note: not best quality for printing)
Download PDF [977KB] – ideal for printing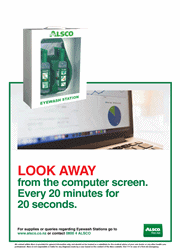 A4 Look Away
Look away from the computer screen every 20 minutes for 20 seconds. This is a simple and quick solution to avoid screen fatigue and computer eye strain. Post this poster around to remind your staff to look away from the computer every 20 minutes for 20 seconds.
View large version (please note: not best quality for printing)
Download PDF [595KB] – ideal for printing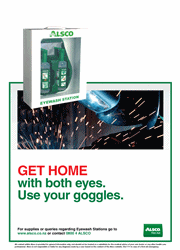 A4 Get Home
Get home with both eyes. Use your goggles. Wearing your safety goggles will protect your eyes and get you home safely. Do not take the risk of neglecting to wear your safety goggles. Post this poster in strategic location to trigger safety consciousness in the workplace.

View large version (please note: not best quality for printing)
Download PDF [2MB] – ideal for printing

Call