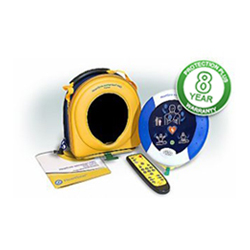 Are you prepared for cardiac arrest emergencies in the workplace? Use these posters to serve as a continuous reminder of the basics of defibrillation.
Once a person suffers from a cardiac arrest, every second counts. With every minute without medical assistance, the chances of survival drop significantly.
It takes approximately 12 minutes for a New Zealand ambulance to reach the place of emergency and attach their AED to the victim's chest. That can be too late.
Rent portable AEDs for your workplace and be able to help your coworkers immediately. Alsco New Zealand offers easy-to-use AEDs with voice prompts, so that anybody can use them, no training required.
However, for a person to be confident they are doing the right thing in the case of emergency, they need some basic instructions for AED usage. Give your employees the reminders they need in order to assist a victim confidently.
Get these posters and put them up around your office.
---
---
Note: These posters are free, downloadable and print-ready. Download and print them now!