"What restaurant cleaning chemicals do I need for my restaurant?"
If you are a restaurant manager or owner, you've probably asked yourself this question.
You can't sleep knowing your patrons are at risk of suffering from food-related contamination. Some reasons to keep your restaurant clean include:
Preventing foodborne illnesses: Your restaurant shouldn't be a source of food poisoning.
Saving on food costs: Taking a proactive approach to clean and disinfect your restaurant greatly reduces spoilage.
Extending the life of a kitchen appliance: Food processors work more efficiently if they are clean.
Saving energy: Dirt and dust in your restaurant can be expensive. For instance, when your refrigerator is full of dust, its compressor runs longer. This means that the refrigerator will use more energy.
For a sparkling clean restaurant, here are five cleaning chemicals you need to use.
Surface Sanitisers
[b3_row]
[b3_column lg="8″ md="12″ sm="12″ xs="12″ ]
Surface sanitisers are used to reduce bacteria and dissolve grease from hard surfaces. Since a restaurant is a busy place, these surfaces frequently harbour microorganisms.
When cleaning, always follow the instructions on surface sanitiser. Typically, you should sanitise your restaurant at least once a day.
How To Use Surface Sanitisers
Wash your restaurant surface with a general restaurant cleaner to remove visible dirt.
Rinse the surface with clean water.
Use a tested and approved surface sanitiser to kill germs.
If there is no visible dirt on a surface, you can directly clean it using the sanitiser.
You might need to leave the sanitiser on the surface before wiping it off. This depends on product instructions.
[/b3_column]
[b3_column lg="3″ md="12″ sm="12″ xs="12″ ]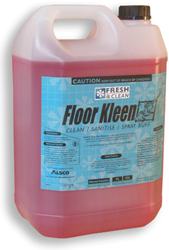 [/b3_column]
[/b3_row]
Whether you use a liquid solution or surface wipes, always wipe your restaurant surface in one direction. This helps avoid recontamination.
Avoid using similar wipes on all your surfaces. And replace wipes that have been frequently used.
Surface sanitising gets rid of the risk of cross-contamination. As such, it will protect your guests and employees from accidentally spreading bacteria and viruses to others.
Examples of Surface Sanitisers
Fresh & Clean QuatSan Hand Surface Sanitiser
Kemsol Bac-Stop Sanitiser
Fresh & Clean Citrus Power Concentrated Multipurpose Cleaner Sanitiser
Ensuring your restaurant surface is free from germs is the first steps to having happy customers. Observe cleanliness with Alsco's surface sanitisers and see your restaurant business grow.
Dish and Glassware Sanitisers
[b3_row]
[b3_column lg="8″ md="12″ sm="12″ xs="12″ ]
Dish and glassware sanitisers are liquid, powder, or tablet products used to sanitise:
Dishes
Kitchen trays
Chopping boards
Glassware
Other kitchen surfaces that usually get into contact with food
How Dish and Glassware Sanitisers Work
Scrape any visible food, dirt, and crumbs off the surface of dishes/glassware.
Wash the dishes/glassware in hot, soapy water.
Rinse the dishes or glasses in hot, clear water.
Soak the dishes/glassware in a sanitising solution for about one minute.
Remove the dishes and allow them to dry.
If you normally use a dishwasher, use the sanitise feature if it's available.
[/b3_column]
[b3_column lg="3″ md="12″ sm="12″ xs="12″ ]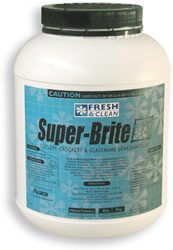 [/b3_column]
[/b3_row]
Keeping your restaurant dishes and glassware clean and germ-free is an on-going job. Your utensils need daily attention.
A good example of dish and glassware sanitisers is the Fresh & Clean Super-Brite sanitiser.
If people get sick from invisible dirt and germs, you won't have a restaurant anymore. And washing your dishes and glasses with regular soap is not enough to keep them germ-free.
You need to use these sanitisers to disinfect and clean your restaurant utensils.
Hand Soaps and Sanitisers
[b3_row]
[b3_column lg="8″ md="12″ sm="12″ xs="12″ ]
Hand sanitisers are increasingly being used as substitutes for handwashing. This happens both in public places and health care environments. Sanitisers are easy to use, and they don't require water or any material to dry your hands.
How to Clean Your Hands With A Waterless Hand Sanitiser
Remove all organic matter, such as dirt from your hands.
Apply a little (dime-sized) amount of waterless hand sanitiser to your hand.
Rub your hands together.
Ensure the sanitiser covers all the surfaces of your hands and fingers.
Rub until the sanitiser is absorbed.
The Center for Disease Control and Prevention (CDC) recommends that people wash their hands with soap and water. Hand soaps reduce all amounts of chemicals and germs on your hands.
[/b3_column]
[b3_column lg="3″ md="12″ sm="12″ xs="12″ ]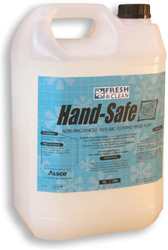 [/b3_column]
[/b3_row]
Although hand sanitisers are not effective in getting rid of visible organic matter (food, dirt, or other materials), they have many benefits over hand washing soaps. These include:
Hand sanitisers kill germs faster than hand soaps.
They're less irritating to the skin compared to some hand soaps.
They can improve the skin condition.
Hand sanitisers are easily accessible compared to sinks.
Examples of Soap and Hand Sanitisers
Fresh & Clean Hand Sanitiser Foam
Fresh & Clean Foam Soap Antibac
Fresh & Clean Hand Soft
Hands are parts of the body that get into contact with most objects, other people and your own body. How many times have you unconsciously touched your face today?
While general hygiene may be a top priority to you, you should focus on keeping your hands clean. Hand soaps and sanitisers are the best in limiting the spread of bacteria and viruses.
Glass Cleaners
[b3_row]
[b3_column lg="8″ md="12″ sm="12″ xs="12″ ]
Glass cleaners are usually in the form of sprays or wipe solvents. These solvents can be used on surfaces such as:
Glass
Appliances
Dashboard
Painted surfaces
Glass cleaners dissolve grime and dirt from these surfaces, leaving them shiny. Moreover, these surfaces remain streak-free.
How to Use Glass Cleaners
Choose the glass cleaner you're going to use.
Wipe down or dust the glass surfaces.
Spray the cleaner on the glass surface.
Be generous with the spray and ensure it covers the entire area.
Use a microfiber or any other lint-free cloth to rub the glass surface in a circular motion.
For best results, use a paper towel to wipe the glass clean.
[/b3_column]
[b3_column lg="3″ md="12″ sm="12″ xs="12″ ]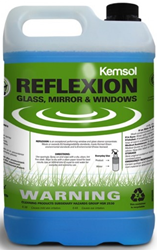 [/b3_column]
[/b3_row]
If you want your restaurant to be sparkling clean from top to bottom, you need to use glass cleaners. Be it your restaurant glass door entrance, glass shower door, or tall bedroom window at home.
Examples of Glass Cleaners
Fresh & Clean Image Window/Glass Cleaner
Kemsol Green Reflexion Window & Glass Cleaner
Although it may seem difficult and dreary to clean windows, using glass cleaners helps you take the burden off your shoulders. You can easily improve the look of your restaurant or house by using the above mentioned streak-free glass cleaners.
Restroom Cleaners
[b3_row]
[b3_column lg="8″ md="12″ sm="12″ xs="12″ ]
A restroom cleaner is a chemical designed to clean, disinfect, and even deodorise restrooms. They promote hygiene by reducing the spread of diseases and infection.
How do Restroom Cleaners Work?
Gather all necessary restroom cleaning equipment.
Wear personal protective equipment.
Ensure your restaurant restroom is empty.
Post appropriate safety signs like "Closed for cleaning".
Remove any debris from the toilet and urinals.
Flush the toilet and other surfaces to remove any visible soils.
Apply the restroom cleaner to all touchpoints.
Allow the solution to sit on the surfaces for some minutes. Check the recommended time on the clear instructions.
All restroom rags and mops used for cleaning restrooms should be unique or marked. This helps to avoid mixing them with others.
[/b3_column]
[b3_column lg="3″ md="12″ sm="12″ xs="12″ ]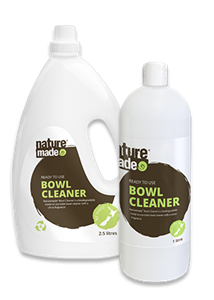 [/b3_column]
[/b3_row]
Cleaning and disinfecting your restroom are two different things. And both need to be done to get rid of germs on restroom surfaces.
Example of Restroom Cleaners
Nature Made Bowl Cleaner
Everyday Multiuse Biological Cleaner 5L
Keep Your Restaurant Clean
All restaurants have to follow consistent restroom cleaning procedures. Using restroom cleaners prevents contamination and also reduces overall labour as well as increases efficiency.
It has taken years for restaurant owners to appreciate and develop restaurant hygiene awareness. We at Alsco NZ understand this and we are determined to keep your restaurant clean and safe.
You shouldn't underestimate the power of a clean and hygienic workplace, so contact Alsco NZ for all your cleaning products.