Keeping your restaurant clean is crucial for many reasons. Regardless of how tasty your food is, failing to maintain cleanliness will steer your customers away from your restaurant.
Typically, word-of-mouth is the best form of recommendation for many restaurants.
And your patrons can only recommend your business if you've built a positive reputation.
A clean and hygienic restaurant will surely create the exact impression you want. Moreover, you'll receive an excellent report from your health and food inspectors.
Therefore, it's important to deep clean your restaurant using proper chemicals to ensure you:
Safeguard your patrons from foodborne diseases.
Reduce your employee workload.
Keep pests at bay in your restaurant's kitchen.
Let's now look at the five foodservice chemicals you need to use when deep cleaning your restaurant equipment.
Coffee Machine Cleaner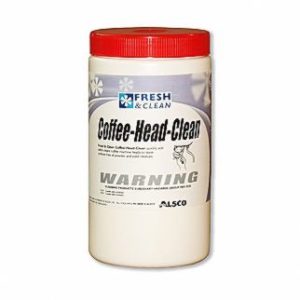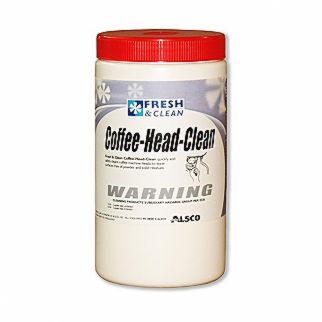 A coffee machine cleaner is a deep cleaning chemical used to clean and disinfects coffee makers.
Your restaurant coffee machine may not be as clean as you imagine. Some signs of a dirty coffee machine include:
Bitter tasting coffee
Allergies
Experiencing blot gastrointestinal issues
Headache or skin irritation
How to Use a Coffee Machine Cleaner
Put half a spoon of coffee machine cleaning chemicals in every blind filter basket.
Tightly lock the portafilters into the group head.
Activate the group heads for about ten seconds.
Then deactivate the heads for tens seconds.
Repeat the procedure three times.
Remove the machine's blind portafilter.
Dispense water out of the group head for about ten seconds.
Rinse the blind portafilter.
Put clean portafilters into the group heads.
Repeat the backflush process without using the coffee maker cleaner.
Now rinse the inside of the machine.
To ensure your patrons don't get infected with coliform bacteria or other germs, you need to deep clean the machine regularly using the espresso machine cleaner.
Cleaning your coffee machine also keeps it in the best condition.
Ice Machine Cleaner
Ice machine cleaners are biodegradable cleaners that are used to remove scale deposits from ice machines. The cleaner usually digests harmful biofilms.
Biofilms comprise contaminants and microorganisms such as bacteria, fungi, and even protists.
How to Use an Ice Machine Cleaner
Turn off your ice machine unit.
Remove all the ice, drain and bleed from the machine.
Remove its water trough, distribution tubes, curtains, and any other parts that are contacted by water.
For every litre of water, mix 25 ml of ice machine cleaner.
Place the removed machine parts into the cleaning solution and let them soak.
Where necessary, loosen any scales using a soft brush.
Clean the storage cabinet and bin using a clean cloth or sponge soaked in the cleaning solution. Rinse these parts thoroughly with clean water.
Remove the soaked parts from the solution and rinse them with clean water. Replace them and turn on the water.
Add about 40 ml of the cleaner into the ice machine and allow it to circulate for about 10-15 minutes. The water should circulate until there is no scale. Ensure all the drains become clear.
After the unit is clear, drain the circulating solution. Flush it with fresh water for about one minute.
Replace the drain plug.
To ensure you get high-quality ice, rinse its bin thoroughly with fresh water.
Restart the unit and discard the first set of ice.
An example of an ice machine cleaner is Impresa Products Ice Machine Cleaner.
Prolong the life of your ice machine while maintaining proper food safety. As such, this cleaning chemical is designed to:
Prevent corrosive damage
Mineral buildup
Bacterial contamination
Oven and Grill Cleaners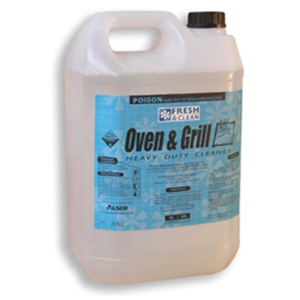 An oven and grill cleaner removes grease deposits, carbon, and burnt-on fat. The cleaner can work on all surfaces, including:
Baking trays
Rotisseries
Baking trays
Barbecues
Hotplates
Regular cleaning ensures your restaurant equipment continually works appropriately.
How to Use an Oven and Grill Cleaner
Turn off the unit and unplug it.
Wait till the oven and grill are cool.
Poor the undiluted cleaner on the surface you wish to clean.
Leave the chemical on the surface for some minutes.
Use a stiff scraper or brush to remove any soiling.
Rinse the surface with fresh water to finish.
Without a doubt, your oven and grill are essential to your foodservice operations. Whether you own a modern restaurant oven or an outdoor patio grill, these cleaners will definitely improve your equipment conditions.
An example of oven and grill cleaners is the Fresh & Clean Oven And Grill Carbon/Grease Cleaner.
This cleaner is highly effective even during first-time cleaning. They are also biodegradable to promote a cleaner environment.
Deep-Fryer Cleaner
A deep-fryer cleaner is a foodservice chemical that helps sanitise and clean the surfaces of a deep fryer. A deep fryer helps cook home and restaurant foods such as:
Chicken
Donuts
Turkey
Onion rings
Potatoes
Freshly deep-fried chicken or turkey sure tastes heavenly. But this might not be possible if your restaurant isn't clean.
These cleaners are easy-to-use and more convenient compared to other forms of cleaning.
How to Use a Deep-Fryer Cleaner
Cleaning the interior:
Unplug the deep fryer from its source of power.
Let it cool down for some minutes.
Using a spider strainer, remove any large food debris.
Pour cooled oil from the unit into a container.
Add deep-fryer cleaning solution.
Plug the unit and let the solution boil for about 30 minutes, depending on your unit soil.
Turn off the unit and drain the unit.
Use a brush to remove any remaining soil from the sides of the deep fryer.
Flush the unit with clean water and allow it to dry.
You can now close the valve and refill the unit with oil.
Cleaning the exterior:
Use the cleaner to spray the exterior surface of the unit.
Leave the solution for some time.
Use a synthetic pad or brush to scrub the surface.
Rinse it with clean water.
An example of a deep-fryer cleaner is the Boil Out Fryer Cleaners.
As a restaurant owner, you spend a lot of money on filtering your fry oil. It will be a waste of money if you pour clean oil into a dirty deep fryer.
Besides, dirty deep fryers coils and walls take more time to heat up. This will cost your commercial business time and money. Thus, you need to regularly clean your fryer to make your task quicker and faster.
Degreasers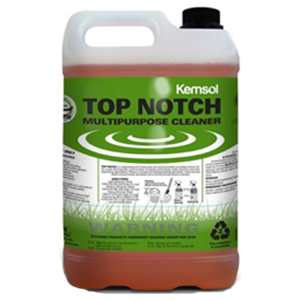 A degreaser is a cleaning agent designed to remove water-insoluble oil and grease from hard surfaces. They minimise equipment replacement.
Degreasers come in many forms, including solutions, wipes, and sprays. Besides cleansing, some degreasers disinfect and deodorise the surface of restaurant equipment.
Some degreasers are water-based, while others are solvent-based.
Water-based degreasers are used in sectors such as:
Food and beverage production
Agriculture
Manufacturing
Solvent-based degreasers are used in industries such as:
Aerospace
Automotive
Marine
Oil and gas
Mechanical
How to Use Water-Based Degreasers
Switch off the equipment you wish to clean.
Ensure there is no uncovered food lying around.
Remove visible dirt and soil from the equipment.
Mix hot or warm water with a water-based degreaser.
Apply the degreaser (in small amounts) on the equipment surface.
After grease and oil have been cleaned and removed, discard the degreaser used responsibly.
Don't mix degreasers with chemical agents such as caustics, ammonia, acid and bleach.
One of the best degreasers is the Kemsol Green Top Notch Cleaner Degreaser. This degreaser is environmentally accredited.
Find Your Best Solution for Your Deep Cleaning Worries
Foodservice chemicals help you spend less on human resources and energy. You also get to maintain cleanliness and attract customers in your restaurant.
If you're looking for the best foodservice chemicals, Alsco New Zealand has got you covered. Having offered hygiene solutions for over 130 years, you can rely on our deep cleaning chemicals because they are:
Environmentally friendly
Non-corrosive
Ready to use
Contact Alsco NZ for all your restaurant deep cleaning chemicals.
Photo: unsplash