Better safe than sorry.
You've probably heard this saying before. Yet, you may never have considered it in relation to workplace safety.
A safe work environment is a fundamental aspect of any business. Business owners should never overlook workplace safety, nor should it ever be ignored by human resource managers.
According to Stats NZ Tatauranga Aotearoa, in 2018, 238,800 work-related injury claims were made to ACC or ACC-accredited employers. This number indicates an increase of about 5,600 from 2017.
The number of work-related injury claims has been increasing each year. This is after a steady decrease between 2005 and 2012.
As employers, it is important to ensure that work-related injury reports are on the decrease. You don't want to be slapped with unending court cases.
It is essential to examine the relationship between workplace safety and performance.
Working in a safe environment reduces accident cases and motivates employees. This, in turn, boosts the productivity of the business.
Note that safety isn't just about a clean environment it's also about taking preventative measures to protect employees. Creating a safe workplace is a worthwhile investment.
A safe workplace:
Keeps the business solid and moving forward.
Saves you time and money.
Ensures that employees are comfortable and thus more productive.
Workplace Responsibilities as a Business Owner
As Kevin Jones explains, business owners should not allow employees to erode a safety culture that may have taken years to develop. Occupational health and safety regulations must be enforced as follows:
Business owners must oversee the management of safety measures.
They must carry out risk assessments.
Ensure employees are trained on safety measures.
Owners provide education and training on workplace safety.
Workplace Safety Responsibilities of HR Managers
HR professionals play a big role in balancing the best interests of employees and those of the organization. This applies even to safety regulations:
HR Managers communicate occupation and safety regulations in an organization.
They enforce the work-place safety measures of their organization.
They ensure employees are trained in workplace safety.
Preventative Measures to Protect You and Your Employees
1. Enlighten Employees on Safety Rules
To keep your employees accountable, ensure that they understand the safety rules. Try printing safety procedures and strategically placing them throughout the establishment, as a constant reminder to staff of their responsibilities.
Additionally, present the safety rules during orientation. This way, every employee understands their responsibilities.
2. Ensure the Workplace Is Neat and Well-Organized
A clean and well-organized workplace will experience fewer cases of accidents.
Make sure everything is in the right spot. For example, boxes should not be lying on the floor. Take caution with washing detergents and cleaning water which could spill and cause slippery floors.
3. Encourage Safety Awareness
When we think of workplace safety, sometimes we think of high-risk industries like manufacturing. It is important to note that even seemingly safe environments can have accidents.
Business owners have one of the biggest roles to play in ensuring safety in the workplace. Yet, it is the responsibility of every employee to ensure that the environment is safe.
Business owners and HR managers should encourage employees to take up safety training. They should also encourage them to be aware of their surroundings and to report any potential risks.
Business owners should emphasize the importance of employees' reports on hazards and unsafe working conditions. Safety at the workplace is a collective responsibility.
4. Provide and Wear Protective Gear
Different work environments pose different risks. Wearing appropriate protective gear is one of the best ways to protect you and your employees from accidents and injuries in the workplace.
Hard hats protect employees from falling objects, gloves protect hands against dangerous chemicals, safety glasses can protect the eyes and overalls protect your body and clothes from paint and dirt.
As a business owner or manager, you should lead by example. Wear protective gear at all times. You should also ensure that employees have appropriate workwear. You can easily check your workers' workwear sizes.
5. Provide Training on Best Safety Practices
Organizations must provide comprehensive health and safety training programs to all its employees. This should include emergency action plans in case there are any incidences that pose a threat.
Emergency drills are a good way of ensuring that employees are efficiently prepared for emergencies. As such, business owners and HR managers should regularly schedule drills as part of safety preparedness.
6. Ensure Employees Understand Safety Rules and Procedures
As an employer or manager, it is your responsibility to understand and implement safety procedures.
Additionally, you are tasked with the role of educating employees on these procedures and ensuring they are correctly followed.
Establish a lock-out tag-out maintenance procedure and ensure it is well understood by all employees.
When carrying out such a procedure, employees should be notified in advance. Additionally, they should also receive prompts on when to resume normal operations.
7. Schedule and Perform Routine Inspections
Safety inspections and audits are a must! They help to identify potential hazards and unsafe workplace practices, as well as providing feedback on your existing safety procedure.
Inspections and audits perform the following functions:
Identify existing and potential hazards.
Listen to the concerns of the employees.Gain further understanding of jobs and tasks to be undertaken.
Determine underlying causes of hazards.
Recommend corrective action.
Monitor the steps taken to correct the risk.
Evaluate an organization's established safety program and practices.
Note: Planning is essential in carrying out a successful inspection.
8. Improve on Visual Communications
Improved visual communications can highly improve an organization's workplace safety.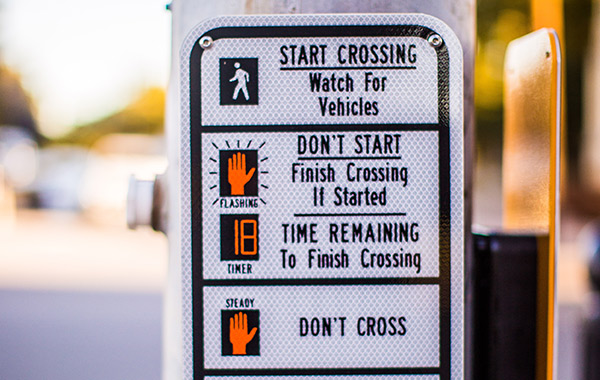 Safety posters should be appropriately placed to indicate hazards and avoid accidents. Improving signage can help keep employees at work even as you take appropriate safety measures to improve the space. To learn how to use safety posters to your advantage click here.
9. Be Ready for the Unexpected
No matter the number of measures you install to protect yourself at the workplace, there is bound to be that one incident that will catch you by surprise.
It is important to ensure that you and your employees are prepared for such eventualities. A power outage may be solved by a generator: However, fire outbreaks require more preparation.
The organization should be ready to deal with any emergencies that may occur; be it a fire or an attack.
In the case of an emergency, it is important that employees can locate and access all emergency exits.
Preventing risks at the workplace helps keep your employees longer and thus run your business smoothly. It will also save you time and money.
It's Time to Implement Safer Workplace Practices
To keep your workplace safe, ensure everyone is well aware of the rules and regulations. Additionally, take all the appropriate measures to keep the environment safe. And lastly, do not forget to stock up the workplace with some first aid kits.
By practicing the above safety tips and learning more on workplace safety procedures, your company will thrive.
Photo: Nikitabuida