Great companies are built by great teams. As a business leader, you will know just how hard they are to find. When you are fortunate enough to have one, keep them. They are invaluable assets.
Healthy employees are happy employees. In your personal life, staying healthy is a daily practice. The same principle applies to the workplace.
Healthy workplaces have daily practices that help them stay aligned with their mission. Your goal is to create a framework that does this.
Start implementing workplace health promotion today. It needs continuous improvement of wellness measures according to needs that arise. It is a collaborative process that starts as soon as you feel ready.
Occupational and non-occupational factors affect the health of your employees. They include:
Organisational atmosphere
Emphasis on a healthy lifestyle
Household and commute condition
Family relations
Personal ailments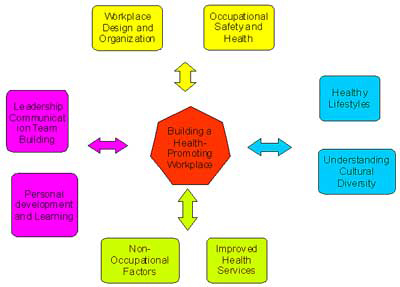 Benefits of Workplace Health Promotion
Besides creating a sustainable workforce, workplace health promotion has wider effects. The biggest one is the creation of stable families through sustainable employment. This is especially the case with blue-collar jobs. It has the ripple effect of making your staff proud of their vocation.
At an organisational level, the benefits are two-pronged;
| Organisational benefits | Employee benefits |
| --- | --- |
| Spike in productivity | Upskilled in safety measures |
| Cost-savings on health care & insurance | Greater feeling of well being |
| Avoid legal disputes | Better physical and emotional shape |
| Sustainable safety programme | Great working atmosphere |
| Positive company image | Improved self-esteem |
| Motivated workforce | Decreased worry and stress |
| Low staff turnover | High spirits and morale |
| Decreased absenteeism | Improved job satisfaction |
How to Promote Workplace Health
Be proactive in creating healthy workplaces. Educating staff is key and you need creativity. Measures can include anything from writing articles to hanging handwashing posters in washrooms.
The responsibility falls on both the management and the larger team. Create an atmosphere where people are happy to take turns in sanitising high use areas. Efficient janitorial services are effective in maintaining health. Yet, it is not enough.
1. Create a Wellness Program
The best thing about wellness programs is changing employee behaviour long term. A well-made program is structured to help people create and maintain positive behaviours. It does this through education, motivation, support systems and skills training.
Create a program that enforces behaviour long term. Programs that manage to change lifestyles are able to reduce lifestyle-related problems. A direct result of the emphasis on healthier meals, portions and exercise.
Wellness programs reduce depression while improving general life satisfaction. A healthy body and mind go hand in hand.
Why should you build your own wellness programs?
Reduced Workplace Absenteeism

Harvard researchers found out that for each dollar used on wellness, you save $2.73 in reduced absenteeism. Wellness programs reduce absenteeism for a variety of reasons:

Employees who maintain a healthy weight have lower rates of absenteeism.
Stress control and management through wellness can reduce absenteeism.
Keeping vitals like blood pressure stable keeps your staff strong and lowers absenteeism.
Employees who learn the discipline of healthy living have lower absenteeism.

Reduced Health Costs

Effective wellness programs, that lead to lifestyle changes, lower health care costs. Another study by Harvard reveals that for each dollar spent on wellness, you save $3.27 in direct health care.

A hidden health cost is a phenomenon called presenteeism. Presenteeism is when employees are present at work but are not working. It is caused by coworker distractions, lack of skills, fatigue or overuse of social media.

Another key cause of presenteeism is poor health and bad lifestyle habits. Poor habits like smoking and lack of exercise increase the rate of presenteeism at work. They also lead to health risks like catching chronic ailments. People with persistent health problems suffer from increased presenteeism as illustrated below.
Reduced Elevated Health Risks

Elevated health risks only reduce by changing eating and exercising behaviours. Your wellness programs should build healthy habits. This is the only way to be effective.

It's a common misconception to think that wellness programs take too long to show results. When you change your diet and exercise, amazing things start to happen. In fact, you start to see results as soon as 6 weeks into the program.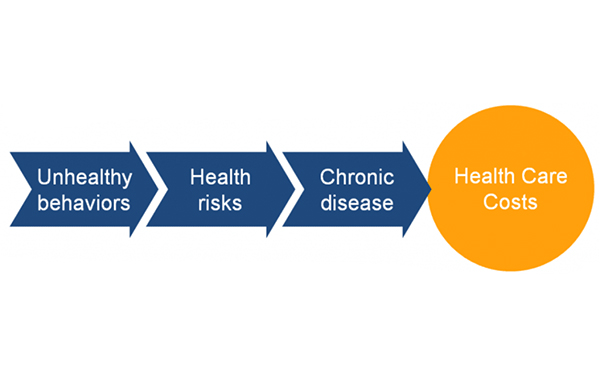 2. Disinfect and Clean Surfaces
Did you know that viruses like influenza can remain alive on hard surfaces for up to 24 hours? With this in mind, ensure your office or workplace gets wiped down regularly, especially the public and shared areas.
Keep a cleaning calendar to manage your cleaning staff. Consider outsourcing to trusted vendors who can help with office maintenance. It will make your work easier.
Since employees spend all day at their workstation, it's the best place for germs to hide. The University of Arizona found out that the average worker's desk has 21,000 germs per square inch! A toilet seat has 49 germs per square inch!
Provide easily accessible sanitation facilities to staff and remind them to pay attention to germ hotspots. These include the keyboard, phones, mouse and frequently used office supplies like staplers.
3. Prioritise Hand Hygiene
Good hand hygiene prevents a lot of gastrointestinal and respiratory conditions. These ailments are self-inflicted and you can protect yourself with clean hands.
Wash your hands each time they feel dirty. Make it a habit to wash your hands after you've been out in public. Use soap and water to rub your hands for at least 20 seconds. Wetting your hands does not remove the disease-causing germs. How long your wash is as important as when you wash your hands.
At the office, wash up after walking around or going out for lunch. You'll have touched public surfaces like the elevator buttons, door handles and desks. Remember to wash up after visiting the restroom and before eating.
As a manager, you have two roles in promoting hand hygiene:
Educate and Communicate

Face to face conversations about hygiene can get awkward. Take advantage of channels like email to send out educational material or surveys. They are a great platform to gather or disperse information. Always keep the communication channels open.

There is room to get creative by using humour. Posters provide an interactive way of using visual cues to talk about hand hygiene. They can be placed in washrooms and strategic areas. Laughter can make concepts easier to remember.

Provide Hand Hygiene Supplies

Did you know that 70% of people who wash their hands use sanitiser due to its convenience? Besides having well-stocked hand washing stations, provide hand sanitisers. Place these around desks or entrances.

Whenever staff need to disinfect their hands but don't have time to wash, ensure a sanitiser is close by. The recommended sanitiser should be at least 60% alcohol. These are the only sanitisers that kill disease-causing organisms.
4. Improve Your Washrooms
In the workplace, washrooms are social places. Their use is beyond utilitarian. They are social and intimate spaces where your staff go to feel refreshed. They are both functional and emotional. A well-kept bathroom is a marker of how the management treats the staff and customers.
A comfortable bathroom appeals to all the senses. It looks good, smells good, sounds good and feels good. Pay attention to decor and provide sanitation necessities. A bathroom that runs out of tissue breeds anxiety. Stock it with more than enough supplies to prevent awkward situations.
Other ways to improve your workplace washroom include:
5. Support Sick Employees
Your staff should know that the organisation values their health. Show this by supporting people who get sick. Have a good insurance plan to help them meet hospital expenses. Create an efficient handover system that ensures the work of a sick colleague is handled.
Have a generous leave policy that allows people to stay at home if they get sick. People who insist on coming to work while sick put everyone at risk. They could start an office-wide epidemic. Lead by example to encourage your staff to stay home when sick.
Healthy Workplaces Are a Team Sport
It takes coordinated effort over a period of time to create a healthy workplace. Craft a strategy that caters to your unique needs as a company. This way, your wellness program will be effective.
Healthy workplaces rely on healthy habits. The most important habits to reinforce are hand washing and healthy lifestyle choices. Create a system to maintain hygiene and encourage your team to join in. Start your journey to wellness today.
Photo: Peoplecreations