The best way to care for your employees than to provide them with the best health and safety equipment.
One way to do this is to install workplace AEDs.
This ensures you are well prepared for any cardiac emergency.
Posting emergency signage around your workplace will help in times of crisis and lead rescuers straight to the available equipment.
1. What Are AEDs?
AEDs, or an Automated External Defibrillator, is an electronic device used for medical emergencies.
It is a lightweight, portable device. Its purpose is to send an electric shock to a victim whose heart ventricles lose function. Or instances when the heart stops beating, this is known as cardiac arrest.
Did you know that cardiac arrest is one of the leading causes of deaths in New Zealand?
According to the heart foundation, cardiovascular disease cause 33% of deaths every year. Read more here.
AEDs are in many public spaces such as airports, gyms, schools, banks, churches, casinos, and recreation centres.
An AED can be used by untrained bystanders in an emergency. However, training is advisable to every individual, community and workplace.
2. What Are the Signs of Cardiac Arrest?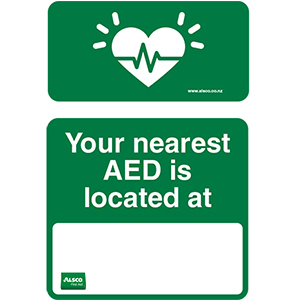 Familiarising yourself with signs of cardiac arrest can help you notice symptoms early. This could mean the difference between life and death.
Knowledge is power. No doctor rushes in blindly to save a life without a general idea of what they are dealing with.
You need to be keen as, for many people, an arrest can happen without warning. A person suffering a cardiac arrest may stop breathing and is likely to lose consciousness immediately.
In the event that there are warning signs to work with, you can expect:
Dizziness
Chest pain
Fainting
Palpitations
Breathlessness
Taking care of yourself and those around you helps make the world a better place. We live fast-paced lives and can forget to take care of ourselves. Be sure to keep your heart beating with these tips for a healthy lifestyle.
3. Using an AED in an Emergency
The first ten minutes of cardiac arrest are the most crucial for the victim's survival. The first sign is fainting.
In an emergency you can try to carry out the following steps:
Confirm the state of the victim, are they breathing? If the person is already unconscious you need to check their response. They could either be very still or have seizure-like movements.
You can shout at the victim or gently shake them to get a response and make sure they are not sleeping. You should never shake an infant or a young child because this could send them into shock. Instead, pinch them gently to try and wake them up.
Ensure to call for professional medical help if two or more rescuers are present. One rescuer can provide CPR while another calls for help.
No signs of breathing will mean you need to prepare to use the AED as soon as possible.
There needs to be clear space around the victim, so get rid of bystanders. Any contact with the victim could affect the AED's reading of their heart.
An AED uses voice prompts to alert you of when and how to administer the shock. And how to connect the electrodes.
It can also instruct you to give CPR again after delivering the shock.
Some AEDs can deliver more that one shock with a higher level of energy
4. Should You Have AEDs in the Workplace?
Considering the value of an AED and the statistics of cases in New Zealand, you should get an AED if there:
Is a risk of electrocution in your workplace. Employee safety is a top priority for your business and a legal requirement.
Your workplace is remote. Workspaces that are located far away from any medical services can delay the prompt arrival of an ambulance. (Remember the ten minute period of cardiac arrest.)
AEDs should be easy to locate and in an area that is clearly visible. Maintenance levels must be adhered to according to the manufacturer's instructions.
You don't have to be the one concerned with the maintenance and upkeep of your defibrillator. Partnering with a rental company such as Alsco, that maintains your AED, will give you peace of mind.
5. What Does the Law Say About AEDs in the Workplace?
There is no law that requires you to have a defibrillator at work. However, the government of New Zealand recommends all workplaces to have at least one.
Remember that workplace AEDs must be accessible and visible.
6. Benefits of Having an AED in the Workplace
They can save a life! This is the biggest advantage of an AED. They improve the survival rates of victims. The inbuilt voice prompts also help guide the user step by step through the process.
Companies and employers benefit too. The profile of the company is elevated when it demonstrates care for its employees. Everyone wants to work in an environment where they will be taken care of.
Because they are growing in popularity in many public spaces, social expectations call for companies to have access to an AED.
Employees benefit from AED training sessions. This is because many AED manufacturers can provide basic training to familarise staff with the functions of an AED. This increases confidence in those using the device.
7. Do You Need Training on How to Use AEDs?
As mentioned earlier, even untrained bystanders can use the device.
But, nothing beats hands-on training. This will build upon your staff's theoretical knowledge of how to use a defibrillator.
Proper training on a defibrillator can help make its usage more effective.
There are several options when it comes to taking an AED or Cardiopulmonary resuscitation (CPR) class. Some course providers have packages that include CPR, AED and first aid. These cover protocol for basic emergency response action.
A Basic Life Support class (BLS) can also come in handy. This is because employees learn advanced techniques in emergency response and AED operation.
8. Should You Rent or Buy an AED?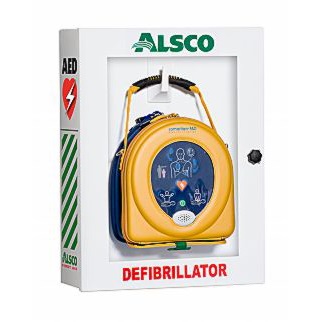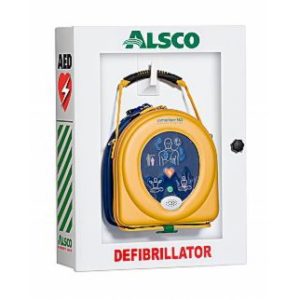 Renting out an AED is a great way to ensure you have an up-to-date, durable and high-quality defibrillator for your employees. A straight year lease means you don't have to worry about monthly payments.
When you rent equipment, the chances of you having the latest equipment is guaranteed.
The longer you lease out equipment, the cheaper it is for you.
Contact Alsco for your AED needs. Our representatives will help you decide where to place them for easy access. They also install, check and replace them for you on a regular basis. All this at an affordable annual fee.
Check out some of our rental options. Contact us for a quote today.