Most business owners have scarce knowledge of their workplace washrooms.
First, did you know that employers should follow national health and safety guidelines? These are policies guiding workplaces on washroom facilities and health standards.
So, keep yourself up-to-date with workplace matters to understand your obligations better.
Urinals can be a problematic aspect of a washroom. Although they may appear like any other washroom necessity, there's still a lot to learn.
Workers spend large amounts of time in washrooms during a work day. Urinals often emanate malodour and provide a home for bacterial outbreaks.
Without thorough hygiene knowledge, you expose your employees to an unsafe working environment. As a result, they are unable to work well and continue with projects.
Without appropriate urinal hygiene awareness, your business stands a chance of suffering losses. Focusing on important details helps sustain the high-grade status of your workplace washroom.
The best way forward is this informative guide below. It is the best way to begin your urinal transformation journey.
What You Need to Know
To begin with, you need to understand where urinals originate from.
Contrary to popular belief, a woman is believed to have come up with the first urinal invention in the 1800s. Yet, she couldn't get a patent. So, in 1886, Andrew Rankin received the first urinal patent with her help.
Today, urinals exist for both men and women. By installing both toilets and urinals in washrooms, there is gender inclusivity.
Let's have a look at the different types of urinals.
First, there are male urinals, which are more popular.
There are three main types of male urinals:
Trough Urinal
Bucket Urinal
''Wee-Against-the-Wall''
Today, these designs are tweaked to form the basis of the variety of male urinals that exist. As a result, it's easier to design urinals to fit your washroom decor and accessories.
Though female urinals are scarce, they are a fast-growing trend in the market. This survey concludes that 23% of women believe they minimise health risks.
The first designs for female urinals began to emerge in the 1900s. They borrow features from male urinals.
The three popular female urinal designs are:
How will you know if female urinals are what your workers need? That's easy.
Take their opinions into consideration through questionnaires. By doing so, female staff can express themselves about which washroom facility they prefer.
Either way, it is best to provide both toilets and urinals in workplace washrooms.
How many urinals and toilets do you need to make your employees comfortable? To get a rough idea, use this toilet calculator. It determines the number of washroom facilities according to building capacity.
Besides that, the Building Code requires workplaces to have enough washroom fixtures. This includes washroom facilities for persons with disabilities.
Here are the general requirements for the number of urinals:
User group
Number of occupants
Number of necessary urinals
Male staff
1-150

151-550

>550

1

2

Add 1 per 450
Unfortunately, the code doesn't include female urinals, but have a look at the number of female toilets you need in your workplace:
User group
Number of occupants
Number of necessary WC pans
Number of occupants
Number of necessary washbasins
Female staff
1-10

11-50

51-90

>90

1

2

3

Add 1 per 60

1-70

71-250

>250

1

2

Add 1 per 200
If you're looking to buy a urinal, they cost around $60 to $100. They have a lifespan of up to 30 years or longer.
Consider hiring expert plumbing services to install the urinals.
Waterless urinals are a popular go-to design. They save between 57,000 and 170,000 litres of water per urinal, per year. Each fixture takes up to two hours to install.
Here's a list of local professional plumbers to consider:
Hire Professional Service Maintenance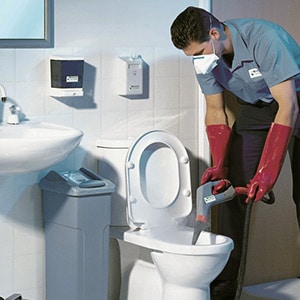 It's essential to have a sanitary and well-equipped workplace washroom. Unclean washrooms emit pungent smells and are a breeding place for bacteria.
This research study concludes that there are traces of more than 77,000 types of viruses in these spaces.
When you fail to clean urinals the right way, they attract silverfish, mites and flies. These insects transfer bacteria, creating a major health risk. Their presence makes workers feel unsafe and undervalued.
First impressions are important and they affect how people view your business.
Bugs deter them from visiting your washrooms for fear of getting sick. Don't let this happen to you.
Exceptional washroom hygiene speaks volumes. That's why you should rely on your local hygiene experts. Put your trust in skilled professionals to lift the burden off your shoulders.
Purchase urinal tabs that contain a strong chemical. One tab contains urinal cakes to ensure your urinals stay squeaky clean. Replace them every 30 days when they dissolve.
But, what are urinal tabs for anyway?
Deodorise urinal drains and soaks up pungent smells
Repel bugs
Prevent build-up of uric acid
Washrooms are one of the significant workplace facilities. Leaving a positive impression is a piece of cake with regular maintenance.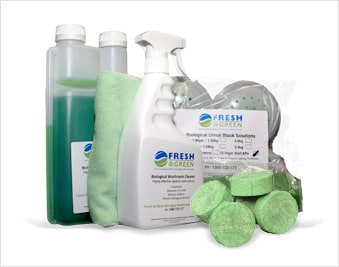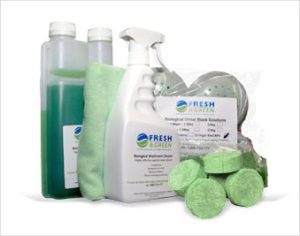 Thus, deep cleaning and biological treatment are noteworthy processes for urinal sanitation.
These revolutionary services produce outstanding results. They leave your urinals fungi-free, and regular maintenance is included in your price. Isn't that amazing?
Through a four-step process, all the nooks and crannies of your urinals will remain spotless.
As such, conduct these eco-friendly processes quarterly to remove stains and disinfect drains.
Without hesitation, furnish your washrooms with automatic air fresheners to keep them fragrant.
Lay out wet area mats nearby urinals to absorb any splashback that may stain the floor. They comprise of a comfortable material that keeps your workers from slipping. This is instrumental in preventing accidents.
Wash these mats often to rid them of waste and dirt residue. Thereafter, dry them well to prevent the growth of mould.
Enforce Workplace Urinal Etiquette
Poor use of urinals minimises the effects of cleaning and maintenance.
To supplement cleaning efforts, consider encouraging your workers to exercise excellent washroom etiquette.
How can you do this? Begin by placing informative posters in strategic areas in the washroom.
For instance, stick them above sinks and nearby the urinal area. They remind workers to leave the washroom as clean as they found it.
They remind your employees of washroom practices that provide a comfortable environment.
With time, this fosters a healthy and positive workplace culture.
Also encourage courtesy flushing after every washroom visit. The rush of water carries the pungent smells away.
Supplement this by conducting frequent urinal etiquette workshops. Inform your employees by displaying appropriate videos and distributing newsletters.
For ideas on what to include in your newsletters, have a look at this list of workplace etiquette do's and don'ts.
Better hygiene practices lead to fewer sick days and healthier employees. This means they will have more energy to go about their daily duties.
What Are You Waiting For?
Immaculate washrooms are every business owner's dream. So, why shouldn't your dreams come true?
With Alsco, all your dreams can become reality. With over 27,000 satisfied businesses in New Zealand, they are bound to take your washroom to the next level.
Pay attention to your washroom and establish your core business values. Buy their premium cleaning products and services to open the door to endless success.
Contact Alsco's experts today, sit back and let them do the heavy-duty work for you.
Photo: Pixabay