Many business owners and managers often wonder if they need first aid officers at work.
After all, a few first aid kits should do the trick, right?
This isn't the case.
First aid is so vital in any workspace, it requires dedicated effort, commitment and adequate resource allocation.
Another significant concern among many managers and owners is the cost implication of first aid on their establishments.
However, any cost associated with first aid is an investment rather than an expense.
Here's why:
1. First Aid Saves Lives
This may seem obvious, which explains why many overlook first aid and downplay its role in the workplace.
Business owners often wonder what the odds are of a life-threatening incident taking place at work.
They fail to take precautions.
And they become part of the statistics.
Workplace fatalities (injuries sustained at work that result in loss of life) went up between 2018 and 2019.
Consequently, nearly 100 people lost their lives last year.
The sad truth is that many of these deaths are preventable.
In the event of an emergency, the only way to prevent loss of life is to have an elaborate first aid system in place.
Doing this ensures that injured persons receive treatment quickly, and in the proper manner.
It's been established that first aid improves a person's survival chances. Moreover, it offers better outcomes for recovery.
2. It Reduces Workplace Accidents
When something goes awfully wrong, people begin to ask themselves if anything could have been done differently.
They question whether the event(s) could have been avoided. Naturally, regret is rife at such a time.
While we can't turn back time, we are quite capable of preventing things from going awry.
First aid helps reduce the frequency and intensity of accidents at work.
How does this happen?
For first aid to be administered effectively, there's a need for elaborate training.
During the training process, employees are made aware of the ways in which they can make the workplace less prone to accidents.
Training emphasises caution, personal responsibility and provides insight into common hazards at work.
This helps everyone at work understand how to avoid them. In addition, people learn what they can do to get removable hazards out of the way.
For instance, first aid and safety training address the proper way to handle dangerous chemicals.
These should be clearly labelled and stored in designated cabinets to prevent accidental contact with them.
Common workplace hazards are classified as follows:
Physical
These are the most common workplace hazards. They include slips, trips, falls, exposure to excessively loud noise, and injuries sustained while using machinery.
Biological
These include contact with infected blood or other bodily fluids, insect stings, animal bites, and exposure to pathogens.
Chemical
Toxic and flammable chemical substances pose a risk of poisoning or burns. Examples include cleaning products, vapours and fumes.
Ergonomic
Ergonomic hazards occur due to physical factors that can harm the musculoskeletal system. Such hazards are caused by lengthy periods of discomfort. Examples include repetitive motion, poor lighting, and poor posture.
Psychosocial
This category encompasses matters at work that affect your emotional and mental wellbeing. Psychosocial hazards include victimisation, harassment, stress and violence.
3. First Aid Training Is Useful Outside the Workplace
Skills acquired or harnessed at work can be highly useful in other settings.
First aid isn't any different.
The vital information obtained from first aid training can be of great use outside work.
One valuable principle that demonstrates this is DRSABCD.
The acronym outlines the correct course of action to take, step by step, during an emergency.
Danger
First, look around for anything in the immediate surroundings that could compromise your safety as well as that of others.
This includes:
Distressed persons that could harm themselves or cause further injury to affected persons
Oncoming vehicles and bystanders
Flammable or toxic chemicals
Naked wires
Poisonous fumes
Fire and smoke
Sharp objects (e.g., shards of glass)
Response
This step entails checking whether or not the victim is responsive.
Send for Help
Once the victim's status is established, send for help immediately by calling 111.
Airway
Ascertain whether there is anything obstructing the victim's airway.
Breathing
This step calls for you to check that the victim is breathing normally.
Compressions
If the affected person is not breathing properly, perform CPR compressions. Here's how.
Defibrillation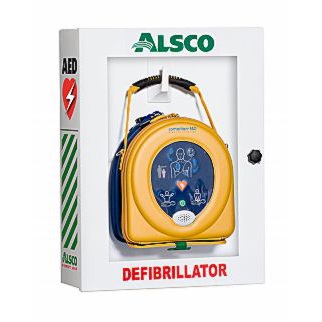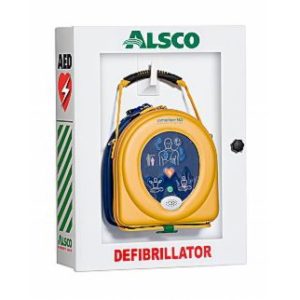 This refers to normalising the rhythm of the heart or restarting it. Defibrillation requires the use of an automated external defibrillator (AED).
Given the number of deaths caused by heart conditions in New Zealand, you should understand how to use an AED.
AEDs are common in many buildings across the country, from schools to residential complexes.
In the event that someone suffers from cardiac arrest, an AED triggers the heart to resume its normal rhythm.
4. First Aid Improves the Working Environment
When you provide employees with first aid training, you demonstrate concern for their well-being.
In turn, this can foster trust.
The training process boosts staff morale. When everyone is in good spirits, you can expect to see improvements in productivity.
Moreover, first aid training provides an ideal opportunity to enhance team spirit.
Employees get to bond, interact and create memories as it serves as a team-building exercise.
A good example of this would be safety games.
Check out the following links for ideas on fun safety games you could incorporate into your training:
As a result of activities undertaken during training, the work environment gets better for everyone in it, from staff to clients.
The Hassle-Free Way to Improve First Aid at Your Workplace
Another concern shared by many who run businesses is the cost of acquiring a sufficient number of first aid kits.
Thankfully, there's a cost-effective alternative to purchasing first aid kits: using a first aid kit rental service.
Alsco's managed first aid kit service not only guarantees safety at your business. It also keeps you compliant with New Zealand legislation throughout the year.
Regardless of your type of business, Alsco provides first aid kits that can be adjusted to your needs – at no extra cost.
What Sets Alsco's Rented First Aid Kit Service Apart?
Our first aid kits are:
Regularly restocked with hospital-grade supplies every three months. We keep track of first aid kit contents so you don't have to.
Tailored to suit your business needs. Every industry has unique characteristics that call for different types of kits.
Whether you're in a white or blue-collar workplace, Alsco New Zealand has you covered.
Affordable. Alsco's managed first aid kit service is available at a single, all-inclusive annual fee with no extra charges!
Logically organised with colour-coded modules. This makes for quick treatment of injuries with the right kit in the right order.
Properly stored in sturdy, compact, highly-visible cabinets. We can install them anywhere in your workplace.
Plus, you don't have to worry about environmental impact.
Alsco has a first aid redistribution program in place.
We sort reusable supplies instead of discarding them. They are then donated to voluntary and charitable organisations including:
Animal shelters, zoos and SPCA branches
MAA (Medical Aid Abroad)
Rotary
Want to get limitless maintenance and restocking all year round at one fee? Get a quote tailored just for you.
Photo: FVSU