Do we really need to have a first aid officer at work?
That's a question on the minds of many business owners and managers not just in New Zealand, but the world over.  And the answer is an absolute "yes."
If an emergency occurred right now, a first aid officer (or a team of them) could make a huge difference in the outcome.
Before we take a look at the crucial roles and responsibilities of a first aid officer, let's examine some legal considerations.
As a Person Conducting a Business or Undertaking (PCBU) in New Zealand, you must ensure there are enough workers trained to administer first aid at the workplace.
The number of trained first aid officers will depend on:
The nature of the work being carried out at the workplace
The kinds of hazards people at your workplace are exposed to
The size and location of your workplace
The composition of the workforce in your workplace
Failure to do this can result in fines of up to $10,000 for individuals.
Your legal obligations concerning health and safety are outlined in detail here.
What, then, are the roles of a workplace first aid officer?
1. Assess the Situation and Understand Its Severity
Thanks to their training, first aid officers can make a comprehensive assessment of emergencies quickly and effectively.
On the other hand, other employees are likely to panic, be at a loss for what to do or even complicate the situation further.
A first aid officer not only remains calm but helps others at the scene to regain composure.
They start by checking whether it's safe to approach casualties.
First aid officers look around for anything that poses further risk to affected persons, onlookers and themselves.
Next, they identify the cause(s) of the situation at hand. Their judgement forms the basis of the kind of care they'll give to those affected.
2. Protect Themselves and Others
We're all aware that there's no shortage of hazards at the workplace.
However, simply knowing they exist doesn't mean everyone knows what to do about them.
The training first aid officers receive gives them an understanding of the different types of hazards as well as the correct action to take in different scenarios.
First aid officers know what to do in an emergency by following principles such as DRSABCD.
DRSABCD is an acronym that stands for:
Danger
First aid officers check for anything in the vicinity that could compromise the safety of everyone at the scene.
Response
The next step is to check whether the victim is responsive or has lost consciousness.
Send
Once this is established, send for help by calling 111.
Airway
For this step, check if there's any obstruction of the airway.
Breathing
Check if the victim is breathing normally.
Compressions
If they're not, perform cardiopulmonary resuscitation (CPR) compressions.
Defibrillation
Cardiac arrest causes the heart to stop and interrupts its normal rhythm.
Blood may, therefore, not flow as it should.
Defibrillation is the process of restoring the rhythm of the heart by administering a controlled electric shock.
CPR and defibrillation are covered in more detail in the section below.
3. Perform CPR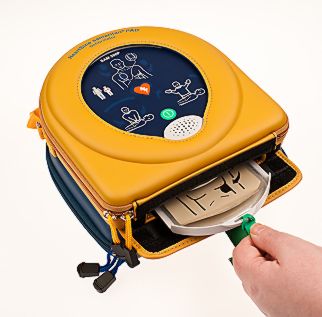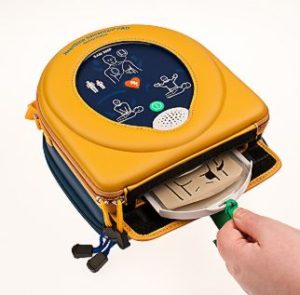 Cardiac arrests are one of the leading causes of death in New Zealand. Nearly 6,000 people die from cardiac-related diseases annually.
When someone suffers from a cardiac arrest, it's important to preserve brain function until blood circulation can be restored.
Keeping their blood flow active manually increases the possibility of successful resuscitation once medical professionals arrive.
This is achieved through Cardiopulmonary Resuscitation (CPR), a lifesaving procedure performed when the heart stops beating.
If administered immediately, CPR can double or triple a person's survival chances after cardiac arrest.
Workplace first aid officers know how to do this using an automated external defibrillator (AED)
There are two commonly known versions of CPR.
Of the two, the more elaborate one should be administered by trained first aid officers only.
It entails chest compressions and mouth-to-mouth breathing at a rate of two breaths for every 30 compressions.
4. Recognise and Attend to Common Medical Issues
First aiders are better placed to recognise the symptoms of common conditions such as:
Breathing difficulties
Choking
Coronary syndromes
Diabetes complications
Seizures
Stroke
In any of these situations, they provide the patient with necessary care, buying them time until the emergency medical services (EMS) arrive.
They ensure that the patient is ready to receive advanced treatment once professionals take over the situation.
And, in everyday scenarios, a first aid officer is the person to help anyone on the premises affected by:
Burns
Cuts
Eye injuries
Fractures
Head injuries
5. Manage Workplace First Aid Resources
Regardless of the size of your business, there is a need for first-aid resources to be properly managed.
As a PCBU, you are required to keep a register of all accidents and near misses when someone is harmed at work.
This register has a particular format and should be stored in a designated place.
Because you must report certain incidents to the Department of Labour, it's important to have a first aider, as they know which cases qualify for reporting.
They understand that such reports need to be made within a given period (seven days).
Workplace first aid officers help efforts aimed at preventing accidents at work.
They share crucial information as well as health and safety resources to raise awareness. This helps everyone take responsibility (both personally and collectively) for their well-being.
Lastly, it's their responsibility to maintain all the first aid kits at work.
The number of first aid kits required at your workplace depends on:
How many people are on the premises
The nature of work done
The kind of hazards people are exposed to.
For businesses with more than 100 employees, there should be a first aid room and a team to attend to workers.
Understandably, it can be overwhelming to be in charge of all these first aid resources.
You should consider working with a managed first aid service to improve workplace safety.
This kind of service can improve the efficiency and effectiveness of your first aid officer(s) as well.
What Is Alsco's Managed First Aid Service?
Alsco New Zealand offers a comprehensive first aid kit rental service.
Rather than buying, restocking, managing and replacing all your workplace first aid kits manually, Alsco handles everything, so you don't have to.
Alsco provides you with as many kits as needed, and your kits are restocked with hospital-grade supplies regularly.
With Alsco, you never have to worry if your kits are in the right condition. Every kit is checked to ensure that you're compliant with government regulations.
Alsco New Zealand FAQ
Is it better to rent or buy first aid kits?
Renting is a better alternative to buying. It's cost-effective, and Alsco offers maintenance and restocking at no extra cost!
Does Alsco have kits for my kind of business?
Alsco offers different kinds of kits which are tailored to meet your unique business needs.
Just by filling out a simple form, you can get specific information on what Alsco can do for you, regardless of the industry you're in.
How often does Alsco check on the kits?
First aid kit maintenance is done every three months. This way, your kits are fit for use, and there are no expired or contaminated contents.
To choose Alsco is to choose reliable, trusted and guaranteed service.
"Making contact with Alsco was the best decision we could have made. I wouldn't hesitate in recommending Alsco to any company that wants a professional service day after day." — Miranda Sage, Administration and Marketing Manager, Delta Stock Crates Ltd
Ready to elevate safety at your workplace for as little as $1 a day? Get your quote now.
Photo: FVSU