Did you know that the average human should visit the washroom six to seven times a day? To some, this may be a dreadful task, especially if the washroom available lacks what you need.
Well, the great news is that you no longer need to fear. The global rise in ''urinal art'' gives an aesthetic and hygienic option to relieve yourself.
The revolution of urinal art began in 1917 with Marcel Duchamp. He turned a urinal up-side-down and named it ''Fountain.''
There are now diverse urinal designs found all over the world.
Going to the washroom is no longer a trivial matter. These unique urinal designs will amaze you.
Looking to upgrade your workplace washroom decor? Look no further. Have a glance at these quirky depictions and you're sure to find one that tickles your fancy.
1. Resourceful Urinals
As with any other washroom appliance, urinals come with their downfalls. One distinct problem is splashback. This is when some of the waste splashes onto your clothes while using a urinal.
Splashbacks are detrimental to your washroom appearance and your workers' health. The acidic nature of urine forms a stain which attracts dust and dirt. It makes your tiles appear off-white, which isn't pretty.
The urinal designs below help in eliminating this problem for good!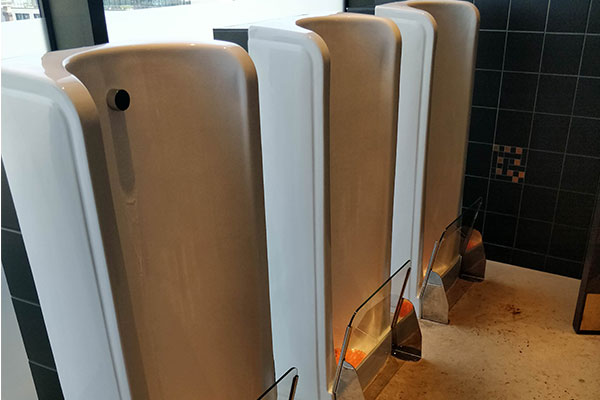 The above urinal has a protective shield, which is like a urinal screen. It curves outwards at the bottom to prevent water or waste from getting on your shoes or trousers. Your workers can use the washroom with this innovation.
Next, this urinal interior has a mini-soccer game for its users. What's it good for?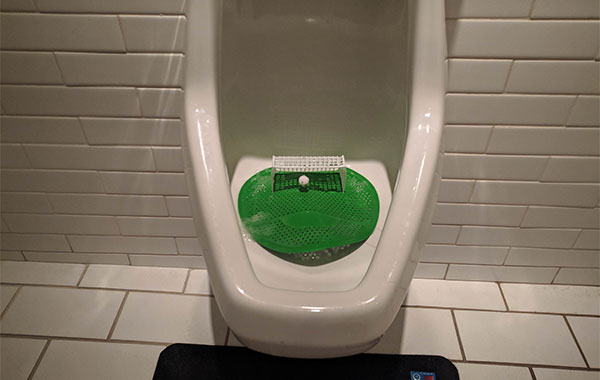 For one, it relieves your employees from work-related stress. Going to a workplace washroom shouldn't be a nerve-racking activity.
Besides, it serves as a conventional reminder to aim well when using a urinal.
Couple this with wet area mats to absorb any waste that may splash from the urinal. Together, these efforts serve to control malodour and prevent the formation of stains.
There are also urinals with headrests. How convenient!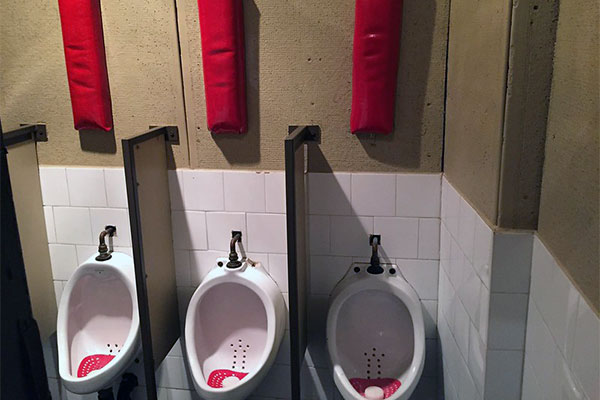 After a long day, this may be helpful to unwind.
This next prototype involves a rather bold combination of a toilet and sink. Don't worry, it's not as bad as you think it is.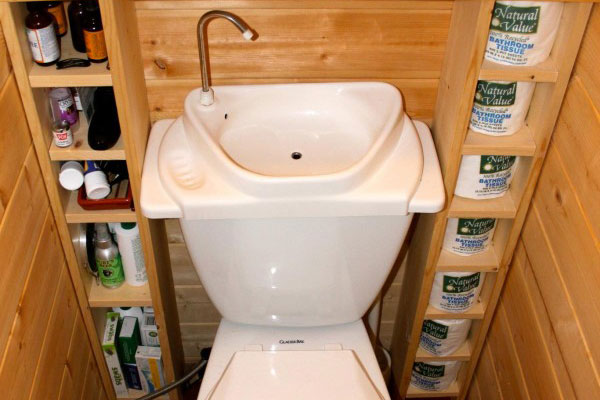 To conserve water in your workplace, this stylish combination is the way to go.  It recycles the water from the sink to flush the toilet.
2. Artistic Urinals
Without a doubt, these urinals are gorgeous. Not only are they colourful, but also display an array of creativity.
First, some urinals glorify all things music and take the form of musical instruments.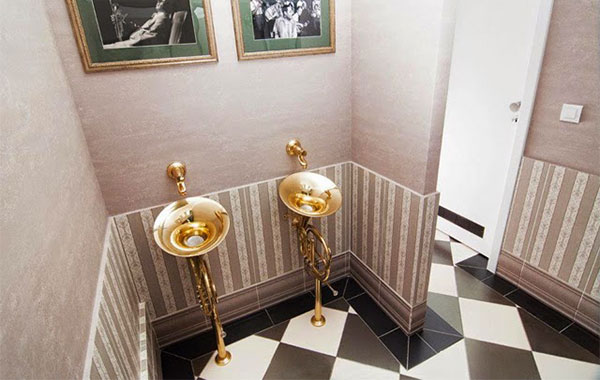 Are your employees music lovers? If so, then this is the best choice for your workplace washroom.
The unique shapes of these urinals make it easier to maintain hygiene. You can place a urinal cake at the bottom of the urinal. It isn't out in the open, but your urinal hygiene always prevails.
Remember to handle urinal tabs using gloves to ensure you place them well.
If you thought you had seen it all, well it's not over yet. This golden urinal found in Hong Kong is fit for a king and a real tourist attraction.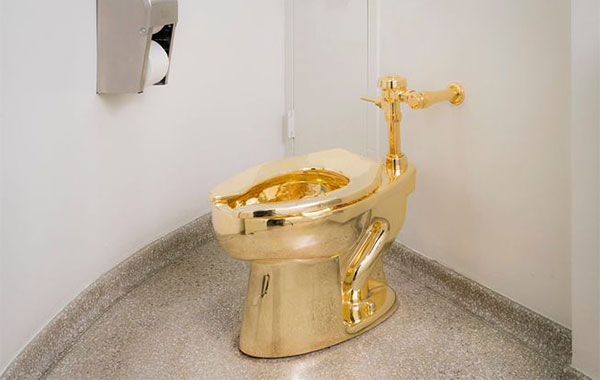 Not to mention, it is comprised of real gold gems and is valued at $4.8 million.
What's more, it's counterpart is this glass toilet. Although it only exists in theory, it would be a suitable addition for a classy touch to washrooms.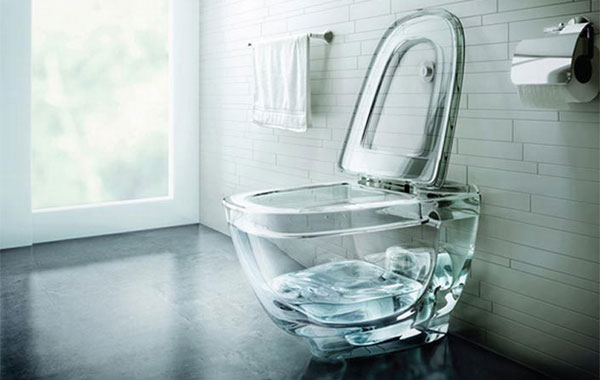 There are plenty of elegant urinals located globally. Oftentimes, these are on display for urinal art fanatics who travel across the globe to see them.
Borrowing these ornamental urinal concepts is not new. They can now feature in washrooms from offices to museums.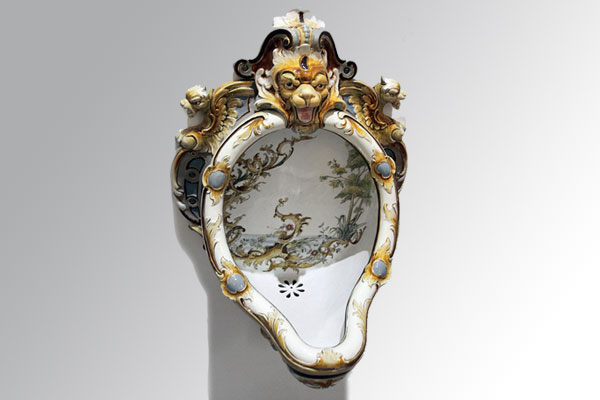 This urinal is on exhibit in Austria, in collaboration with the Harvard School of Design.
3. Urinals for Plant Lovers
Offices don't always need to be dull with a white and grey colour scheme. Your workers will begin to dread the office.
Flowers and plants are the solutions to your decor problems. They are a beautiful accessory to include in your workplace.
Did you know that plants have many benefits for your employees? Have a look at the following advantages:
Decreases the number of sick days taken
Reduces stress levels
Office appearance becomes tasteful and pleasing
Reduces the effects of background office chatter
Decreases the risk of respiratory illnesses
Include a potted plant or two, and while you're at it, why not transform your urinals into plants, too?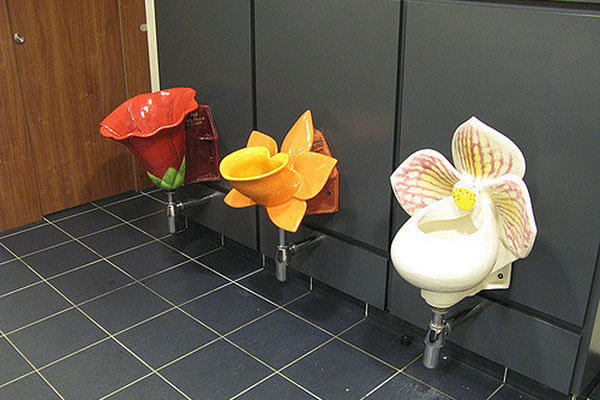 This category of urinals are designs inspired by a love for the environment. They imitate different kinds of flowers and trees and are a real sight for sore eyes.
The shapes of plant-like urinals make it easier to carry out hygiene maintenance. Don't let your ceramic urinals collect dust and grime.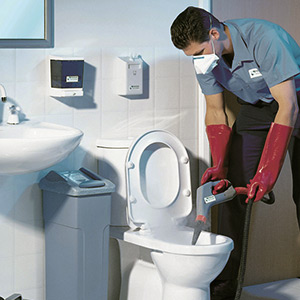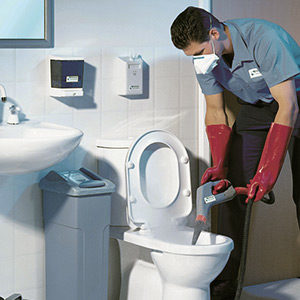 Opt for deep-cleaning services to maintain the high-grade condition of your urinals.
This is why a routine deep clean is important:
Retains the high-quality of your urinal ceramic
Destroys mould and mildew spores
Disinfects all washroom surfaces
Indulge in five-star maintenance services to keep your urinals exquisite both inside and out.
4. Tech-Savvy Urinals
Today, technology is growing at the speed of light. The current number of tech start-ups is around 1.35 million. Yet, it is shocking to see technology in washrooms.
Recently, there has been an incorporation of tech-savvy urinals. They either solve a problem or celebrate the developments of science.
For instance, this urinal with a microscope creates a fun washroom experience.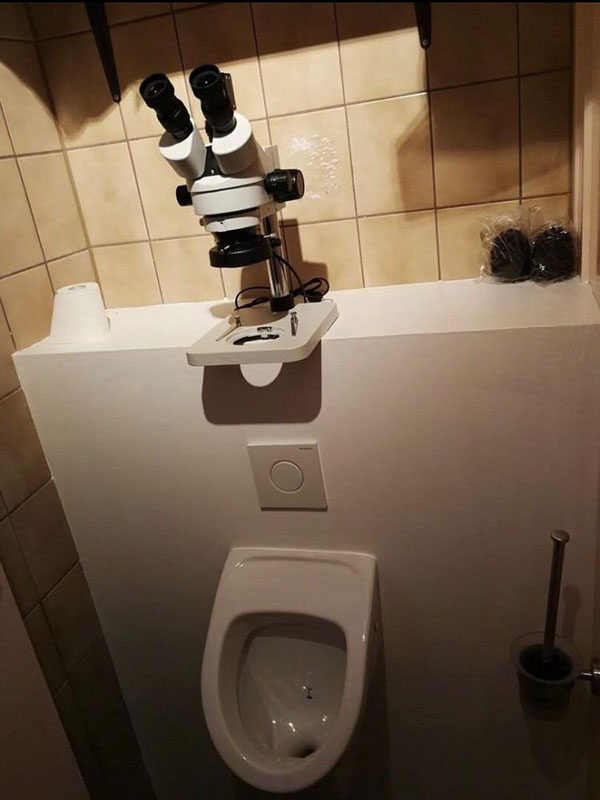 Other urinals aim to enhance the washroom experience. Here's a design named ''The Vertebrae.''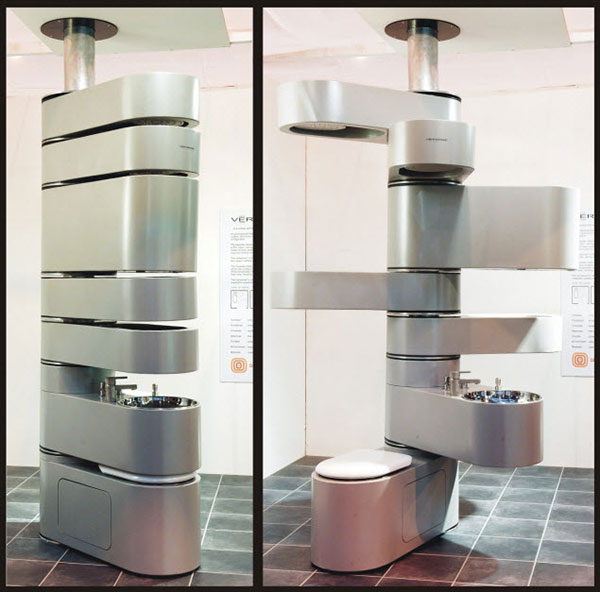 This Swiss Army design is the ultimate solution to washroom space. This all-in-one design has all washroom amenities in this single rotating module.
It saves on the time-consuming process of standing in line to use urinals or washbasins.
Another fantastic idea is a urinal fit with a television. Bathroom breaks become a source of joy for your employees and relieves some tension.
Besides being able to watch their favourite show, they can also play video games. This prototype has a sensor that detects movement, which assists in playing the games.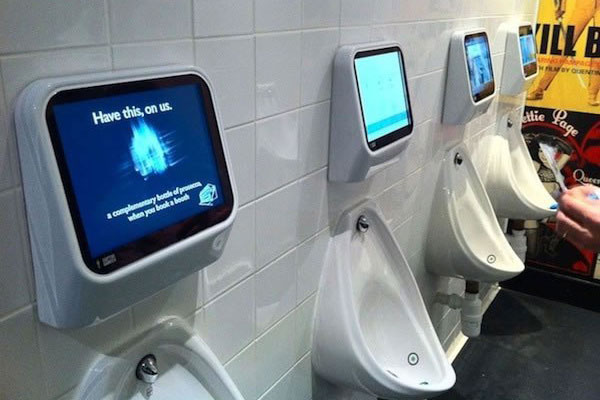 As you can imagine, this category of urinals will involve constant maintenance.
What you need to do is invest in high-end cleaning products that will sustain your urinals' shine. The presence of eco-friendly products will attract like-minded individuals to your business.
Your trendy washroom needs to stay in the best shape. So, wipe down metal surfaces using an antibacterial disinfectant. Then, rinse it off with a damp cloth, leaving behind a fragrant smell.
5. Awe-Inspiring Urinals
Do your workers fancy ghosts and ghouls? This category involves thrilling designs which inspire Halloween office decor.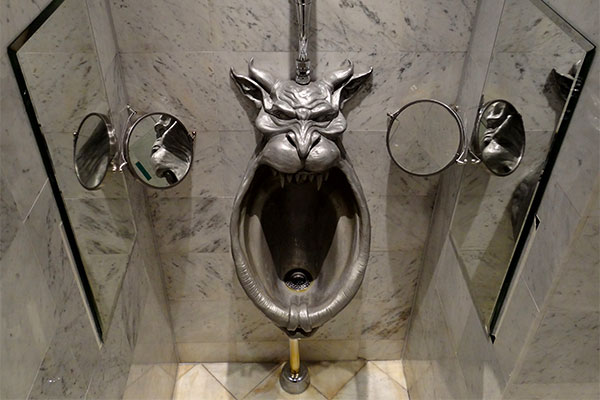 Because of their unique shapes, these urinals' drains need special care. The best way is to disinfect drains quarterly through biological treatment. This process keeps away bad odours that may repel your workers.
It also prevents insects from hovering around your urinals.
Focus on This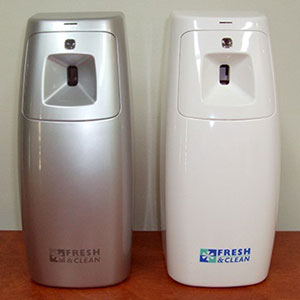 Today's business environment is competitive, and thus, your workplace should aim to stay ahead.
Holding high workplace hygiene standards is mandatory. It's a sign of valuing your employees and your business.
Take the first major step in hygiene maintenance and contact the experts to take over.
Your local branch of professionals will:
Clean your washrooms at your convenience.
Charge affordable prices.
Replace diminished products.
Get in touch with Alsco New Zealand for a fast and free quote. Begin your workplace urinal transformation journey today.
Photo: Wikimedia Commons