Almost everyone will need to use a first aid kit at some point in life.
First aid kits make all the difference in the first five minutes of an accident, especially in the workplace. There are a number of injuries that can happen to employees while on duty, and these must be well taken care of before emergency services arrive.
According to Worksafe Data, there have been over 31,026 injuries from Jul 2018 to Jun 2019 that have resulted in staff being out of work for a week or more.
In addition, there have been 750-900 workplace-related deaths in New Zealand.
The most common workplace injuries between Jul 2018 and Jun 2019 that kept employees out of work included muscular stress while lifting and carrying or putting down objects.
These statistics show the importance of first aid kits in the workplace.
First aid kits vary in size and content, which depends on the presence of first aid officers in the workplace as well as how far it is from the nearest emergency room.
Ready-made first aid kits are available from managed first aid kit services like Alsco.
First Aid Kit Basics
While at work, first aid kits are usually used for treating common injuries like:
Burns
Cuts
Eye Injuries
Splinters
Sprains and strains
Abrasions (scrapes)
Bumps from falling objects
First aid kits should also be installed in company vehicles to enable employees on the road to take care of any injuries while on duty. Travel kits should have not only medical items but also medicine that can take care of common conditions like:
Fever
Coughs and flu
Cuts
Body pain
Stomach conditions
Skin ailments and allergies
Stocking a First Aid Kit
When stocking first aid kits for the workplace, you should ensure they are well-stocked and easily accessible to all employees.
You should have at least one officer and first aid kit for every 50 employees.
There are a few factors to consider when choosing and stocking a first aid kit:
If the kit is being used in wet workplaces or on the road, opt for water-resistant, strong and sturdy cases or containers.
When choosing and stocking a first aid kit in the workplace, these are some of the things to consider:

How big the workplace is and its layout
How many staff members are present
What the common injuries in the workplace are
How far the workplace is from the emergency room if needed
The kits must be well-stocked and accessible to all employees. Depending on the type of workplace, you may have first aid rooms which come with more equipment and adequate space for patients to rest or wait for emergency services.
When buying or renting first aid kits, ensure they are legally compliant. This means it should follow the Health and Safety at Work Act 2015 that makes it mandatory for companies to offer first aid services in the workplace. The kits must be well-stocked with the necessary items, and there should be professionally-trained first aid officers in-house.
Use latex gloves when handling the kits to protect yourself and others. Check for any unused items that lose their original state over time. You must also check all medicines and solutions to avoid using expired items.
Always do a regular check of first aid kits and contents. You do not have to worry about this when using managed first aid kit services like Alsco because they will not only provide but stock your kits regularly for a minimal annual fee.
Must-Have First Aid Kit Essentials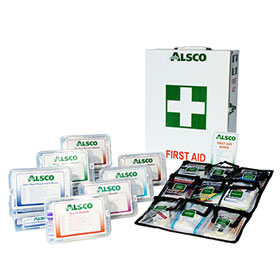 A workplace first aid kit should have these items:
Adhesive tape
Anesthetic spray or lotion – which is perfect for rashes, bites and burns
Gauze pads, ace bandages and adhesive bandages in various sizes to cater for a number of injuries as well as holding splints together when needed
Aloe vera topical gel or cream, perfect for burns
Latex gloves that can be for protection from infection and also makes great ice packs when filled with water and placed in a freezer
Antibiotic cream which can be applied to simple wounds
Safety pins, tweezers and scissors. These are used for fastening bandages, removal of splinters or foreign objects in the skin and cutting what needs to be cut respectively
saline solution for cleaning out wounds (like hydrogen peroxide)
Extra prescription medicines for common ailments
Eyewash Station to handle eye injuries that must be taken care of in seconds
Defibrillator for cardiac arrest cases
First aid manual
Small flashlight
Thermometer to check for fever
The Importance of First Aid Kits in the Workplace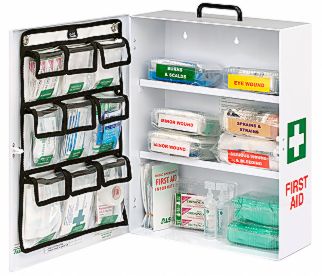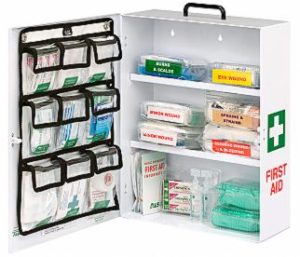 The first aid kit is the first course of action in the event of an accident. Quick action is required for cuts, eye injuries by corrosive substances and so on, as you must wash out the eye and control bleeding.
There are also more serious cases like cardiac arrest which must be handled using a defibrillator within the first five minutes to ensure survival.
Having well-stocked first aid kits in the workplace is a time and money saver. This is because it will keep employees from missing work or spending days away from duty.
It also boosts morale in the workplace because first aid kits show their wellbeing is being considered.
First aid kits will prevent an injury from worsening. During any emergency, time is crucial. First aid helps to manage an accident as you wait for emergency services.
When staff members are regularly trained and able to administer first aid, it will empower them to handle a crisis in and out of the workplace. With the help of a designated first aid officer, employees can handle an injury as quickly as possible.
Why choose Alsco managed rental first aid kits?
Regularly restocked with hospital-grade first aid supplies free of charge.
Our kits are matched with your business needs and stocked with the supplies you'd most likely need.
All these services are available for a single, all-inclusive annual fee.