Accidents tend to occur when you least expect them. To meet health and safety regulations, every employer must ensure they provide first aid kits in their workplace.
Failure to do so could result in hefty fines and lengthy, expensive legal battles.
First aid is defined as the initial care provided to a person who has suddenly fallen ill or has been injured until further medical care is administered.
Immediate and effective first aid promotes recovery by reducing the severity of the injury.
The workplace can present different kinds of potential risks and hazards to employees.
Worksafe (the regulatory body for New Zealand's workplace health and safety) has laid out the following factors to consider when providing first aid equipment and facilities at a workplace.
The location and size of the place of work. Is the workplace in a remote location? What is the distance to the nearest medical facility? Is there easy and fast access to first aid equipment in designated areas within the workplace? Are the workers within one location of the workplace or scattered?
The potential and type of work being done. What is the nature of the work? Assess the potential injuries and illnesses that are likely to occur.

Low-risk work environment – This is a workplace where employees are not exposed to threats that may lead to serious injuries or illnesses.
High-risk work environment – These are workplaces that expose employees to potential threats that may lead to serious injuries or illnesses.

The number of employees – Consider the number of workers during specific work hours and shifts.
A report by WORKSAFE states there were a total of 79 fatalities that resulted from work-related injuries and 10,317 injuries that resulted in employees missing more than a week of work.
A well-stocked first aid kit can provide easy and accessible first aid care to an injured person before having them transferred to the nearest medical facility.
First aid kit contents may vary from one workplace to another as there are varying factors to be considered. However, a basic first aid kit may generally contain basic equipment for administering first aid.
Workplace First Aid Kit Essentials
Sterile wound dressing
Roller bandages
Ice pack – For sprains and strains.
Disposable latex gloves – To prevent direct contact with someone else's blood and other bodily fluids, protecting the casualty and first aider from infections.
Face shields
CPR mask – Used on casualties that are not breathing.
Antiseptic wipes – For wiping the wound.
Antiseptic liquid – For cleaning area around the wound.
A pair of scissors – For cutting gauze, dressing and bandages.
Hemostatic dressing – To stop excessive bleeding.
Eyewash solution – For rinsing the eyes.
Alcohol wipes – Used to clean the skin around the wound before putting the dressing on it.
Hypoallergenic paper tape – Holds the dressing and bandages in place.
Bandages
Cotton swabs – Used with the liquid antiseptic to clean out the wounds.
Arm sling – To hold the arm in place in case of a fracture.
Biohazard bags – To dispose of the used items that have come into contact with bodily fluids such as blood.
Burn gel – For relieving minor burns.
Gauze bandage – Used to cover larger wounds and absorb any blood and bodily fluids that would come in contact with the wound.
Band-aids – For small cuts and bruises.
A list of all the items and their expiry dates – To easily identify what contents are in the kit.
Instruction booklet – Advises on how to use the items in the kit and what to do in an emergency.
Emergency phone number
Click here to learn more about New Zealand's Labour Health and Safety laws.
Is a First Aid Course Important?
First aid knowledge can mean the difference between life and death. Only a frighteningly small amount of individuals know what to do during an emergency.
Taking a first aid course is the only way to ensure that a person can confidently use the items in a first aid kit during an emergency.
Ensure there is a comprehensive plan in place in case of an emergency.
First Aid Course Benefits:
Helps to minimise workplace accidents. The training enables the employees to be more cautious and mindful of safety at their place of work. They can identify potential hazards and threats before they happen.
First aid training offers valuable skills to your employees. These skills are not only useful in the place of work but their everyday lives. This will allow them to be confident enough to perform first aid in an emergency where their family is involved.
Giving first-aid training to all your workers cultivates a positive work environment. It shows that you care about your employees' safety and well-being.
Maintaining the First Aid Kit
First aid kits tend to be neglected because a majority of people assume they might never really need to use them. However, just like most products, the contents in a first aid kit wear out and expire.
The only way to guarantee the contents in a first aid kit are safe to use and are in working order is to check them regularly.
To ensure the items in the first aid kit are safe to use, you must:
Conduct regular inspections on all first aid kits in the workplace (at least once every month).
 Replace the used items as soon as possible after using them.
 Make sure the items are not faulty and are in good working condition.
 Ensure all the contents are current.
 Keep a record of when the items in the first aid kit are expected to expire.
All sterile products must be sealed.
Get rid of any damaged or opened items and replace them with new ones.
Where Should You Store the First Aid Kit?
Emergencies are never pleasant and often come about unannounced. Therefore, immediate attention is normally required.
In an emergency,  panic might cause people to forget how to react and deal with the situation. Therefore, it is advisable to make sure the first aid kit is stored in an easily accessible location.
You should also ensure that all the employees know where it is kept. Ideally, it should be positioned in a cool and dry location away from direct sunlight.
Should You Buy or Rent a First Aid Kit?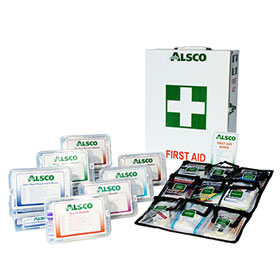 Purchasing a first aid kit can be a time consuming and costly affair in the long-run. This is because the contents wear out and expire over time, meaning that you will be required to buy another.
An easy and cost-effective solution is to rent instead of buying one.
Alsco NZ offers a great range of first aid kits customised for your specific requirements. Their first aid rental services guarantee that your workplace first aid kits are restocked regularly using hospital-grade supplies with access to their full range of kits for any kind of workplace, whether high- or low-risk.
Why choose Alsco?
They have a hassle-free, scheduled, first aid maintenance service saving you the time and trouble of having to constantly inspect the first aid kits.
They are eco-friendly and have a programme for recycling unusable worn out or expired first aid supplies.
Their kits meet Safework New Zealand standards.
Alsco offers unlimited restocking and maintenance of the first aid supplies on a one-time only fee payment.
Visit their webpage today to get a quote!