Urinal hygiene is an important aspect of washroom hygiene. Bad odours may diffuse into workspaces and make workers unable to focus.
However, clean urinals also contribute to overall washroom hygiene. In turn, this leaves a great impression on both clients and employees.
Besides, sanitary washrooms have positive effects on workers' health.
How can you give your workplace washroom a facelift? Ensure excellent washroom hygiene through the use of professional products and maintenance.
There are different ways to care for urinals to upgrade your washroom's appearance. Here below is all you need to know about urinal hygiene essentials.
1. Use the Best Urinal Hygiene Products
Workplace cleanliness has a direct impact on workers' perception of your professionalism. In the long run, the amount of effort put in translates to an increase in employee loyalty. This also applies to external parties, such as clients, investors and suppliers.
Besides, customers associate dirty washrooms with lack of care. The appearance of your washrooms may put them off and keep them from doing business with you.
So, keeping washrooms clean may appear to be a difficult task, but using the best products makes it easier. It also leaves a lasting impression.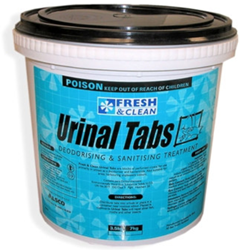 To begin, place urinal tabs at the bottom of every urinal. These are a must-have hygiene product that disinfects and eliminates bad odour. Besides this, they keep away insects like flies, moths and silverfish.
By reducing the buildup of uric acid, clogged urinals become a thing of the past. How do they do this? By consisting of the main ingredient para-dichlorobenzene, they keep all the bad stuff at bay.
Urinal tabs come in different colours, shapes and sizes, but they all perform the same functions.
Consider investing in urine screens to cut down on splashback accidents. Place them at each urinal to make hygiene maintenance easier for your cleaning staff.
They contain a strong fragrance which freshens up the urinal for up to 30 days. After this period, replace the old screen with a new one for long-lasting freshness.
These products often yield better results when combined with the tips that follow.
2. Use High-Quality Washroom Cleaning Chemicals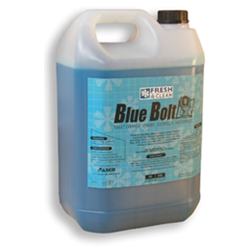 Clean urinals contribute to workplace image. The correct products prevent the spread of bacteria, creating a healthy working environment.
For starters, encourage the use of toilet cleaner. It removes scale deposits that make your urinals look off-white.
Pour a small amount of the product into the urinal and let it sit for 3-5 minutes. Then, scrub the urinal with a brush and rinse it off.
Its thick formulation minimises waste and over-use, saving costs in the long-run.
Ensure you also purchase scouring cream to clean washroom surfaces. This eliminates dirt and grime, enhancing the urinal's appeal.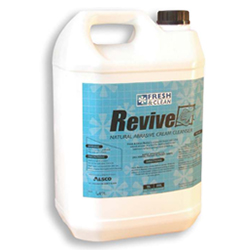 Apply the product on a damp cloth and wipe the urinal exterior before rinsing it off. It leaves a fragrant and spotless surface.
These products have a long-lasting impact on your washroom, giving it the kind of care it deserves.
These products are essential in disinfecting urinals to protect your workers from illnesses. Cases of absenteeism will decrease, saving your business a significant amount of money.
This report finds that absenteeism costs the New Zealand economy $1.79 billion in 2018. So, investing in the well-being of your employees has many benefits to your company. The bottom line is, workplace cleanliness affects workers' satisfaction and productivity.
"The higher your energy level, the more efficient your body. The more efficient your body, the better you feel, and the more you will use your talent to produce outstanding results." — Anthony Robbins.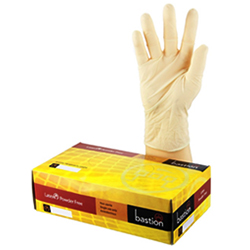 Handle these products using gloves and safety glasses to prevent any harm.
To kill general malodour, place automatic air fresheners behind urinals. Overlooking this area allows awkward smells to thrive. It's better to deal with the problem from the source.
Ensure to select scents that boost your employees' energy levels, like:
Lemon
Lavender
Jasmine
Rosemary
Cinnamon
Peppermint
These scents trigger positive moods in workers and increase their morale.
Don't forget common touch-points, such as urinal flush handles, are covered in disease-causing germs. Protect your employees by making automatic hand soaps and sanitisers available. Creating a sterile environment speaks volumes and assures them they are in safe hands.
Fresh and Clean takes the burden off your shoulders. Rental hand care products are available for servicing and refills at your convenience.
3. Hire Professional Cleaning Services
This is the secret to creating a 5-star washroom experience. Contrary to workplace myths, this is not an unnecessary expense. Instead, it's an investment in your company. This is how your business stays leading in a competitive market.
Expert services provide consistency by putting in the extra effort your washroom needs. Partner with Fresh and Clean to stay ahead of the game! Through both deep cleaning and biological treatment services, you upkeep your hygienic standards. This offers a complete washroom solution for exceptional cleanliness standards.
These are both eco-friendly cleaning alternatives to using toxic chemical products. Your workplace gains the favour of like-minded clients that admire sustainable business practices. It adds to your workplace's core values and increases marketability.
Have a look at this chart below to understand which service works best for your workplace needs:
Deep Cleaning
Biological Treatment

It clears out mould and fungi in hard-to-reach washroom surfaces.
Is a temporary solution that is done on a regular basis.

It is an aggressive and permanent solution. Its main aim is to battle the build-up of bacteria in urinal drains and pipes.
Fresh and Clean professionals deliver this service quarterly to prevent re-occurrence.
Below are the benefits of partnering with professional services:
Specially-trained staff that have the skills your washroom requires.
Formulation of a cleaning plan according to your workplace washroom needs.
Deliver exceptional results, keeping your urinals in top-notch quality.
Use specialised equipment and products to fulfil your needs.
4. Take Extra Precautions
This is another angle towards maintaining urinal hygiene. Do so by creating awareness and implementing hygiene policies in the workplace. Together, these will yield extraordinary results. Both your workplace sanitary standards and workers' washroom etiquette improves.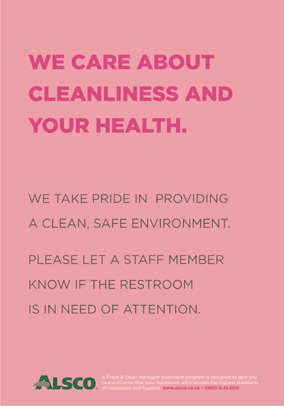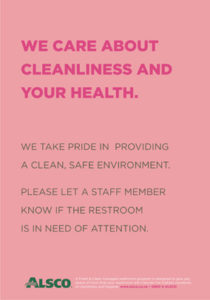 Sending subtle messages has extraordinary effects on washroom hygiene. As a result, the repeat of avoidable washroom incidents reduces.
Your workers then become aware of their hygiene practices and the effects it has on others.
Use washroom posters to assure employees that you care about their well-being. By creating a sense of safety and security, your workers can't help but be loyal. It encourages them to report any washroom accident that requires immediate attention.
Bear in mind to install washroom mats near urinals and sink areas. This prevents accidents. They are also firm and comfortable to stand on, improving relaxation while relieving yourself.
So, there you have it, the four major tips you need to improve your urinal hygiene. Give them a try and share the results with your colleagues.
Overturn Your Workplace Washroom Today
As committed hygiene service providers, Alsco makes it a priority to keep your washroom in high-grade condition.
"You service our branch with an awesome attitude." — Shaan Antunovich, Manager, Education Action.
Contact Alsco's Fresh and Clean friendly customer services for a convenient and affordable experience. Our expertise is all your urinals need!
Photo: Creative Commons