A great restaurant makes you feel like you're not sure whether you went out or came home. If it can do both at the same time, you're hooked.
What makes a restaurant so great? Well, the quality of the food or service they provide.
The table linen you choose for your restaurant should, therefore, dress the room and reflect your style while elevating the guest's experience.
According to The New York Times Bestseller Danny Meyer, "The restaurant industry isn't about serving food it's about hospitality. The end goal of any restaurant is to make their guests feel good."
Table linen is the bridge that connects food, service and ambience together on the table for your guest.
Examples of Table Linen Include:
Tablecloths
Napkins
Table Runners
Overlays
Choosing the Ideal Size
Consider the Following When Selecting a Tablecloth
The first aspect you need to think about is the size of your table. This will define how much you can put on it. You need to know the exact measurements of your table before you purchase the linen. This will allow you to get the perfect "drop length" (the distance the tablecloth hangs from the edge of the table).
There is an easy formula to determine the perfect tablecloth measurements.
Measure the length and width of a square or rectangular table.
Measure the diameter for a round table.
Next, multiply the desired "drop" by 2. Add that to the length, width or diameter.
The result gives you the size of the tablecloth you need.
For instance: Take a rectangular table that measures 100 centimetres wide and 180 centimetres long.  You are going for a drop of 25 centimetres. Multiply 25 by 2 and add that to each side.
The final dimensions of the Tablecloth you are going to select are 150 x 230 centimetres.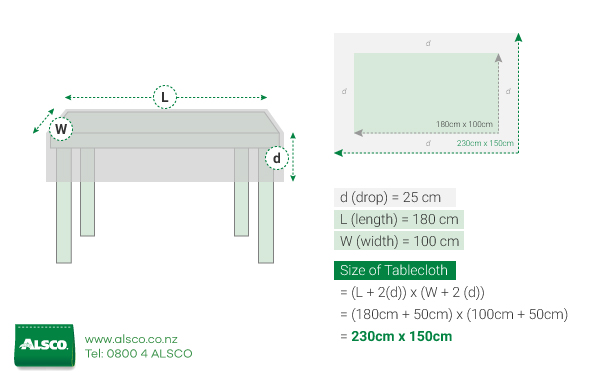 Determining the tablecloth size for a round table is much easier.
If you are going for a drop of 25cm on a table with a diameter of 150cm, simply multiply the drop size by 2 and add to the diameter of the table. The tablecloth you choose should, therefore, have a diameter of 200cm.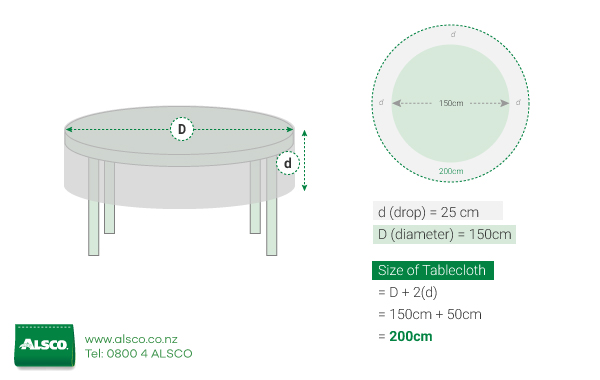 The standard tablecloth drop length for a formal fine-dining restaurant setting is about 38 centimetres.
The standard tablecloth drop length for a casual easy dine restaurant ranges between 20cm – 38cm.
The biggest investment you can make in the restaurant industry is finding a good vendor or working with an excellent table linen supplier.
This is because tablecloths and other table linen can sometimes be hard to find. They tend to be bulky and cumbersome. The Alsco tablecloth is a style favourite due to its simplicity and quality.
Don't Shy Away from Colour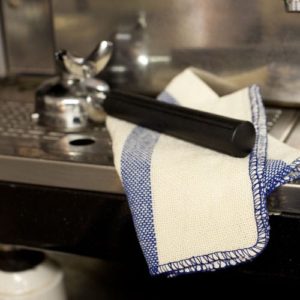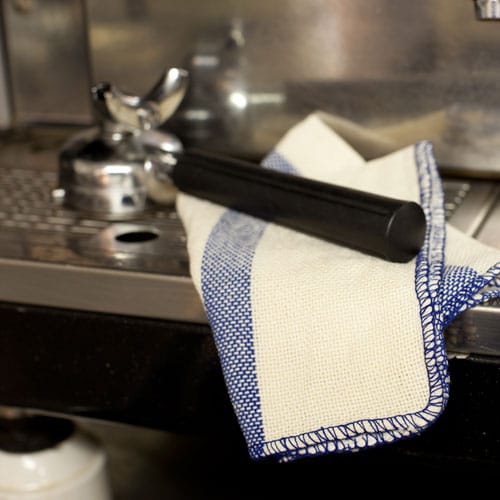 White table linen is a staple for most restaurants but colour has a place as well.
The sleek look of white table linen is perfect in a bright modern setting but also works in a traditional setting.
Neutral colours like white and grey can help you balance your design so that when you do use colour, it stands out.
According to the psychology of colour, some colours can either increase a person's appetite or suppress it. For example, the colour red invokes passion and stimulates a person's appetite while the colour blue decreases a person's appetite.
When it comes to eating, research has proven that the right colour can sway a person's mood to directly affect how they enjoy their next meal. Therefore, keep your colour scheme simple. Pick a table linen colour that is engaging and easy on the eyes.
You Can Match Colours from Key Decor Features in the Room By:
Layering a white tablecloth with a coloured table runner, overlay and/or napkins to colour-match the paint on the ceiling, walls or trim of your restaurant to give a cohesive feel.
Getting creative and experimenting with your colour schemes. Table linen such as table runners come in a variety of colours and fabrics, which means the creative solutions are endless.
Every colour sends a message. It's, therefore, important to consider the tone of your restaurant and choose a linen colour that fits. Brightly coloured linen makes a restaurant feel authentic.
For example, bright colours tend to give a modern and uplifting vibe.
Coloured table linen might seem intimidating because it's difficult to choose a pallet that works in your restaurant. However, it doesn't have to be. Just keep experimenting.
Pick Functional and Luxurious Materials.
Materials are more compelling and convincing once you see them in context. Imbue your guests with a sense of well-being, empowerment and a sort of gentle joyfulness by using luxurious, high-quality materials.
When purchasing table linen, ensure that they are made of natural fibres such as cotton and linen, which are:
Soft
Super absorbent
Durable
Lightweight
For napkins, cotton and linen are the most common fabrics to choose from. They are breathable, meaning heat and moisture will not be trapped between the point of contact of the plate and table.
Air can easily flow through the fibres and moisture can evaporate.
*A napkin can be used to impress your guests when turned into a sculpture. Given that you have the necessary origami skills, you can create a great blue heron or a tea rose to display it on top of the plate*
Materials Are Best Understood by Contrast
Our senses are wired to notice contrasting textures. Create visual depth by purchasing table linen of varying textures.
This will help send a message about the elegance of the meal or how casual the environment is, which is an important part of creating an experience for your guests.
Restaurant interiors that have been treated as a less important side to design are now taken seriously.
What Next?
Table linen is an important factor to your restaurant's success because this is what your guests are going to be touching, seeing, feeling and experiencing during their visit.
Take time to choose wisely and make sure you're thinking about the colour, shape, feel and size so your linen echoes your restaurant's concept.
Have a close connection to your guests and know how to reach them, how to excite them and how to inspire them.
Create an environment that is less about aesthetics and more about making people feel better.
Following these simple steps should make you feel a little more confident and make it easier when choosing linens for your restaurant.
For all your table linen solutions, visit Alsco New Zealand. We offer personalised service tailored to your specific linen needs. Whether it's an emergency or daily operations, we'll have you covered.
Photo: Pixabay