The food industry is a paradox. The people who work for you are both your biggest asset and your biggest liability.
You need people to thrive, but people are also a major potential source of contamination for the food.
We can separate the common sources of contamination into two groups: physical and microbial. The physical sources include skin flakes, threads or buttons, etc., while the microbial sources are pathogens.
As a manager, it's critical to know these dangers and understand the role of protective clothing in preventing contamination. Keep the following in mind.
1. Workwear Provides Employee Safety
Regulations in the New Zealand food industry guide the basic protective garments needed for your employees. Depending on the level of risk, the required garments include:
Headcovers – These include hair nets, mop hats, trilby hats, hard hats, etc.
Overalls – These can be full-body overalls or protective coverings like aprons or coats.
Gloves –  Wear them when the foods are high risk, sensitive or aggressive on bare hands.
Footwear – Choose some good quality, non-slip shoes that can be colour-coded for safety.
2. Staff Uniforms Prevent Cross-Contamination
To meet legal requirements for processing certain foods, you need to provide safety equipment for your staff members. Uniforms ensure production protection from contamination or potential legal suits.
When choosing suppliers, ensure they're up to date with the latest regulatory requirements. Choose a supplier that makes your life easier. Reliable uniform suppliers like Alsco NZ take care of the legal requirements for you.
3. Workwear Establishes Internal Systems and Controls
Uniforms in the food industry can denote rank in a particular organisation. For example, it is easy to spot the chef by their hat. It is important for guests or new employees to be able to distinguish the staff members.
Colour-coded uniforms maintain and reinforce internal safety systems. The colours identify what belongs in certain departments. This prevents cross-contamination or laxity in maintaining the standards.
4. Staff Uniforms Create a Company or Brand Reputation
Well-maintained and well-designed uniforms create a great first impression. Brands that care for what their staff wear gain a positive reputation. Pay attention to the design and maintenance of your staff uniforms. Always add your brand logo for greater visibility.
Uniforms reinforce clean working since staff are aware of their uniform's appearance. Comfortable, well-fitting workwear that is well-maintained sends a message to your staff. They'll believe that you care about cleanliness and will follow your lead.
How to Decide the Type of Uniforms You Need
1. Assess the Risk Levels Involved
Every workplace has its different risk levels for different jobs. The higher the risk levels, the stricter the requirements for workwear become. Assess risk by factors like:
Perishability of ingredients
The production process
The production setup
The type of end consumer
High-risk jobs: These are jobs like handling ready-to-eat, perishable or unpacked food. The typical products include raw meats, ready-to-eat salads, or spreads. To prevent the entry of microorganisms and contamination, maintain the highest levels of hygiene at all times.
Low-risk jobs: These are the inverse of the above. Handling foods that are not perishable, such as crisps and coffee, fall into this category. Workwear provides simple coverage since packaging provides the required protection for the food.
2. Be Aware of Uniform Requirements in the Food Industry
When it comes to safety regulations, it is always better to be safe than sorry. Are you aware of the basic protective coverings for the food industry? Do you know when to provide them? Brush up on the requirements before you start sourcing uniforms for your staff members.
Head Covering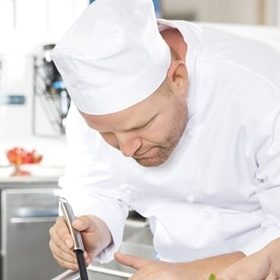 Hair is a source for both physical and microbial contamination matter. It is imperative that head covering becomes a part of your essential uniform tool kit. Communicate the importance of the head covering to staff members through regular training.
Hairnets: A basic item for head covering is a hair net. Regardless of the type of hat you choose, ensure all your staff wear a hairnet underneath. This is especially important for people with long hair.
Hats: To ensure comfort and adequate coverage, choose hats with a generous size that fits hair. Check that the elastic in the net doesn't cause irritation while staff are working.

Hard hats – They become a necessity when an impact to the head is a possibility. Buy them if your company has processes that involve an overhead conveyor or cranes.  Hard hats are durable and easy to clean.
Disposable paper hats – They are perfect for catering outlets and assignments. Non-woven disposable hats can be effective for high-risk areas where daily cleaning is critical. This is because they can be cheaper compared to daily laundering.
Facial hair covering– To cut contamination, cover all head hair, including beards and moustaches. Everyone in the factory should wear beard snoods in disposable fabrics. This also includes visitors, site engineers and contract employees.
Choosing headwear doesn't have to become complicated. A call to Alsco NZ is all you need. We will give you an account manager who can advise and sort your needs.
Overalls
There are three types of overalls used in food industry workwear. They include a coverall (boiler suit), separate jacket or shirt and trousers, or a coat sometimes paired with trousers.
For ease in usability and versatility, the coat wins. It can be worn over trousers or any clothing that your staff might wear. It works best for jobs with medium to low risk with a diverse workforce.
Footwear
The footwear used in the production area should never leave the production area. Ensure that the shoes are comfortable and well-fitting. The material should also be easy to clean and stored on the storage racks.
Dedicate the footwear to the work area. Wellington boots are perfect for wet processing or cleaning. Colour code the footwear as a reminder of the hygiene requirements of the production area.
Gloves
It is better to have clean hands than dirty gloves. This phrase should be your guiding light when considering how to buy and care for gloves. It's not easy to realise when a glove gets too dirty. It is important to put in place processes that remove soiled gloves before they outlive their usefulness.
Use gloves when handling the below categories of products:
High-risk products (e.g., cooked meats) – Natural rubber gloves are the best in terms of usability and safety.
Sensitive products (e.g., chocolate items) – Thin cotton gloves are good but need to be changed for clean ones at regular intervals.
Aggressive products (e.g., salt, fish or cartons) – PVC or rubber gloves are best for protection against abrasives or irritants.
Hot and cold products – Special fabric gloves work well for handling hot items from ovens. Insulated gloves are available for staff working with frozen foods.
3. Be Mindful of Design Needs
The food industry is highly regulated, and New Zealand is no exception. Get acquainted with the laws and regulations that govern food industry uniforms to keep your company safe from litigation. 
In a nutshell, these are the general design requirements you should pay attention to:
Use Light or White Fabric
White or other light-coloured uniforms make it easy to inspect for cleanliness. Workwear has to live up to food safety standards.
Use Long-Sleeved Workwear
Food industry workwear in all risk levels must have adjustable long-sleeves. The sleeves are important to protect the food from staff contamination. Always close coats and jackets and ensure they are long enough to cover the side pockets on trousers.
Permanently Attach Your Logos and Emblems
Avoid using logo stickers or tags. Embed the logos directly onto the garment. The transferable sticky logos can loosen with time. Logos need to be of a high enough quality to last the whole life cycle of the workwear to which they are attached.
Use Fitted Garments to Prevent Spills
Fitted uniforms are comfortable and increase staff productivity.  A good workwear rental supplier will measure your staff and make sure uniforms fit. Ensure your supplier can do this for you. Providing your own uniforms will prove to be tedious and time-consuming. Get a trusted partner like Alsco NZ to take care of this process for you.
How to Find the Best Food Industry Uniform Vendor
1. Do They Pay Attention to Fabric & Fit?
Do you understand the standard material used for protective clothing? Most protective clothing is now made from a blend of 65% polyester and 35% cotton. These are comfortable to wear, last a long time and absorb spillages.
An adequate supply of clean garments is essential. Everyone should have at least a weekly change in garments, while some will need a daily change. Rent or buy garments on-site or send them to a specialist laundry.
2. What Is the Maintenance and Laundering Process?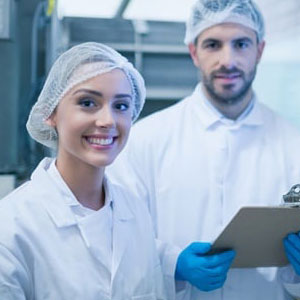 Make sure your supplier is right for your business. The food industry CCPs that your supplier needs to be mindful of include:
Garment material: Traditional apron materials, like vinyl and polyurethane, have cleanability problems. Choosing good materials promotes food and employee safety.
Carts/plastic tubs: Clean clothes should be transported by designated carts that only carry clean clothes. Line the carts with a disposable plastic liner to ensure clean clothes do not touch carts or soiled garments.
Pest control: Each laundry-processing plant should minimise hazards through an effective pest control program.
Gloves: Change disposable gloves worn during the sorting of dirty garments and by handlers of clean laundry before being poly-wrapped.
Cross-contamination on the service route: Design the process for serving food accounts to prevent cross-contamination.
Training: Certify all vendor employees on basic food safety and preventing cross-contamination.
Service trucks: Keep these free of dust and dirt. Separate soiled and cleaned garments on trucks to prevent cross-contamination.
Choosing and maintaining staff uniforms can become an extreme sport if you choose the wrong supplier. When you put these notes into consideration, you will pick a great supplier for you.
A neat trick to get you started is to look out for companies with great recommendations and track records.
The rental workwear service from Alsco NZ is affordable, reliable and always up to par with legal requirements. Don't take our word for it: Check out what our clients say about us.
Photo: Emiliano García-Page Sánchez