FACT: Workplace washroom design, maintenance and location are major contributing factors to worker productivity.
FACT: Worker productivity is a major contributing factor to business success. You already knew that. But what about this next fact?
The link between workplace washrooms and organisational performance is less well-known. Which is probably why washrooms are often overlooked by management.
According to research, workers perceive decor as non-verbal communication. It sends a message of how much the company values them.
Washroom conditions can either encourage or discourage workers.
We go to the washroom about five to seven times a day, so why not make the visit worth it?
These unconventional workplace washroom necessities are sure to knock your socks off. They will have your workers happier, healthier and more productive.
Provide Adequate Washroom Products
It's no doubt that items, such as toilet tissue, hand wash and paper towels are basic necessities. Finding these in every washroom is ideal and promotes proper toilet etiquette.
Make sure you have these items stocked for the next few months. Workers need these items to maintain personal hygiene, saving them from embarrassing washroom situations.
Make an inventory of the washroom items, taking note of the stock and if there is a need to replenish it. Availability of products guarantees your workers a great experience.
Also, stock up on cleaning products, like air fresheners and cleaning chemicals.
Poor products have a negative effect on your workers' physical wellbeing. They may fall ill from poor hygienic conditions. As a result, this puts the business' reputation on the line.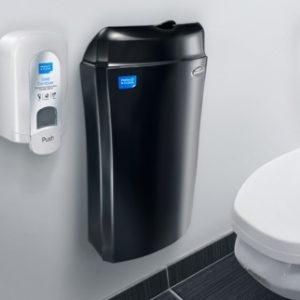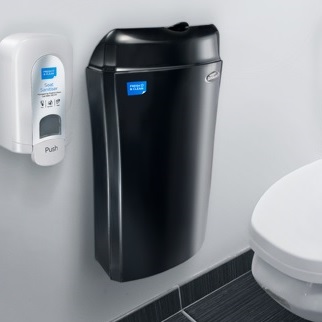 Air fresheners are important when dealing with bad odour in washrooms. They aim to end the odour and not mask it. The good smell makes the washroom welcoming to workers.
On top of that, studies show that certain scents give washroom-goers positive energy. As a result, this lifts the workers' mood and reduces stress levels.
They feel more excited to go about their daily tasks.
This scent chart is instrumental in deciding which scents to go for. It makes your decision easier.
Additionally, cleaning products help maintain a hygienic washroom. Cleaning surfaces, floors and walls maintains the general appearance of the washroom.
Good cleaning products counter the growth of mould that often comes about in moist areas. This contributes to the extermination of musty odours.
''The objective of cleaning is not just to clean, but to feel happiness living within that environment.'' — Marie Kondo
Give Your Washroom Character
Another workplace washroom necessity is good decor. When you walk into an office washroom, you should feel good to be there.
This study concludes that productivity levels increase in the presence of good decor.
So, take a step back from metal cubicle doors and plain whitewashed walls. Make your office washroom pleasant and fun.
Let your washroom design speak for you. Reflect the character and values of your business through the decor. Using the right design, you can give your workers and clients a good impression.
Wondering where to start? Ask your workers what they think of the current workplace decor. From their feedback, you have a perfect idea of where to start.
To begin with, install proper stall doors with good locks to protect privacy. This is obligatory as part of workplace regulations. Likewise, this applies to the main washroom door.
Get rid of clutter and old materials. Place a vase of good smelling flowers in the sink area, and even have a bowl of potpourri. These are great finishing touches. Not only do they give your washroom class, but also smell great and add aesthetic value.
Instead of having plain walls, include vibrant wall paint or a bright wallpaper design. It should best reflect the identity of your workplace. This assists in making the washroom look professional and welcoming.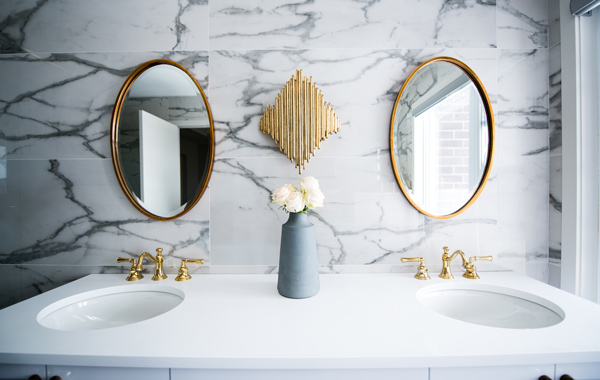 While doing so, pay attention to the colours you use. Certain colours evoke positive moods, and these are the best colours to go for. For example, peach, light pink and lilac are happy colours and evoke positive emotions.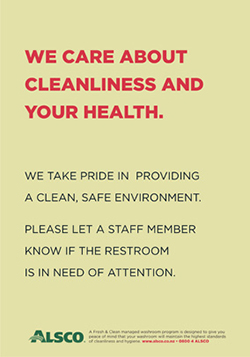 Have a look at this illustrative colour wheel to help decide which colour scheme works for you.
It's also important to incorporate washroom etiquette posters. These remind workers of washroom hygiene and maintenance. They are often stylish and educative.
Make sure the washroom has good ventilation and lighting systems. Dull and stuffy washrooms can prove to be demoralising.
Make sure there are windows in the washroom to allow natural light and fresh air to get inside.
Play around and have creative lighting fixtures, too. Consider placing them overhead to reduce the casting of shadows. This is important in protecting workers' eyesight from harm caused by poor lighting.
Play Some Music
While a quiet washroom is ideal, a little background music wouldn't hurt. Installing good quality overhead speakers is instrumental in playing washroom music.
Music masks awkward sounds, and this makes people more comfortable.
According to research, certain sounds reduce stress and relax the mind. This creates a calm environment ideal for increasing productivity levels.
''We are all familiar with the feeling of relaxation and 'switching-off' which comes from a walk in the countryside, and now we have evidence from the brain and the body which helps us understand this effect. This has been an exciting collaboration between artists and scientists, and it has produced results which may have a real-world impact, particularly for people who are experiencing high levels of stress.'' — Dr Cassandra Gould van Praag
What is the best kind of music to play in your workplace washroom? That would be instrumental or classical music. This means workers will not have to concentrate on trying to understand the lyrics.
Further, the music volume should be moderate, as this is the productive-sweet spot. We wouldn't want to turn the washroom into a club.
Ensure There Is Clean and Regular Water Supply
Handwashing, toilet flushing and washroom cleaning are daily activities. So, clean water is a workplace washroom necessity.
Providing clean water protects the health of your workers. Without it, maintaining clean washrooms would be difficult. This would create health risks caused by bacteria.
Besides, clean water promotes handwashing. Thus, it reduces health risks and builds up workers' resistance to illnesses.
This translates to fewer sick days taken, and in turn, improves business progress.
''One who maintains cleanliness keeps away diseases.'' — Sam Veda
Incorporate creative reminders in the washroom as well. These help workers recall the importance of water conservation. This is by reminding workers to report any leaking incidents to the management.
Use Automated Products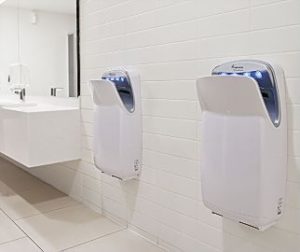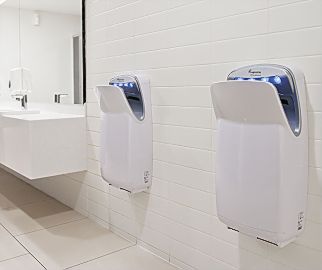 Today, there is increasing use of automated products almost everywhere we go. It's time for you to do the same.
Replace your standard hand soap with automatic hand wash and sanitiser dispensers.
The preference for automated products is because they involve less physical contact. This plays a major role in reducing the spread of bacteria.
Incorporating these workplace washroom necessities doesn't have to be an energy-draining process. Trust the local experts in your area to make it a smooth journey.
They will help you in creating a washroom that will leave you amazed!
Photo: Minmin Kp