Despite the handwashing drills we had growing up, research shows that we're not effective at hand hygiene. 1 out of 5 people do not wash their hands after using the washroom.
This means that for every party of 20 people, 4 have not washed their hands.
This is alarming and a hazard for spreading harmful bacteria.
With this in mind, it's probably a good idea to carry your hand sanitiser everywhere you go. Handwashing is key in preventing illness since 80% of infectious disease is spread through hands.
Considering all the hand contact in the workplace, improved handwashing practices can lead to a whopping 31% reduction in gastrointestinal conditions (vomiting and diarrhoea) and a 21% reduction in respiratory conditions (common colds and flu).
As a rule of thumb, wash your hands as soon as they feel dirty. We are in contact with a lot of bacteria during a typical workday. Mobile phones are said to have more bacteria than the average toilet seat. We also touch money, keys, door handles and other items commonly covered in bacteria.
Since it's impractical to wash your hands each time you touch anything with bacteria, we need to learn how to turn hand hygiene into an easy habit.
Steps to Proper Hand Hygiene
Make Handwashing Part of the Culture at the Office
When buying office supplies, keep in mind utility and how to encourage a handwashing culture. Here are simple tweaks that will create a healthy workplace.
Keep Interactions in Washrooms Pleasant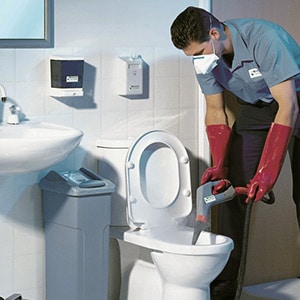 An underappreciated area in the workplace is the washroom. Clean and pleasant washrooms lead to a healthier workforce.
Some people skip hand washing because of the state of the washroom or a line at the sink. Therefore, plenty of room and washing stations will ensure people don't rush out of the washroom.
Another way to encourage cleanliness is by ensuring washrooms always look and smell lovely. With regular deep cleaning and odour services from Alsco's Fresh & Clean service, your washroom will become a hub for your staff to comfortably unwind.
Prevent the Spread of Disease at the Workplace
After creating beautiful washrooms, how do you prevent the spread of germs within the washroom and workplace? Always provide the appropriate disposal and cleansing products.
For the ladies washroom, feminine hygiene bins and nappy disposal bins are important. You should also provide toilet seat cleaners in all the washrooms to ensure each toilet is sanitary and safe.
Alsco's Washroom Hygiene Service eliminates dirt and bacteria from your workplace with zero effort on your side. Gain access to a wide range of super-efficient, cost-effective washroom services for your business today.
Remember to provide plain liquid soap, paper towels, running water, hand sanitiser, tissues, and regular cleaning of commonly touched surfaces
Have Handy Reminders at Strategic Locations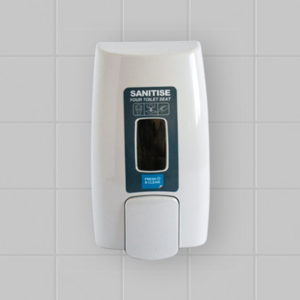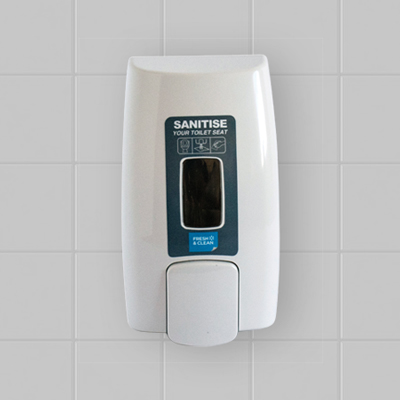 Everyone needs a reminder. Place signs around the office to remind people to wash their hands. Choose areas like the office kitchen, the snack area, inside and outside the washroom, inside the toilet door, and near the office entrance. These are all strategic spots that remind people to be aware of the state of their hands.
You could also go the extra mile and add hand sanitisers at these strategic spots. Especially at the areas where you cannot always have a sink with running water e.g. the office hallways or entrance.
Alsco has a great range of hand sanitisers that can be wall-mounted. They have automated operation and automatically dispense the perfect amount to prevent wastage.
We also have free and fun posters that you can download and print for your office. They are attention-grabbing and will get people talking about hand hygiene practices.
Do It Right
Now that the importance of washing your hands is clear, how do you make sure you are doing it properly?
The Proper Handwashing Technique
Hand washing may seem obvious but there is a proper way to do it. A fun trick to remember is that washing your hands should last as long as it takes you to sing the "Happy Birthday" song twice.
The popular myth that hot water kills more germs has been debunked. Do not cut corners by just rinsing your hands with water without using soap. This will still lead to the spread of bacteria.
Wash your hands frequently throughout the day, after using the washroom, and when your hands are visibly dirty. The correct procedure according to WHO is as shown below:
Wet hands with water
Apply enough soap to cover all hand surfaces
Rub hands palm to palm
Right palm over left palm with interlaced fingers and vice versa
Palm to palm with fingers interlaced
Rub the backs of your fingers against your palms with fingers interlocked.
Clasp your left thumb with your right hand and rub in a circular motion. Repeat this with your left hand and right thumb.
Rub the tips of your fingers in the other palm in rotation, going backwards and forwards. Repeat this with the other hand.
Rinse your hands with water.
You can also use hand sanitiser when your hands are not visibly dirty but feel like they need some cleaning. Makes sure to have sanitiser with at least 60% alcohol and rub it in for at least 15 seconds.
The Best Washing Products
In addition to knowing how to properly wash your hands, you need to ensure you have good washing products. You don't have to use antibacterial soap since plain soap is just as effective in fighting germs.
Avoid refilling soap dispensers before they're totally empty. Rinse the dispenser before each refill to prevent germs from growing in the dispenser. Alsco provides a variety of dispensers according to your specifications and needs.
Hand sanitiser stations are also important in maintaining clean hands. Make sure the hand sanitiser is at least 60% alcohol and placed in hygenic dispensers away from flames, heat, or any potential danger.
Alsco can provide you with its amazing range of hand sanitiser dispensers that dispense the perfect quantity to prevent wastage. They are also hygienic since they have automated operation.
Always Dry Your Hands
The Proper Hand Drying Technique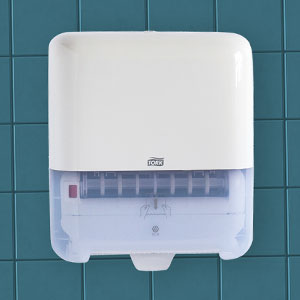 Drying your hands is just as important as washing them. If you don't dry your hands well, you risk leaving the washroom with more germs than you came with.
When it comes to drying equipment, the hand dryer is popular but less effective than a paper towel. This is because they can spread water particles in all directions at the speed of over 370 mph.
When it comes to public restrooms, a paper towel is better than using a hand towel. Hand towels are great for home and private use. Dry your hands well using the rubbing method to remove the most germs. You should also use the paper towel to turn off the taps and to open the bathroom door.
The Best Drying Products
Depending on how many washrooms you have at your workplace, a variety of options are available. For executive or private washrooms, you can have cloth towels dispensers. They are soft to the touch and highly absorbent.
For the larger public washrooms, you have the option of paper towel dispensers, air dryers and jet dry executive. Get a quote from Alsco for these options and choose the most suitable service for your office.
Handwashing is not just a good idea, it is critical for good health. Creating and reinforcing proper hand hygiene is a great long term strategy for creating healthy workspaces. Not only does it save lives, but also prevents the spread of diseases that reduce productivity and quality of life.
You can't afford to take shortcuts with the quality of washrooms at the office. Remove the stress and get a reliable rental service today. Alsco New Zealand offers great washroom hygiene services that ensure clean, well equipped, and odour free spaces.