When was the last time you thought about office cleanliness? Considering how much time is spent at the office, workplace hygiene is underrated.
We spend over 70% of our lives at work, so it's important to pay attention to hygiene. As you focus on increasing productivity and profitability, how often do you consider the effect of health and hygiene on workplace performance?
Various studies into the source of germs at work have led to interesting findings. If you are sitting at your desk, you might suddenly feel the urge to leave it. Did you know that the work desk can be 400x dirtier than the average toilet seat?
Everything from your equipment to your desk surface is responsible. The biggest culprits are the keyboard, office phone and your mouse.
Good news is that with a little more emphasis on hand hygiene, the high germs zones are easily contained.
If everyone becomes aware of how important it is to keep their space and equipment safe, the workplace will instantly become healthier.
Importance of Hand Hygiene at the Office
Creates a Great Working Atmosphere
Every office has a hygiene culture. Do you remember the last time there was a flu outbreak at the office? How fast did it spread? The speed at which it spreads is an insight into your general hygiene habits. It's time you became intentional about hygiene.
Employees who are confident in their co-worker's hygiene habits are more comfortable with physical contact e.g. handshakes and hugs. This is shown to improve workplace relations, closeness and cohesion.
Prevents the Spread of Disease
80% of infectious disease is spread by hand. Awareness of what you do with your hands will reduce your exposure to these germs. Avoid touching your face or mouth, as this exposes you to inhale or inject the germs. Therefore, it is important to maintain great hand hygiene as a preventive measure.
Since many people eat at their desks, keeping great hand hygiene prevents food poisoning and stomach upsets from questionable hygiene. Loss of productive time through preventable disease is bad for your bottom line and overall employee well-being.
Leaves a Good Impression on Visitors
A beautiful office with washrooms that smell good creates a great first impression. It shows that the office cares about its people, and in turn, will also care for their customers or partners.
Good hand hygiene is also visible in the appearance of the employees. When they look presentable and neat, it creates a positive company image.
How to Create a Hand Washing Culture
1. Make It a Visible Priority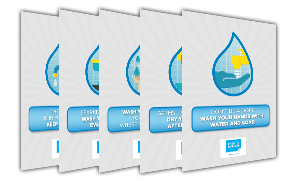 a. Create stickers and place at strategic points
It is proven that people take things that they can see more seriously. This is due to a psychological tendency to increase the perceived importance of a subject matter when it is visible and noticeable. Alsco has some free high quality and printable posters that you can use around your office today.
Therefore, to reinforce your commitment to workplace wellness, you could place wellness stickers at strategic areas around the office. Some great spots include the washroom sink area, the toilet cubicle, the staff kitchen area, near the staff meeting room and in all office shared spaces.
2. Appoint Hygiene Coaches to Make It Fun and Sustainable
Nothing has a greater effect on people than other people. We all have the instinct to fit in. Play on the need to belong to introduce a new culture. Creating a peer hygiene champion will make the process fun and remove the pressure of implementation from one person or department.
a. They Will Spread the Word to Their Friends
Your hygiene coaches will become catalysts to conversations. Since they interact with the rest of the staff in different circles, they will be able to initiate awareness of bacteria and contamination. Word of mouth is the most powerful weapon in internalizing the importance of handwashing.
The hygiene coaches can also create cool and contextually relevant rallying calls that can be used as cues to initiate handwashing. This will create a domino effect that leads the office staff to incorporate handwashing into day-to-day conversations. Eventually, this creates a culture of cleanliness.
b. They Will Help Implement, Enforce and Improve the Programme
The beauty of having diverse people in a program is the ability to get different ideas. Your office can get as creative as possible when imagining fun ways to create awareness on the importance of hand hygiene.
Since most people are proven to be visual learners, the hygiene coaches can prepare slides or a presentation that illustrates the importance of hand hygiene. They could also illustrate how to easily improve your daily hygiene habits.
3. Create a Well-Stocked Washroom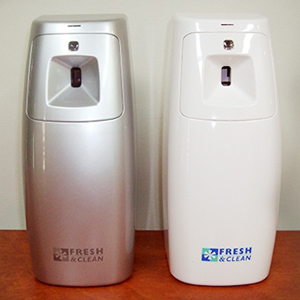 a. Maintain Washroom Hygiene, Design and Ambience
With all the emphasis on hygiene, the most important factor to encourage compliance is a conducive washroom. Are you proud of your washroom? Can you proudly point your top client to use the public washroom at work? If your answer is no, you have some work to do.
Things to consider when creating a good washroom include the number of washing stations, odour control, toilet seat cleansers and presence of wellness communication.
Alsco's Fresh & Clean service can take the headache out of odour control if you sign up for our rental service.
b. Get Reliable and Standard Hygiene Supplies
After ensuring that the core facilities are in order, you need to consider the supplies that require replenishing or maintenance. This includes soap, hand sanitiser, paper towels, toilet cleanser, odour sprays and disposal bins. The key to long-term winning is consistency. Therefore, get a reliable hygiene vendor to service your washroom weekly.
Do you know the proper standards you are legally expected to maintain in the workplace? It is important to know the regulatory framework in your country and keep the hygiene up to standard.
Since the laws are tweaked regularly, it will be a good idea to consider outsourcing compliance with a reliable vendor.
Alsco's Fresh & Clean will help you maintain your washroom supplies while always keeping up with any change in compliance laws.
4. Improve Hygiene Around the Office
a. Strategically Placed Hand Sanitisers
Outside the washroom, there are ways to ensure hand hygiene is at the forefront. Strategically place hand sanitisers in core areas at the office. This could be in the kitchen, the office lobby or the washroom exit. Choose areas that can encourage people to prevent exposure to germs from eating or physical contact.
Out of sight, out of mind. The presence of the hand sanitiser will constantly remind people to consider their hygiene. It will act as the non-verbal cue that reminds your team to get clean.
Get a sanitiser dispenser that is automatic to prevent contamination or wastage.
b. Get Office Cleaning Services
Besides handwashing, regular maintenance of the office facilities prevents a build-up of germs and bacteria. Ensure that you get cleaners with high standards that will disinfect high contact areas like doors and desks.
Regular servicing of office equipment is also advisable. The high germ areas were found to be on the office phone, keyboards and mouse. Get a technical team that will clean the office machines professionally to prevent damage.
Encourage healthy hygienic workspaces for a more productive office. Your colleagues will thank you and productivity will increase for the better. There's no need to do the heavy lifting to coordinate it all.
Just call Alsco and we'll always deliver quality hygiene supplies to your doorstep in a timely fashion.
In case of an emergency, don't worry. We are quick to respond, with no extra charge!
Photo: Freepik