Hand hygiene has always been vitally important, especially in the workplace. This is because the main activity in the workplace is the interaction with other people. Workers interact with each other and with clients.
Our hands are therefore the epicentre of our hygiene.
The problem is that some workers are not vigilant about their own hand hygiene and this poses health risks to others in the workplace.
If workers are taking more sick days than usual, this indicates that it is time for a change and some sort of workplace education program to stop the impact of cross-contamination between workers.
Implementing new workplace hand hygiene practices will change the face of your business.
3 Hand Hygiene Ideas That Will Improve Your Workplace
These amazing hand hygiene ideas are sure to make an impact, both in your workplace and in the personal lives of your workers.
1. Launch an Initiative in the Workplace
This is not a conventional hand hygiene idea. Few people would think to conduct research on their workplace hand hygiene practices.
This involves taking surveys on hand hygiene practices in your workplace. From these surveys, you may ask for feedback on the current hand hygiene practices.
Distributing surveys to workers via the workplace newsletter is effective. It can also be through internal memos. The most appropriate means depends on the main communication system in your workplace.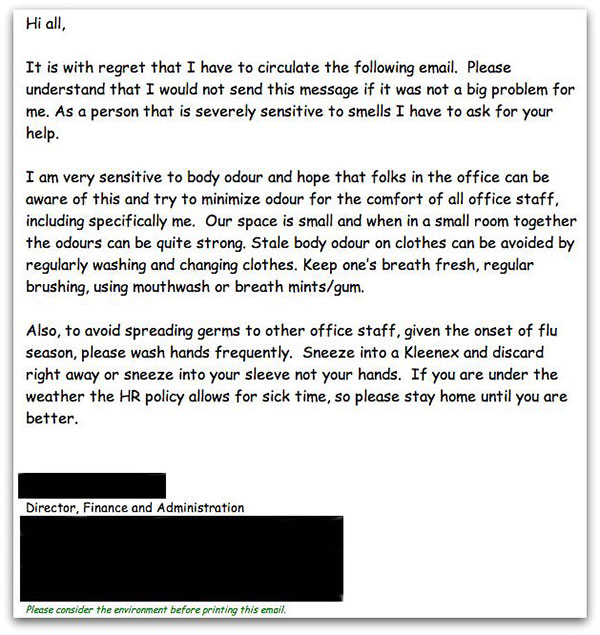 Borrowing examples from some surveys are useful. You may ask workers to rate their hand hygiene practices on a scale of 1 (bad) to 10 (good). You may also ask workers to rate their knowledge on the effects of poor hand hygiene practices.
Compiling the responses from the surveys and tracking them is necessary.  This helps in assessing the hand hygiene of the workplace. From the responses, you can craft a hand hygiene training session. The training will be according to the needs of the workplace.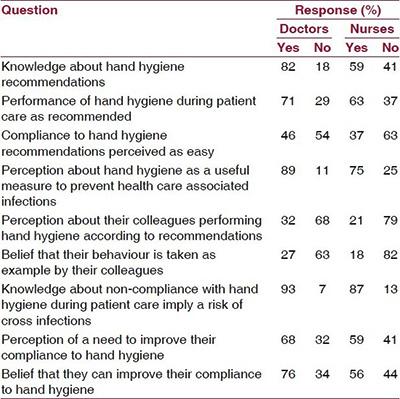 The aim of a hand hygiene initiative is to familiarise workers with good hand hygiene ideas. It is also important in establishing proper hygiene practices to observe.
Crafting training sessions according to the responses establishes the importance of hand hygiene. A volunteer or people of influence conduct these sessions.  Human resource managers are also helpful with this. This involves speaking to workers on hand hygiene ideas.
The use of videos and playing of games has shown to bring good learning responses.
Incorporation of videos of proper hand hygiene ideas is effective. For example, this video from the World Health Organization is formal and informative. It gives proper handwashing steps.
This other video from Alfred Health staff is a humorous song on hand hygiene. This video is particularly great as it uses Bruno Mars' song "Uptown Funk."
Another video by Heritage Village provides reasons why hand hygiene is important. They also use a catchy song called Hey Mickey which also illustrates how to wash hands.
These videos are great examples to use during hand hygiene training initiatives. They make the hand hygiene routine memorable, fun and show the importance of hygiene.
Create incentives by giving prizes after training sessions. This can be money, vouchers or paid vacations. This encourages your workers to come up with catchy hand hygiene slogan ideas. The workers will use the slogan to be accountable to each other.
Communication of the hand hygiene slogan through emails and internal memos works well. Offering a prize makes workers more interested in active participation of hand hygiene.
An example of a good hand hygiene slogan is "Don't forget to rub in"– as used in the video by Alfred Health staff on the use of hand sanitiser.
These give the workers an incentive to take part in hand hygiene in the workplace.
2. Desktop Hand Hygiene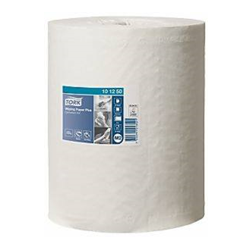 Hand hygiene is not only important in the washroom. It is also important in the workspace.
Provide wipes, napkins or paper towels to clean up desk services where there is dirt.  Installing hand hygiene systems in the work area is as important.
The hands have germs that pose health risks to ourselves and others. On an ordinary day, we touch our face, phones and even greet other people. The germs found on these items may make us sick, especially if we don't wash our hands.
By providing hand wash and hand sanitiser, this reduces the chances of illnesses. This includes reducing the spread of common hand-to-mouth diseases.
By making these products more available in the workplace, it encourages their use. This is because workers are most likely to use them after seeing them all over the workplace.
3. Hand Hygiene Reminders
Research shows that only 31% of men and 65% of women washed their hands after using the washroom.
Use of all the above hand hygiene ideas may not be as fruitful without a couple of reminders in the form of posters. They remind workers about proper hand hygiene practices.
Without these reminders, hand hygiene ideas would be difficult to focus on. Using them keeps our hand hygiene in check.
Place these posters above a hand sanitiser dispenser in the workspace. You may also place them in workplace handwash stations next to the soap dispenser.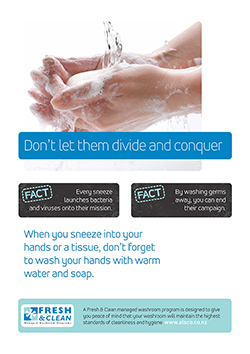 Today, due to the increase in hand hygiene awareness, posters are free for download. This saves your business time and money used in designing your own posters.
Incorporate your workplace hand hygiene slogans in customised posters. This will make hand hygiene ideas more memorable.
The spread of illnesses is easier without proper hand hygiene. Workers who are unwell are less productive at work. Studies show that a good hand hygiene system ensures fewer employees fall ill.
On top of this, they take less sick days. Sick days cost a business around $20,000 each year. A good hand hygiene system reduces the cost placed on businesses because of sick leave.
These hand hygiene ideas are sure to improve your workplace in no time.
"…they are always willing to go the extra mile to help us out when we get stuck."

Lyndsey Morrison-Barnes, Resort Manager, Paihia Beach Resort & Spa
Try out Alsco products and services to change the face of hand hygiene in your workplace today.
Photo: wikimedia