A hi-vis vest is a piece of hi-visibility clothing. It means that it is a vest that is highly reflective and is easily seen against most backgrounds. Obviously, its purpose is to make its wearer more visible and prevent injuries and accidents.
(Note: The prerequisite for reliable injury prevention is measuring your workwear properly.)
Hi-vis vest uses a combination of fluorescent fabric and reflective tape to achieve the highest levels of visibility during both day and night.
Hi-vis clothing regulations in NZ require that the hi-vis vests are a yellow or orange colour. These colours need to be fluorescent. The hi-vis standard in NZ which deals with the fluorescent colours is NZ AS/NZS 1906.4:2010.
There is another hi-vis standard in NZ that deals with the high visibility clothing and their design features. That is AS/NZS 4602.1:2011. Here are some of the rules about hi-vis vest design: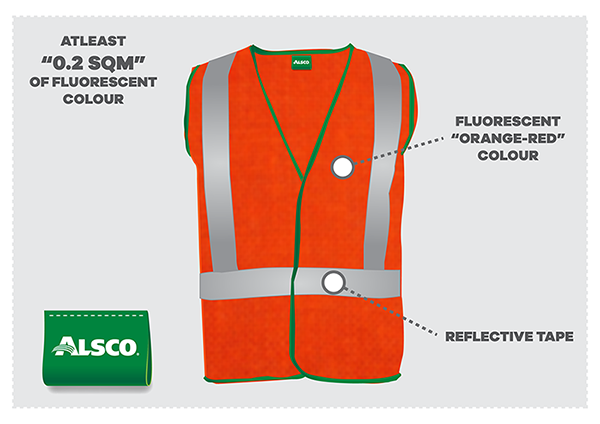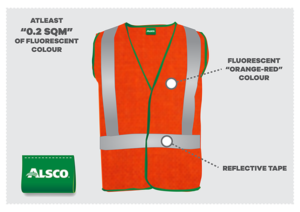 There has to be at least 0.2 sqm of uninterrupted yellow or orange fluorescent colour on the front of a hi vis vest and the same amount on the back.
Reflective tape needs to be 5 cm wide and it should be positioned in one out of five permitted configurations.
Any logos, signs and other elements on the hi vis vest should be excluded when calculating the total of interrupted fluorescent fabric. This includes the reflective tape.
Alsco New Zealand rents hi vis vests that meet all the standards, regulations and criteria of New Zealand authorities. We rent hi vis vests to many companies from different industries.
Regardless of how different these companies are, they use the high visibility vests for the same thing – safety of their employees. Let's look into how the hi visibility vests are used.
What Is High Visibility Vest Used For?
Generally, a hi vis vest is used for any situation in which a person needs to stand out from the background and be visible to others in those surroundings. The most common example of hi visibility vest in use are the uniforms of railway and highway workers. Others occupations that also use hi-vis vests are:
Airport employees
Construction workers
Utility workers
Tow-truck drivers
Heavy equipment operators
Toll booth operators
Parking attendants
Firemen
Policemen
Event security
Many other occupations also may have the need for the hi vis vest use. Moreover, hi vis clothing is used by hunters and cyclists, as well.
Hi visibility is important for all these occupations. However, not all of these occupations benefit from increased visibility in the same way. Namely, hi vis clothing offers three benefits to its wearers:
Increased safety – this is the most common and the most obvious benefit of hi vis clothing. Employees who wear hi vis apparel are more visible and less likely to be involved in accidents. This function is especially important for highway construction workers, parking attendants and all those who spend a lot of time in traffic.
Easy identification – occupations such as firemen, emergency responders, policemen and security workers need to be easy to spot by the others. People in emergency situations need to be able to identify the closest policeman or a security officer as soon as possible.
Brand boosting – if the hi vis vests that a company uses are large enough, there is enough place for the company logo on the back. As long as it doesn't interfere with the reflective tape and the coverage of the fluorescent fabric is still at least 0.2 sqm, it is possible to add logo.
Now you know what are hi vis vests used for and how they benefit the companies and different industries. The question remains – how does that even work?
Hi vis vests work on the same principle as the rest of the hi vis clothing. So, let's examine what that really means.
How Does Hi Visibility Clothing Work?
Hi vis clothing works on the principles of conspicuity. This means that a hi vis vest attracts the attention of other people in the surroundings, even if those people are not actively trying to spot the wearer of the hi vis vest.
How? This is where the answer gets a bit more complicated.
Conspicuity is achieved through visibility and recognition. In other words, for hi vis clothing to work, it should be easily spotted and easily recognised as a type of "warning". Let's start with visibility.
Visibility of hi vis clothing is achieved with the choice of colours and with the addition of fluorescent and reflective fabrics. Colours that ensure increased visibility are yellow and orange. To make sure that these colours are even more prominent, it is best to use them next to black, dark green or navy for contrast.
This contrast will make the colours stand out during daytime. However, for the nighttime, the fluorescent hi vis clothing needs to be complemented with the reflective tape.
Recognition of hi vis clothing means that certain colours of hi vis clothing make us more attentive. In simple words – if you see the highly-recognisable bright yellow colour on the road, you will immediately be aware that you should be careful and pay attention to the person who is wearing such hi vis vest.
On the other hand, the orange-red hi vis colour, or "safety orange" is recognised by many as a sign for caution. This is also the colour of many signs, traffic cones and other traffic elements. Most of people will subconsciously react to it and recognise it.
People easily spot hi vis vests and they associate their wearers with safety workers, emergency responders and similar occupations. Consequently, they drive more slowly, become more aware of the heavy machinery dangers and become more careful, in general.
However, for hi vis vests to do their "magic" and to have all the above listed effects, they need to be clean and regularly maintained.
How Often Should You Replace Your Hi Visibility Clothing?
In general, you should replace your hi vis vest every six months. However, if it is rarely used, you should replace it once it is not visible from 300 m. If it is used sparsely and maintained regularly, it can last up to three years.
Hi vis clothing is made out of fluorescent material and reflective tape. For these two elements to remain functional, you need to clean them regularly. Any dirt or soil on them will block the light from reaching it and that will render them useless.
Fluorescent material actually converts the light of certain wavelength into that recognisable glow. It is impossible to happen if the dirt blocks the light from reaching it.
Similarly, the reflective tape works on the principle of micro-prisms or glass beads. They reflect the light directly back to its source. Dirt and soil will be on the way of the light and that means that the reflective tape won't be able to reflect it.
Cleaning and maintaining your hi vis clothing is not difficult. You should clean it with a mild detergent in cold water and dry it without excessive heat. If you opt for machine washing, you should choose a program that washes your hi vis vest in cold water.
There is also an easier way to keep your hi-vis clothing up to date – you can rent it from Alsco New Zealand. In that way, you don't have to worry whether your hi vis vest is already six months old or not or whether it is still visible enough.
As soon as your hi vis clothing is dirty, you just need to put it in a hamper and you will be delivered fully visible and spotlessly clean replacement first thing in the morning. That is what you get for choosing to rent the hi vis clothing.
We will come and pick up your dirty laundry and leave you with fresh and clean uniforms at the same time. All this is included in your affordable annual fee. Call Alsco New Zealand today and learn what is your best quote for this amazing service.