These days, people prefer technological solutions. Anything that belongs to the so-called 'old world' is out the window. This is often the reasonable side of the argument.
However, forgetting that gadgets don't always outperform non-technological solutions is a mistake.
One of the areas in which this is really relevant is hand drying. Old school hand drying techniques such as paper towels are still very much relevant in the world of automatic hand dryers.
There is a very good reason for that – they simply do their job. And not just that, they are also more hygienic!
In a 2008 research conducted by the University of Westminster in London, it was concluded that the advancements in the field of hand drying didn't go far enough to completely eliminate the need for paper.
Here are some aspects in which automatic hand dryers and paper towels can be compared:
Contamination Risk
The chasm in drying efficiency and bacteria removal comes down to hard graft. The rubbing motion on the skin physically removes more bacteria.
The paper hand towel absorbs moisture from the skin, thereby lifting the water-bound bacteria off. But hand dryers rely on powerful streams of air blowing the moisture and bacteria off the skin, a method of hand drying that could never be fully effective.
What is more, 'blowing' moisture off the skin is not a hygienic option either. As any microbiologist will testify, air movement only disperses micro-organisms, so contamination is increased dramatically.
And since drying with paper hand towels involves no air movement at all, there is no contamination, making it the most hygienic method of hand drying.
The air streams produced by jet air hand dryers, for example, travel at 400 mph. This blows bacteria outward to a distance of 2 metres. They end up landing on the body and clothing of other washroom users. This is the worst-case scenario when it comes to preservation of hygiene in public toilets.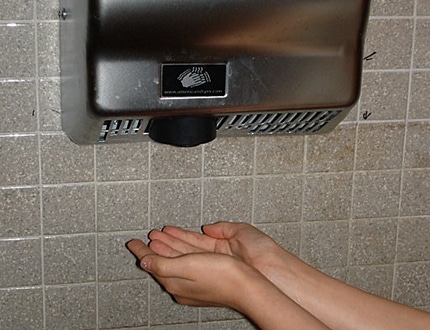 Warm air hand dryers are not so guilty of spreading contamination since they are far less powerful (thus the poor drying ability) and blow downward, so neighbouring users are not in the 'line of fire' so to speak.
Efficiency
When it comes to the effectiveness of drying, paper towels are definitely the better solution. One research showed that the number of bacteria on hands after drying them with paper fell by up to 85.2% on palms and by amazing 91.5% on fingers.
On the other hand, air dryers did the exact opposite – they actually helped bacteria thrive rather than eliminating them, with 414% increase in bacteria found on fingers and stunning 478% on palms.
Efficiency-wise, hand towels and jet dryers turned out to be pretty much equal. They both produce 90% dryness after the usual 10 seconds of drying. Warm air dryers weren't nearly as efficient, though. It took them 40 seconds to achieve the same result.
Environmental Aspect
And what about the impact that the hand drying techniques make on the environment? This is one area in which the warm air hand dryer wins out, at least compared to paper.
There was a study carried out by the US-based Environmental Resources Management consultancy firm. They found that paper towels spent about 64% more electricity over a period of 5 years than warm air hand dryers.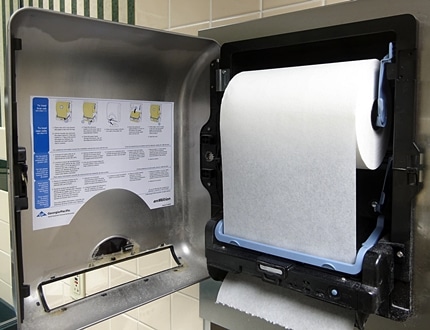 Meanwhile, a World Dryer study of 102 hand dryers installed in public schools in Kansas, US, concluded that annual savings of 34.5 tons of solid waste, 690,000 gallons of water, and 587 trees were made, compared to using paper hand towels.
Also, from a management point of view, the warm air hand dryer option is superior. They are long-term hand drying investment, with machines typically used for 5 or 6 years, while paper hand towels must be restocked continuously, and disposed of regularly.
Bins are an essential item in the workplace washroom to maintain hygiene levels. Regular waste removal is needed to prevent overflowing and ensure a cleaner working environment. It even helps to cut the instances of illness amongst staff, especially when it comes to restaurants or school washrooms.
Choosing the best hand drying technique for a public or staff washroom is important. You should make cost-efficiency a key component in the decision-making process.
In terms of hygiene effectiveness, paper hand towels remain the best choice. In environmental and maintenance terms, the warm air hand dryer wins out.
So what would be the final verdict? It's hard to tell, but one thing is for sure – various hand hygiene solutions are good for the industry. It never hurts to have options and be able to choose the solution which best fits your current needs. If you are not sure what the best thing for you is, contact Alsco and receive a free audit for your business.
Photo Courtesy of Mega Pixel Images by Nikon D3s
Photo Courtesy of Wikimedia Commons Images by Stilfehler
Photo Courtesy of Flickr Images by Mark Turnauckas