When you think of running a business, your workplace washroom definitely isn't the first thing that comes to your mind, right?
However, this area has an enormous impact on your business, since it is highly significant for having good connections with your customers.
Now, some people could disagree with the above statement. It is certainly not the first thing that a customer would consider the business, but still, the condition of your washrooms can say a lot.
It can really enhance the reputation of the business or ruin it.
In order to go with the first one, think about providing the best possible experience for your customers. The easiest way to do this is to consider getting Alsco's Washroom Hygiene service.
If you are still not convinced of the importance of your workplace washroom being clean and sanitised, here are the top five things which can say a lot about your business based on the condition of your workplace washroom.
1. You Care About Your Customers
Customers should always come first, right? So, when you keep your washrooms clean and sanitised, you show your customers you care about their health and comfort. When they see you treat something they use for free as if it was paid for, they will surely appreciate you more.
It is absolutely one of the best and simplest ways to show your customers they matter to you. Also, it is an excellent way of convincing customers that it will be worth their time to come back since a dirty washroom is like telling them to their face not to return.
In addition, you certainly want a favourable overall impression of your business.
2. You Are Thorough
When they come to you, customers spend time mostly in the lobby, an office or a meeting room, and those are usually the places where most of your attention goes to. It is crucial to do everything so that your customers and clients feel comfortable. And yes, your customers and clients expect that kind of treatment.
However, when they find out that even your washroom is well-maintained, fresh and clean, they will unquestionably appreciate you and your business even more. This shows your customers that you actually pay attention to all the details of running your business, which is great for you.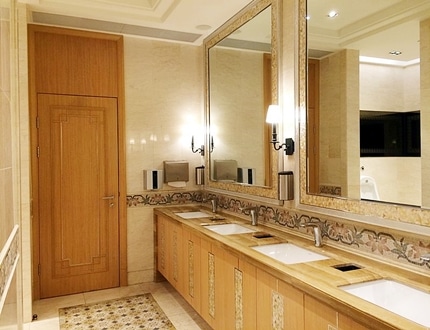 Keeping the same or even higher level of cleanliness in the washroom as in other critical areas tells your customers that nothing remains overlooked.
3. You Don't Just Think About Profit
When your customers enter your washroom and find out it is perfectly clean and well-maintained, it just shows them how much your business cares about them. They will be aware that making the profit is not the only thing that is important to you, but the people you work with as well.
Since the washroom area is not a part of the money-making aspect of the business, many people are not particularly concerned about it that much. However, by investing only a little bit more in keeping your washrooms clean and sanitised, you will end up with numerous benefits.
Your customers will get the impression you are looking after them in every possible way, and with more satisfied customers comes a bigger profit. So, this is a win-win situation.
4. You Are Dedicated and Committed to Your Business
When you don't care about your washroom and let it be dirty, it is a clear sign that you are not doing your managing job right and that your employees are inefficient. This is something that is really off-putting.
However, if you really try to keep your washroom in a perfect condition, the message you are sending to your customers is completely different.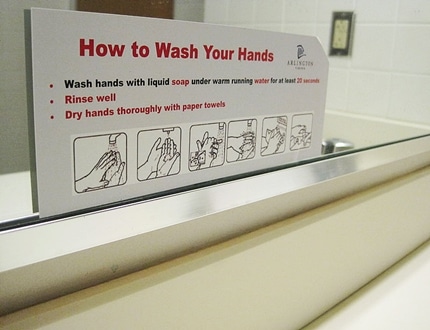 You show that you chose the right people to work for you, that they are doing their job in maintaining exceptionally well, and that you run your business smoothly. It will also show that cleanliness is crucial to you, which is always a big plus.
This approach is particularly significant in workplaces with a high concentration of people such as restaurants or schools, for example, where bacteria spread fast.
If you happen to manage a school, we've got you covered. This School Washroom Guide reveals all the critical information, from hygiene standards to design, on how your school washroom can bring about a better school reputation.
To add a bit more you can always place some hygiene posters in your washroom since it will show that you are very thorough. People who care about even the smallest details, including the workplace washroom, just show their customers they are utterly dedicated and committed to their business in every possible way.
5. You Are Reliable
Every person who is running a business wants a good relationship with the customers. A relationship that is based on mutual trust is always the best one. So, do you want your customers to trust you? Of course, you do!
However, gaining trust is always the most difficult part. Customers are often very cautious about any gimmicks that some businesses might try to pull off these days. One of the ways to persuade your customers to trust you is to show them that you take your business seriously and that you pay attention to even the smallest details.
So, why wouldn't you start with the easiest one, making your washroom spotless? Many customers tend to trust more business with a clean and sanitised washroom, so give it a try! You will be surprised with the outcome!
If you are drawn to improving your customers' experience when they use your washroom, consider hiring professionals in order to get the best possible results. Call Alsco now and find out what their friendly representatives have to offer you!
Photo courtesy from Wikipedia
Photo courtesy from Wikimedia by BurtAlert