Mission Number 21465/Primary Response
Pilot- Rob Anderson, Paramedic- Chris Deacon, E.D. Doctor – Cameron Rosie, Crewman- Ati Wynyard
BK117–ZK HLN responded to Whangapiro to a 16yr old male patient. Multi-System Trauma. Status 1.
As 16-year-old Nathan lay motionless in the middle of an endurance Motocross track 10 minutes after a highspeed collision with a tree, he was informed by the first responder & instantly relieved to know that the Westpac Rescue Helicopter had been dispatched to his aid!
After stabilization on-site by the E.D. Doctor and Advanced Paramedic, the crew performed a winch extraction from the forest and a quick 20-minute flight to Auckland Hospital ensured another successful mission.
ARHT's 'Anyone, Anywhere, Anytime," philosophy, which has become a hallmark of the ARHT management, support staff, dedicated rescue pilots, paramedics and flight crew, is what appeals so much to NZTS ALSCO New Zealand.
This year will mark 22 years of consecutive support for the service. Over the 2+ decades, the company's sponsorship has funded numerous rescues for ARHT, including the mission detailed above. It was a direct result of NZTS ALSCO New Zealand's support that a positive outcome for Nathan was achieved.
It was typical of the Auckland Rescue Helicopter Trust, which has been providing timely assistance to those in need and often in challenging circumstances. For the past forty-seven years, Auckland's Westpac Rescue Helicopters have served the people of the greater Auckland area, with an aeromedical rescue service that is second to none.
From its pioneering days as a beach-based rescue unit at Piha beach, on Auckland's notorious, Wild West coast in 1970, to a fully-fledged service in 2017.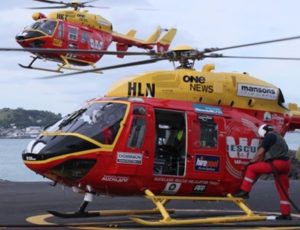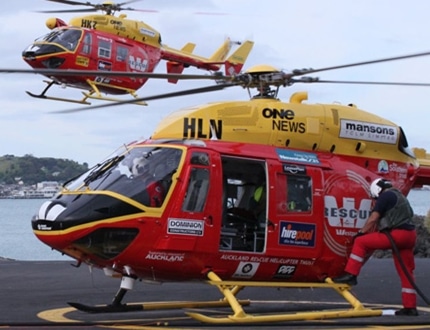 The past five years have seen a major overhaul of the operation with a second Helicopter added to the fleet, a second hanger in Coromandel that opened in 2012, the blood carried on all aeromedical rescue missions and most significantly, ED specialist trauma doctors from Auckland Hospital flying with us on all weekday missions!
This service covers an area stretching from Waihi in the south to as far north as Wellsford and has a catchment area of some 2 million people.
Over this period, the service has completed some 19,500 accident-free missions and it has evolved into New Zealand's only full time, 24 hour a day, air rescue service.
The type of work that the helicopter carries out is as diverse as the geography and the people, with which it serves.
In short, this service is available to Anyone, Anywhere, Anytime.
ARHT relies very heavily on the Corporate & Community sectors to help fund these missions past, present and into the future. Our average operation cost is currently $7,500.00 per rescue, and for the 2017 season YTD 500+ rescues have been undertaken & successfully performed!
ARHT's aim is to continue to maintain/improve the service so that we can continue to provide the lifesaving work that we have been performing for the last 47 years!
With the continued support and understanding of the Corporate and Community sectors within the region, we will be able to achieve the goal of providing an aeromedical rescue service that is second to none; available to Anyone, Anywhere, Anytime.
Shaan Hulena
Corporate Fundraising Manager
Auckland Rescue Helicopter Trust
P: +64 9 950 7278 F: +64 9 950 7251
http://www.rescuehelicopter.org.nz
Photo courtesy from escuehelicopter.org.nz