Working in the kitchen will always involve getting messy. Spills, splatters, and vegetable or fruit peelings are just some of the mess you will have to deal with.
When you're busy cooking, you know that there will always be mess that needs to be cleaned up and you could definitely use an efficient cleaning solution.
What kind of towel do you use to clean up? Do you usually hoard paper towels or go for cloth towels instead?
The Thing With Paper Towels
Oops! Spilled something? Grab a paper towel, wipe that mess, toss it in the trash bin and you're done.
No wonder paper towels are the most popular choice people go for when it comes to dealing with kitchen mess. But while it's the most convenient solution, it's not always the most cost-effective.
Paper towels are only good for fixing small messes but when there's way too many spills to wipe and clean up, it might not be a very wise choice after all.
Aside from being an expensive option, recycled paper towels still create a lot of unnecessary waste so they don't do too much either in reducing unnecessary waste.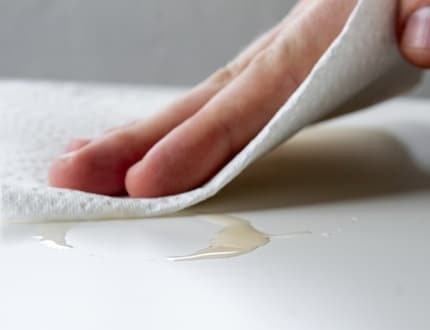 Photo courtesy: Flickr Image by Your Best Digs
Why Cloth Towels?
Consider yourself lucky though because there is actually a better option for cleaning up those messy spills on your kitchen counter – cloth towels. How are they better than paper towels? Read on:
They are efficient – The fact that they are made with fabric means these towels are much more absorbent and they have a thicker pile that lets you collect dirt easier.
They cost less – Because they are reusable, you wouldn't 'run out' of these towels. You can simply wash them after use and they're ready to use again. You can even keep up a supply of these clean cloths through a rental system and it'd still be much cheaper compared to buying rolls after rolls of paper towels forever.
They're environmentally friendly – Having a reusable cloth towel in your kitchen means less unnecessary waste from your household; which also means less waste for the environment. You get to tap yourself in the back for it.
It's pretty obvious now that reusable wipes are the wiser choice between the two. They are not only more efficient and cost-effective, they are also environmentally friendly.
Now, it's really all in the matter of how you get them cleaned. How can you make sure that you are conforming to the health and safety regulations for commercial kitchens? A rental program can take over from here.
Alsco food and glass wipes (cloth towels) are collected, laundered to Australian Quality Standards and delivered back ready for use and reuse.
We also provide colour-coded food wipes to prevent cross-contamination and glass wipes for detailing and cleaning. Alsco conforms to the health and safety regulations so you can rest assured that your wipes are always clean.
So if you're running a commercial kitchen, you can stop worrying about the mess now. Give these Alsco food and glass wipes a try, enquire now!
Photo courtesy: Flickr Image by Josh Mormann