Summary: A safe and healthy work environment is a goal everyone shares.
Employers help in achieving that goal by complying with Workplace Health and Safety (WHS) requirements specific to their industry.
Regulatory compliance will be handled by your Facilities Manager. What if WHS procedures become too complex?
If you want a quick solution to WHS compliance, contact ALSCO now.
————————-
Maintaining a green working environment will result in having a healthy, clean, and happy workplace for your staff to work in. A clean and green workplace adds value, making it an excellent marketing tool to help you impress prospective clients.
Now the question is, where should we start?
It all depends on your Facilities Manager, and how we can meet his or her requirements. Facilities Management is defined as an important function in a business that coordinates space, infrastructure, people, and organization. In other words, it keeps the facilities in proper working order.
The Facilities Manager handles everything from the company's floor plans to compliance with health and safety regulations. He is also expected to find cost-effective solutions to maintain workplace safety and regulatory compliance.
Why Should You Choose Alsco?
Facilities Manager are mainly concerned with two areas — quality and cost-efficiency. This is where Alsco can help.
In Alsco, products are rented by the client and not purchased. They only charge a single, affordable annual fee. When you rent from Alsco, their team takes care of legislation and restocking, so you don't have to.
From mandatory first aid kits to washroom appliances, Alsco includes regular quarterly servicing, maintenance, and restocking. Their managed rental services offer the highest quality products there is.
Before laying down tailored solutions for your company, Alsco and the Facilities Manager will look into these key areas:
Health and Safety
Laws for health and safety apply to all businesses. These laws are there to protect you, your employees, and the public from workplace dangers. The approach to take should be proportionate to the size and nature of your business.
Assessments of risks, first aid codes of practice, management of hazardous chemicals – health and safety regulations set by the industry is quite extensive and detailed. Failure to adhere can lead to a host of costly consequences.
Fire Safety
Fire is not only the highest risk to life in the workplace but also the biggest threat to workplace destruction. Every employee should be able to describe the emergency procedures for their facility in case of fire.
Apart from keeping fire safety documents up-to-date, the Facilities Manager should conduct regular inspections, ensuring that extinguishers and sprinkler systems are properly working.
Hygiene Levels
There should be careful monitoring of hygiene levels in the workplace. For instance, frequently touched surfaces are a breeding ground for germs. Keep washrooms, kitchens and canteens bacteria free to reduce the risk of illness to personnel.
Employees should be provided with the right sanitation supplies. There should be a clear schedule of cleaning hours and re-stocking of cleaning products like hand soap, paper towels, and toilet papers.
Maintenance and Inspections
The Facilities Manager will be in charge of maintenance schedules. Regular inspection should be drawn up to check whether stocks are adequate, or the equipment is working.
What Are Alsco's 4 Quick WHS Solutions?
Here at Alsco, we are committed to helping businesses make a difference. It is our goal to keep workplaces cleaner, greener, and safer. It's a mistake to view commercial cleaning as a cost — it's an investment.
1. Low-cost rental fees
Alsco's managed rental services tailor their deals to your business. For a company on a budget, the cost for new equipment like electric hand dryers, Automated External Defibrillator (AED), or parts washers for engines can get pretty high.
Alsco can help you save on expenses by letting you rent. They charge a single, affordable annual fee with no extras. Rental services are also tax-deductible, so that's additional savings for you.
Alsco provides fully managed rental services in:
Floorcare – Alsco offers mats for all situations and applications. This service aims to help protect floors from dirt and premature wear and reduce the risks of slips and trips in slippery surfaces.
Uniforms – Alsco offers industrial workwear, uniforms for the food and catering industries, as well as pharmaceutical workwear. Their affordable rental program takes care of all laundry, inventory, repair, and delivery of the garments.
Washroom Services – A clean and hygienic bathroom is an essential requirement for all workplaces. Alsco's products include no-touch dispensers, hand dryers, baby changing tables, and more!
Linen – Alsco offers a comprehensive range of linen with products including tablecloths, table linen, tea towels, HACCP food and glass wipes, bedsheets and towels. They can also supply hospitality workwear.
First Aid Systems – First aid kits are a legal requirement for your business. From motorist kits to regular, wall-mounted cabinets, Alsco can offer the right kit for your workplace, business and industry.
Ecosafe washer – This automotive parts cleaning solution promotes green cleaning by a process called bioremediation. It reduces the use of harmful chemicals and uses a powerful water-based degreasing fluid called OzzyJuice.
2. Full and easy compliance
Failing to comply with health and safety regulations can lead to some hefty fines. Alsco helps you comply with complex, confusing WHS guidelines. They keep up-to-date with any changes to WHS rules, so it can be dealt with immediately and full compliance is assured.
3. Reliable maintenance services
It is Alsco's job to keep their products in proper working order. For instance, consumables are checked for their expiry date on a regular basis and replaced at no additional cost. They also check if your AED is faulty, or if your electric hand dryer is safely mounted on the wall.
Alsco's managed rental services include scheduled inspection of equipment, maintenance programmes, and cleaning if necessary. This system gives you peace of mind since your company complies with relevant regulations.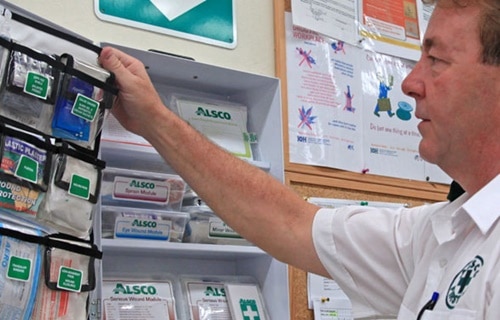 4. Restocking services
There's a reason why Alsco has become the first choice when it comes to First Aid Kits. Their wide range of rental services not only offer the highest quality medical supplies and products. Alsco is also relentless in maintaining and replacing stocks.
Restocking keeps you prepared. When there is an accident in the workplace, Alsco ensures you're equipped with the right supplies to deal with the crisis.
Alsco Rental Services
Alsco's dedicated team, together with your Facilities Manager, will satisfy the key areas of your business. Over the years, Alsco's managed rental services have evolved to maximize cost-efficiency and convenience.
From restocking to maintenance, Alsco has got it covered so you can focus on running your business. Alsco's dedicated teams will help keep your business clean, organised and professional.
Have unique requirements or one-off emergency requests? Enquire now.