Summary: Green Cleaning promotes the health and safety of your workers, clients, and other individuals in the workplace.
It is achieved through cleaning methods and products that have environmentally-friendly ingredients, and free from hazardous chemicals and toxins.
Keeping a green working environment is not as difficult as you think. It is most successful when best practices are implemented so that everyone can benefit.
If you want a clean and green workplace you can be proud of, contact Alsco now.
————————-
Ever wondered how the office custodian cleans the kitchen facilities and washroom? In many workplaces, Green Cleaning is not considered a priority. This means you might be exposing yourself to harsh chemicals in your work environment, without your knowledge.
How Green Workplace Cleaning Works
Two issues have been identified when it comes to conventional cleaning products:
The impact that old cleaning products have on the environment.
The impact they have on worker health.
With workers constantly coming in contact with all kinds of surfaces, toxins can easily get on the skin, eyes, and possibly be absorbed by the body. These chemicals also invade our wastewater system and seep into the soil.
Green Cleaning is the key phrase to keep in mind. The concept promotes cleaning methods and products that use environmentally-friendly ingredients that are free from hazardous chemicals and toxins. True 'Green' products also come in environmentally-friendly packaging and disposal.
Benefits of Keeping a Green Workplace
Keeping a green working environment is not as difficult as you think. It can be challenging for other places of work, such as garages and manufacturing complexes, but by no means impossible. You can get the following benefits by just switching to green cleaning:
1. Healthier Environment
For a mechanic working in an auto shop, old chemical cleaners and solvents used in parts and engine cleaning are highly detrimental. Waste liquids not only pollute the workplace but also the water system when these untreated wastes are disposed into the sewage.
Chlorinated solvents are resistant to environmental degradation. Meanwhile, petroleum hydrocarbons, heavy metals (fluid), heavy oil distillates and detergents all contribute to highly pollutant concoction.
Upon changing to greener methods, you help in reducing pollution to our waterways and the environment in general. These methods can reduce chemical runoff through proper cleaning techniques, are less toxic to aquatic life, and produce less greenhouse gas emissions.
2. Healthier Workers
The use of chemicals in cleaning parts has long been linked with a variety of illnesses and injuries. Workers may absorb contaminants from residues of cleaning products on food preparation surfaces, as well as from poorly cleaned hands.
A recent Healthland report by Time.com shares that according to the Environmental Working Group (US), some all-purpose cleaners contain 2-butoxyethanol, which can damage red blood cells.
Illnesses and injuries caused by chemicals in traditional parts washer include:
Liver and eye damage – linked to acetone vapours
Respiratory problems – linked to ammonia
Headaches, blackouts, cancer, death – linked to benzene
Carcinogenicity, neurotoxicity – linked to ethyl acetate
Green Cleaning reduces the exposure to toxic chemicals, therefore, benefits the health of both employees and clients. Green cleaners can improve indoor air quality, reduce airborne dust, and chemical gases. You can also expect less of the stench caused by strong chemical odours.
3. Safer Work Area
Whether running a portable parts washer or increasing washroom hygiene levels, green cleaning is one of the best solutions for a safer workplace. Green products don't pose risks such as chemical burns to the skin and eyes.
Environmentally-friendly cleaners also aren't corrosive. Ingredients contained in these products meet strict standards regarding inhalation toxicity, combustibility and skin absorption.
Green Cleaning Products to Use
Low environmental impact products for home and office use are now being recognized — such as a cloth towel dispenser for the washroom.
**A study conducted by the University of Westminster revealed that cloth towel dispensers are far more hygienic. Hot air dryers can cause cross-contamination by blowing bacteria into the air.
Now, 'green cleaning' options for machinery parts washers and engine products are also available!
For a workplace where a machinery parts washer is used, alkaline detergents mixed with water is a favourable option. Water-based parts washers give you all the cleaning power of the solvent, with cleaning solutions that are safe and biodegradable.
According to the EPA, water-based cleaners are "better than solvents from an overall human health and environmental standpoint. They reduce worker exposure and exposure to the surrounding community".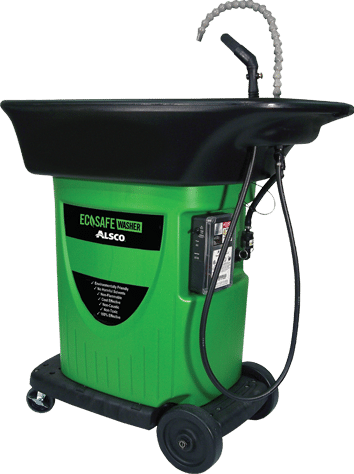 Alsco Ecosafe Washer
One example is the Alsco Ecosafe Parts Washer, which is designed to use OzzyJuice, a non-flammable, pH neutral, non-toxic and non-corrosive solution instead of traditional engine cleaning solvents.
The Alsco Ecosafe Parts Washer converts hydrocarbons into water and carbon dioxide, while oil and grease are converted into oxygen and carbon dioxide. It provides a safer alternative since the number of pollutants left in wastewater is only 7% that of the pollutants in traditional wastewater.
Green Cleaning Made Easy
Businesses are gradually becoming aware of the impact they are making on the environment. The next time you hire a cleaning team for your workplace, make sure that they are using eco-friendly products. Look for the Design for Environment (DFE) logo.
Keeping a green work environment doesn't mean compromising your standards. In fact, it can even promote health, and eventually productivity, among your workers by decreasing potential risks for injuries.
Take Green Cleaning as a chance to increase your knowledge of efficient cleaning practices that can help reduce waste and chemical use. The EcoSafe Washer is safe to use, cost-effective and remarkably strong.
Curious on how our Alsco Ecosafe Parts Washer can transform oil and grease into water and carbon dioxide? Contact our Experts.
Photo Courtesy: atelier PRO