An exciting project to enhance an area of unused open space on New North Road is off to a flying start.
An enormous mural has been painted on the wall of the Alsco building by Auckland artists Charles and Janine Williams. The artists chose two Putangitangi ducks moving forward in unity to symbolise the lifelong partnership between Maori and European.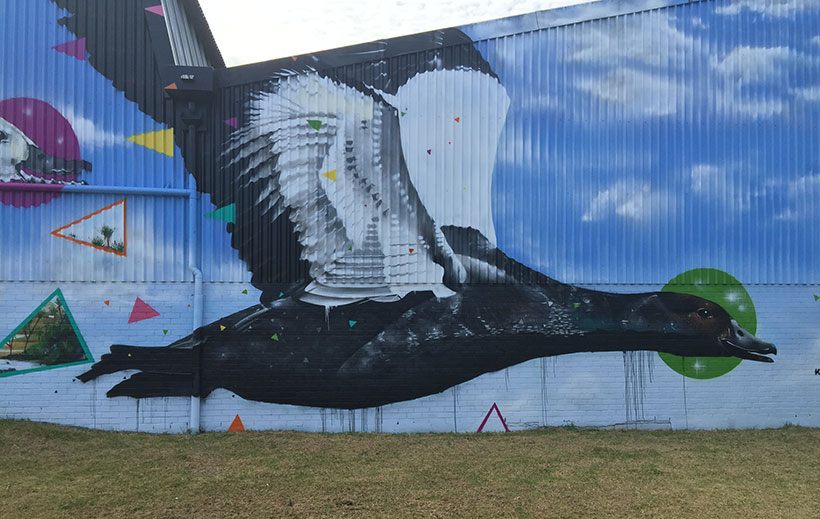 Paradise ducks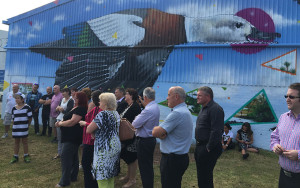 First discovered by Captain Cook in Dusky Sound in the 1770s and known as Paradise ducks, Putangitangi stay together for life and they would have been endemic in swampy parts of Auckland in colonial days.
Often working till midnight to complete the project, the well-known artists completed the mural in 5 days straight in the hot January sun. The challenging project involved painting over brick, corrugated iron, drainpipes and guttering on the building frontage.
Neighbour Dulux NZ provided paint for the dramatic transformation, Albert-Eden Local Board funded the artwork and Kingsland Business Society managed the project.
Cabbage Tree Swamp

Inspiration for the design came from the painting Cabbage Tree Swamp c1880 from the sketchbook of John Backhouse. Cabbage Tree Swamp was an early name for the suburb of Kingsland, including the area which now houses Eden Park. Triangles showing pieces from the Cabbage Tree Swamp watercolour represent windows into the past showing a snapshot of past interaction between the two cultures, including the exchange of land, trade and purchases.
Gavin Smith from Alsco said the artwork is already attracting a lot of attention and positive discussion. "We see heaps of cars slowing down to look too."
Blessing ceremony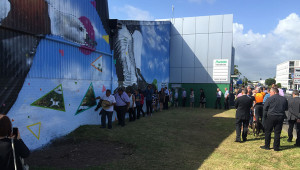 A blessing ceremony was held on January 19th at 9.30 am and over the coming months, a pocket park currently being developed for the site in a private/public partnership will be installed.