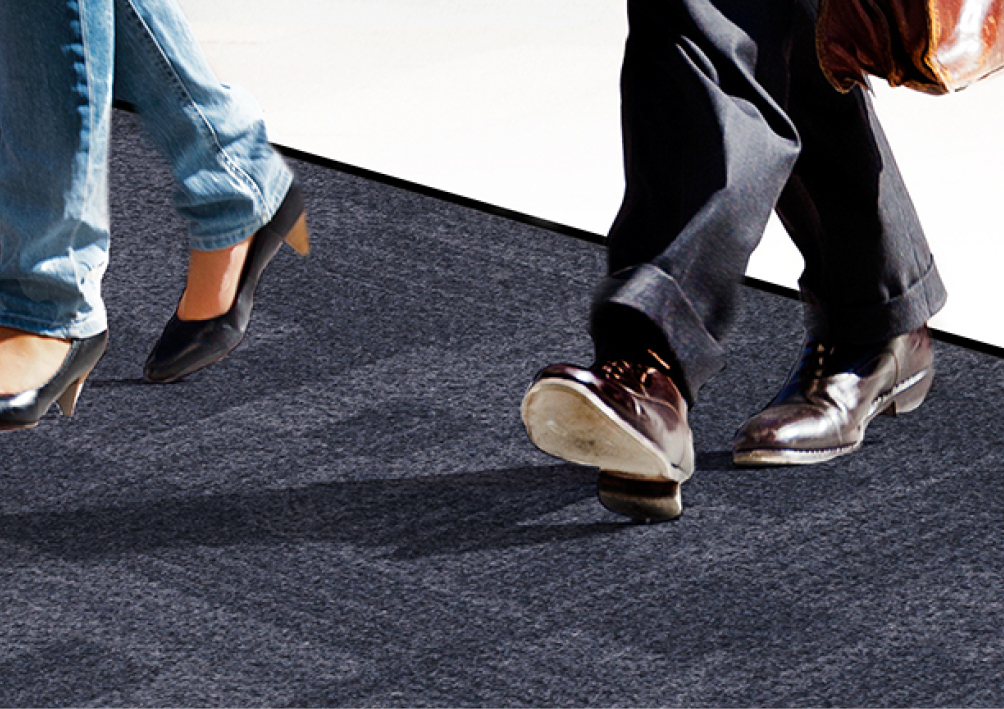 Stop dirt at your door and keep your workplace cleaner, safer, and more presentable with zero hassle.
Did you know that 70% of dirt and dust is brought in by foot? Did you know that Alsco's Entrance Mats stop 80% of this dirt and dust – at the door?
For years, our mats have been keeping businesses in New Zealand cleaner and safer. Absorbing water, dirt, dust, solvents and more, these are the ideal frontline defence for your business. High-quality, solution dyed nylon and super-gripping nitrile rubber ensure these mats will be with you for years to come.
Why Are Entrance Mats A Good Idea For Your Business?
The beauty of Alsco's entrance mats lies in their flexibility. Whether your workplace is an office, a workshop, a garage or even a grocery store, these mats are a sure-fire answer to greater cleanliness, safety, and floor protection for years to come.
Wear and tear also takes its toll on your floors. Naturally, it's more expensive to replace your carpets than your mats. Alsco's entrance mats ensure your floors are protected, saving you even more money and hassle in the long run.
Captures 80% of Dust and Grit – These mats stop the majority of dirt at your door, keeping your workplace safer and more presentable, and saving you on maintenance and cleaning costs in the process.
 
Anti-Static Characteristics – Due to anti-static characteristics, these mats even capture airborne dust, ensuring your workplace is that bit cleaner.
 
Highly Absorbent – Due to the nature of these mats, they can absorb up to 3 litres of liquid, ensuring your workplace is kept safe and dry – no matter the weather.
 
Durable Design – With reinforced edges, solution-dyed nylon and tough, highly-gripping nitrile rubber, these mats will last for years to come – and keep their original appearance in the process.
 
Unlike many competitors, Alsco offers premium quality entrance mats. However, because you pay a fixed annual rental rate, you'll benefit from high-quality products, affordable prices, AND the convenience of regular cleaning and mat replacements. Alsco's rental service truly is the best of both worlds.
From as little as $1 a day with Alsco's Managed Rental Service, you can benefit from our Entrance Mats. Simply pay one, single fee. As part of our service, we'll supply, clean and replace your mats infinitely – with no added costs. It's the convenient, affordable option that hundreds of businesses across New Zealand are choosing.
Sizes Available
| | |
| --- | --- |
| Small | 85cm x 150cm |
| Medium | 115cm x 180cm |
| Large | 85cm x 240cm |
Custom Mats – looking for mats with a bit more personality or visual punch? Alsco offers high-quality, printed welcome mats to brighten your business's reception area – or logo mats, allowing you complete freedom in what your mats display.
Durable quality floorcare designed especially for office and reception entrance ways – the first in line of defence against outdoor dirt and grime.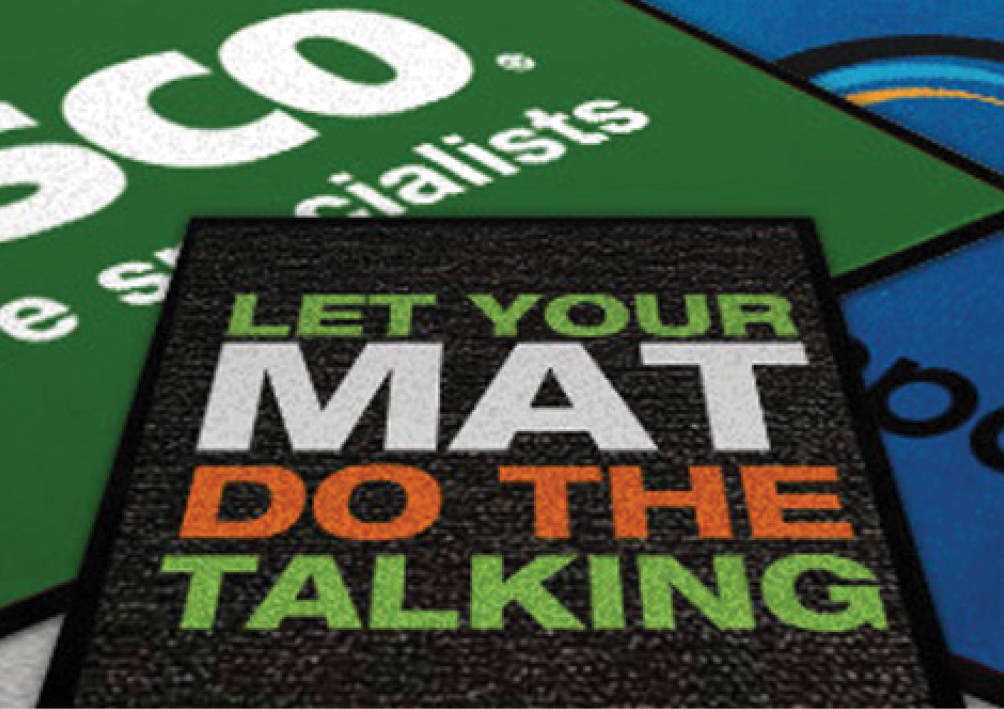 First impressions count. With Alsco's logo mats, get off on the right foot with your business's visitors.
Your entrance mats are the first and last thing your visitors see. By branding yours with a custom logo, you'll strengthen your business's image in their minds.
It's a smart, cost-effective way to brighten your reception area and impress your customers.
High-grip, dirt-absorbing, they'll also make sure your workplace is cleaner and safer – no matter the foot traffic.
What makes our Logo Mats so special?
Vibrant range of 27 colours to choose from
Super-grip nitrile rubber for the utmost of safety.
 
Customised artwork, branding, and text – for FREE.
 
Regularly cleaned and replaced by our professionals.
 
If you were to buy your own mats, you'd have to store, clean and replace them on a regular basis. What a hassle!
You see, Alsco doesn't just sell you mats. We rent them. That means – with one affordable annual payment – we take care of everything. That includes regular, biweekly professional laundering, cleaning and replacements.
Old mats getting worn out, or need to update your logo?
Alsco will quickly replace your custom mat – at no added cost. Forget about cleaning or fussing about your image mats ever again.
With Alsco, you'll always have clean, vibrant, professional logo mats on hand – no exceptions.
Chromojet printing technology also ensures mats are dyed deeply and intensely, keeping your company logos and messages crisp and clear for longer.
Creating your logo mat is easy. Simply…
1. Choose your size
2. Decide what you want the mat to display (e.g. company name and logo)
3. Select from a large range colours and reproduce any image
4. Enjoy clear, vibrant branded corporate mats for your workplace
No matter how colourful or intricate your logo mat is, Alsco provides all artwork and design for FREE.
Available Mat Sizes
| | |
| --- | --- |
| Small | 85cm x 150cm |
| Medium | 115cm x 180cm |
| Large | 85cm x 240cm |
Welcome Mats – Interested in pre-designed welcome mats? Alsco offers a range that'll make a great first impression and make sure your visitors receive the welcome they deserve.
Alsco's logo mats help businesses across New Zealand impress their visitors and simultaneously keep their workplaces clean and safe. With our managed rental service, we aim to keep your experience as simple and hassle-free as possible – every step of the way.
It is this mentality that has ensured we've been leading the textile and cleaning industry for over 120 years.
Create a striking impression and tailor a design suited to your company image and branding.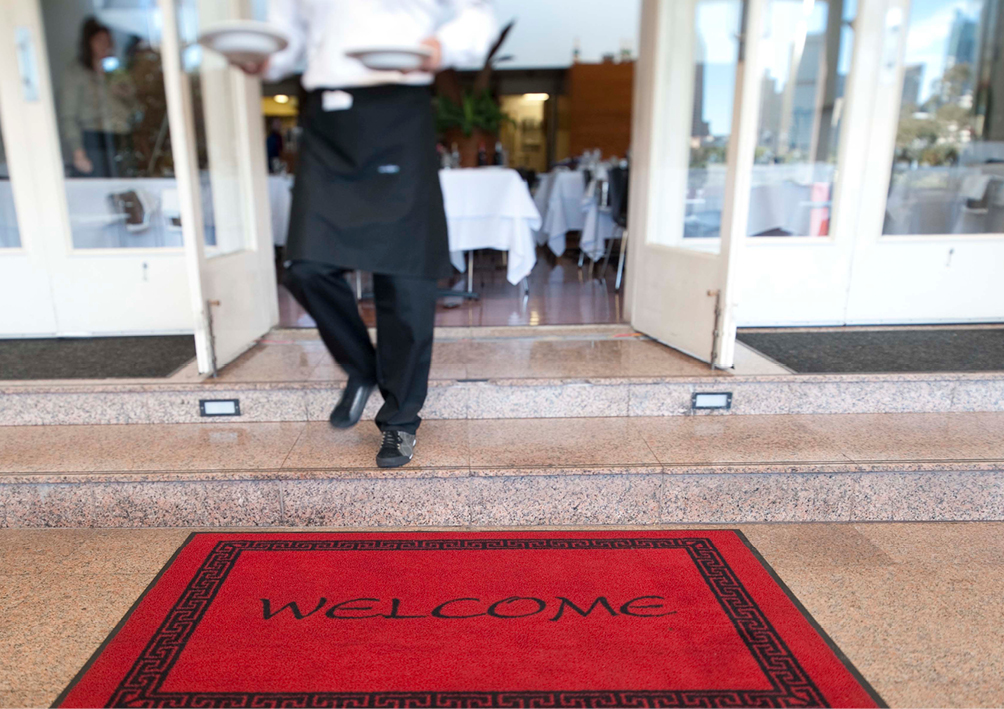 Give your visitors the warm welcome they deserve – simultaneously keeping your workplace 70% cleaner and more hygienic.
Busy is always good for your business. But busy also means more foot traffic, more dirt being spread through your business, and more wear and tear on your floors. Luckily for you, Alsco's welcome mats nip the problem in the bud.
Our welcome mats are, unsurprisingly, our most popular floorcare product in New Zealand.
Collect dirt and dust before it has a change to spread through your workplace, keeping it clean, hygienic, and presentable for your staff and, importantly, your visitors.
Our Welcome Mats…
Use rubber gripper patterns for a safer, firmer surface.
 
Stop 70% of dirt and dust at your doorstep
Come in a variety of colourful variants.
 
Are regularly cleaned and replaced as part of our rental service.
 
Without welcome mats, your business's floors are more likely to become worn, dirty, dusty and, during bad weather, wet. Alsco's welcome mats stop up to 70% of dirt and dust at your doorstep. Due to quality construction, they'll also last for longer, too.
When your mats start becoming dirty or worn, Alsco will clean and/or replace them at no added cost. Because Alsco doesn't just sell welcome mats – we rent them, meaning zero hassle for you.
Logo Mats – Interested in your very own branded logo mats? With Alsco, you can benefit from custom-designed mats that display nearly anything. From important messages through to your brand's name and logo, Alsco can help you make a great impression in your workplace.
Durable quality floorcare designed especially for office and reception entrance ways – the first in line of defence against outdoor dirt and grime.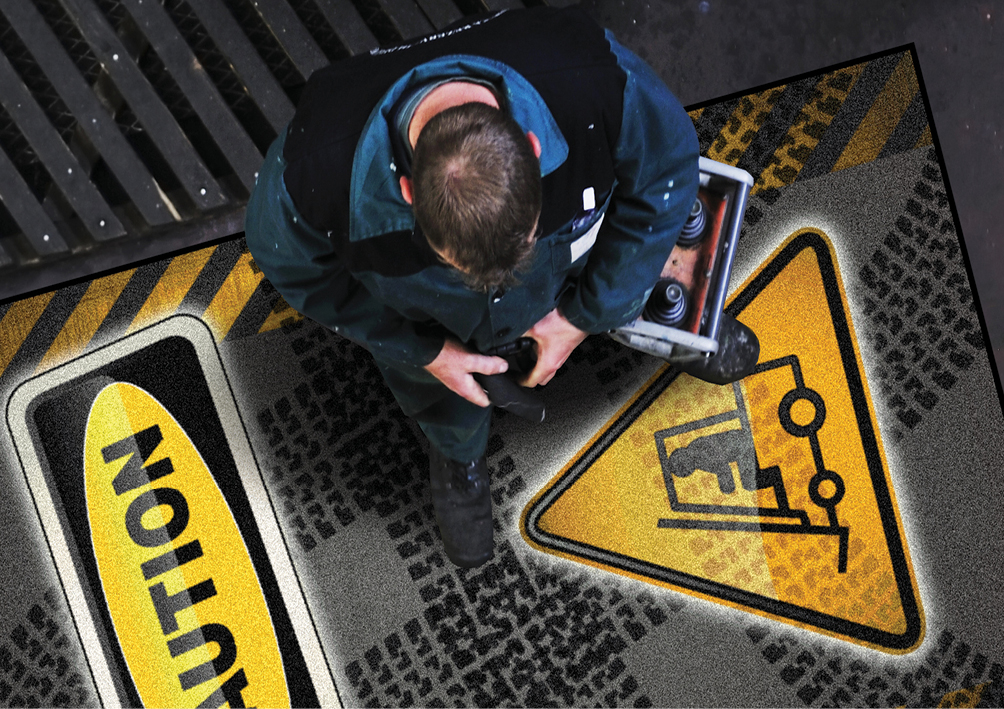 Gently remind employees of safety procedures and help keep your workplace safer and free from incidents.
Accidents in any New Zealand workplace are almost inevitable. But your employees' awareness of safety rules determines how regular accidents occur.
Alsco's safety mats gently remind employees of your company's most important safety rules throughout their working day – helping to keep your workplace safer and more secure.
Come in a wide range – Select from 8 safety messages for your mats, keeping your employees aware of important safety policies at all times
 
Can be custom-designed – Need to communicate something specific? Alsco can design nearly any message you need for your safety mats
 
Are high-grip – Minimise slips, falls and potential accidents with a high-grip, quality rubber bottom
 
Include regular rotation – Rotate your mats with Alsco's Managed Rental Service – and ensure your employees are being exposed to fresh messages on a regular basis, increasing their effectiveness
 
All safety mats are bright, vivid, and printed with the high quality of Chromajet technology. Place them in key locations – including entrances, work stations, and hallways for the utmost of effectiveness.
Constructed with quality and durability in mind, these mats will help keep your workspaces safer for years. Need custom designs? As part of Alsco's managed rental service that operates all over New Zealand, we'll be happy to custom-print any design or message your business needs.
Reinforce important health and safety messages in the workplace – help communicate key safety information to staff and customers.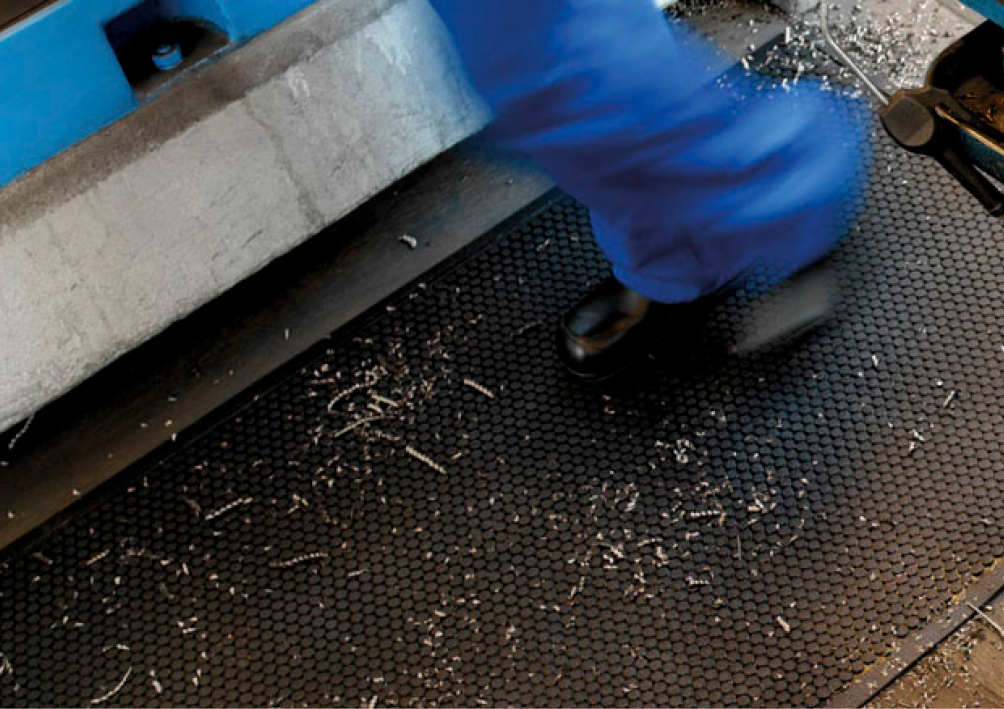 Anti-fatigue. Non-slip. These mats are the ideal answer to an accident-free workplace and your healthy, comfortable employees – no matter how long they're on their feet.
Have a busy kitchen with a ton of foot traffic? Work in a garage where solvent spills are an everyday hazard? Alsco's anti-fatigue mats are the high-quality answer to your problems.
In fact, thousands of companies across New Zealand are making their workplaces safer and their employees more productive with the help of our anti-fatigue mats.
Our Anti-Fatigue Mats Are…
Safe – Textured nitrile rubber is non-slip, reducing the chance of workplace accidents and employee strains.
Comfortable – A firm but cushioned surface improves employee comfort, minimises fatigue, and helps avoid direct contact with hard, cold floors.
 
Resistant – High-quality construction means these mats can endure everything from industrial laundering through to oils, solvents and water in the workplace.
 
Keeping Your Employees Healthy, Happy and Productive
Accidents like slipping and tripping and the likes of muscle fatigue are greater risks to employees than fire. Water spillage is also a hazard to kitchen staff, while oil and grease often threaten the safety of workshop employees.
Alsco's Anti-Fatigue mats help avoid these risks. Less days off due to injury. Less discomfort from hard, cold surfaces. Our anti-fatigue mats help you keep your staff safe and productive at work.
Alsco's Anti-Fatigue mats make a great non-slip working surface for a range of workplaces.
These include:
Industrial workstations, machine shops and assembly lines
Food Service Outlets, Bars, Cafes
Behind the counter at Retail Outlets, Petrol Stations
Offices – where employees are standing all day, or where staff stand at their desk.
From service counters to assembly lines, your staff stand up for your business every day. Support them to the best of your ability with Alsco's anti fatigue mat.
The unique cushion ergonomics of these mats provides greater underfoot comfort, keeping employees motivated and full of energy. Patented nitrile rubber also resists hazardous water, oil, solvents and more.
Sizes Available
| | |
| --- | --- |
| Small | 85cm x 115cm |
| Medium | 85cm x 150cm |
| Large | 115cm x 180cm |
100% Convenient & Customised To Your Business
Every workplace is different. That's why Alsco deliver a floorcare solution tailored to you. Our experts can help you decide where to install our anti-fatigue mats, and whether you should complement them with other types of mats in your workplace.
Whatever your needs, Alsco can help you make the right decisions to help make your workplace as safe and efficient as possible.
Our mats are of the highest quality available in the industry. But because this is a Managed Rental Service, it's affordable for even the smallest of businesses. From the equivalent of $1 a day, Alsco will supply, clean, and replace the mats in your workplace.
We take the hassle, risk and cost of floorcare out of the equation.
Protect staff from slips, muscle fatigue and strains. Use in messy areas such as kitchens and workshops. Ideal when standing in places for long periods.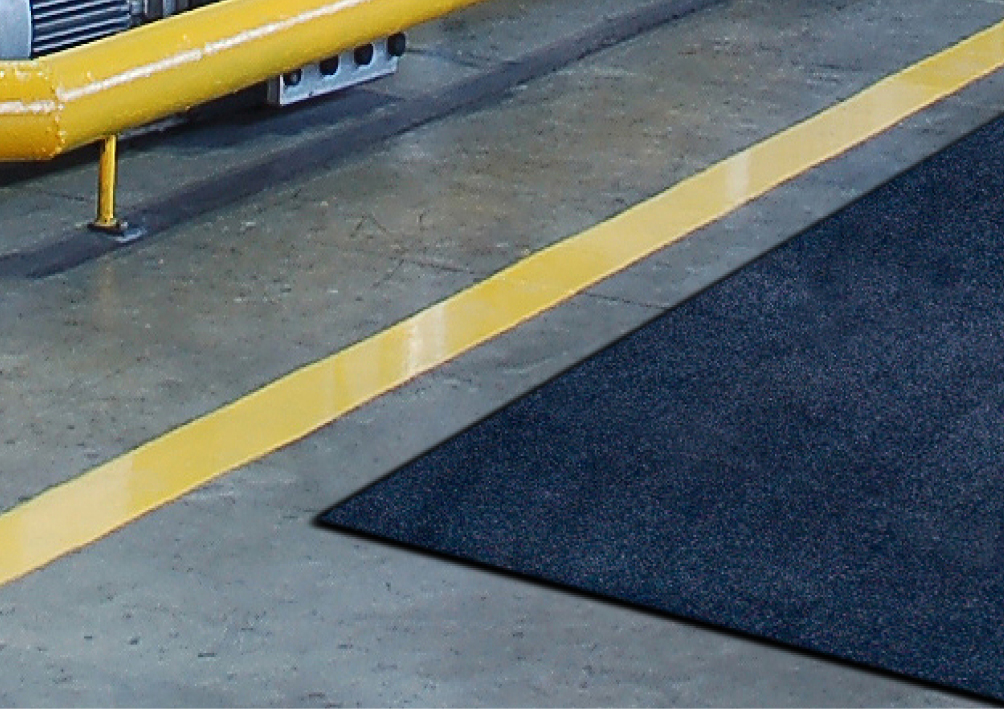 The smart solution to protecting your floors, all the whilst keeping your workplace safe, dust-free and hygienic.
Dirt, dust, water and oils are common enemies of hygiene in workplaces around New Zealand. None of them stand a chance against Alsco's dust control mats. Highly-absorbent and durable, these mats absorb up to 80% of dirt and dust.
Place them in the busiest parts of your workplace. Entrances, hallways and work areas are all perfect locations to minimise dirt and maximise the safety and appearance of your business.
What Sets Our Dust Control Mats Apart?
Fits Any Workplace – With over 25 colours, shapes and sizes and a discrete, professional appearance, these work everywhere – from your workbench to your office's reception
 
Absorbs Everything – Capturing up to 80% of dirt, 3 litres of water and air-born dust due to anti-static properties, these mats are truly comprehensive in keeping your workplace safe and clean
 
Lasts For Years – Reinforced edges, long-lasting rubber and deep-dyed anti-fade yarn ensure these mats will take a beating – and stay intact, absorbent, and looking brand-new for years to come
 
From $1 a Day – With Alsco's Managed Rental Service, we supply, clean, deliver and replace your mats from a mere $1 a day – no matter your business's needs
With a slim, discrete profile, these mats are the perfect answer to cleanliness and safety for any workplace in New Zealand. 
Resistant  to bleach, soiling, water, solvents and industrial washing, they'll be with your business for years.
Alsco's Managed Rental service includes regular industrial cleaning – picked up and delivered straight to your workplace. This ensures your spaces are kept clean and presentable at all times. No exceptions.
For busy entrance ways and dusty work areas. Reduce cleaning costs and preserve floor life.